Transportation Asset Management Case Studies
PMS: The Washington State Experience
Introduction
The Evergreen State, as Washington is called, is the 18th largest State in the Nation and the only State named after a president. It is bordered by Canada to the north, Oregon to the south, Idaho to the east, and the Pacific Ocean to the west. The highest point in the State is Mt. Rainier at 4,392 m (14,410 ft) above sea level; the lowest, the coastline at sea level.
While 580 km (360 mi) long and 386 km (240 mi) wide, Washington State contains six distinct geographic areas: the Olympic Mountains, the Coast Range, the Puget Sound Lowlands, the Cascade Mountains, the Columbia Plateau, and the outlying subrange of the Rocky Mountains. The State's climate ranges from a wet marine environment that receives as much as 4 m (160 in.) of precipitation annually to a rain shadow area east of the Cascades that averages only 0.15 m (6 in.) of precipitation a year. These features-and a rapidly expanding population of more than 6 million-make managing transportation assets in this ruggedly beautiful State a challenge.
In the mid 1960s, to satisfy legislative requirements for a priority programming process, the Washington State Department of Transportation (WSDOT) developed a pavement condition survey program as part of a pavement management system. The department has conducted a pavement condition survey on 100 percent of the State highway system every 2 years since 1969 and every year since 1988. A manual, or windshield, survey was used to collect distress data until 1998. In 1999, WSDOT began using an automated pavement condition survey vehicle.
In 1982, WSDOT fully implemented the Washington State Pavement Management System (WSPMS). The system's development is explained in "An Assessment of the Benefits of the Washington State Pavement Management System:"1
In an attempt to provide a tool that will not only help in identifying the present needs of the state highway system but also in evaluating the decisions made and forecasting future needs, WSDOT conducted a feasibility study of a pavement management system in the early 1970s. Development of the pavement management system, referred to as the WSPMS, started in the late 1970s and was first implemented during the 1982 programming cycle.
The WSPMS was developed entirely in-house, and it has evolved over the years to be one of the best systems in the Nation. It is used for both project-level and network-level analyses. At the network level, pavement data are analyzed, and performance curves for more than 9,000 structurally uniform pavement sections are generated and evaluated for programming and engineering purposes. The current WSPMS is a Microsoft Windows–based program that will be replaced by WebWSPMS in the near future. WebWSPMS is a Web-based pavement management application that will provide access to pavement management information and tools custom-tailored to the individual user. The WSPMS contains the following data: annual pavement condition data, including cracking data since 1969, International Roughness Index (IRI), and rutting data since 1999; and detailed construction and traffic history data for the 28,800 lane-km (17,900 lane-mi) of the Washington State route system.2
Pavement Condition in Washington
Washington State Highway Pavements: Trends, Conditions, and Strategic Plan3 categorizes the WSDOT route system in three pavement types:
Hot-mix asphalt pavement: 17,342 lane-km (10,776 lane-mi), 60 percent of network.
Bituminous surface treatment: 4,843 lane-km (4,843 lane-mi), 27 percent of network.
Concrete pavement: 3,640 lane-km (2,262 lane-mi), 13 percent of network.
The Gray Notebook for the quarter ending December 31, 2006,4 states, "According to the 2005 pavement condition survey, the percentage of all pavements in the 'good' category increased from 89.9 percent in 2004 to 93.5 percent in 2005, [which is] an overall increase of 3.6 percent" (p. 53).
The following graph, developed by the WSDOT Materials Lab, illustrates the trend in condition of the State's highway pavements from 1971 to 2005.
Figure 1. Trends in poor and good pavement condition of Washington State highways, 1971–2005, following adoption of a pavement condition survey in 1969 and a pavement management system in 1982. Data source: Washington State Department of Transportation Materials Lab.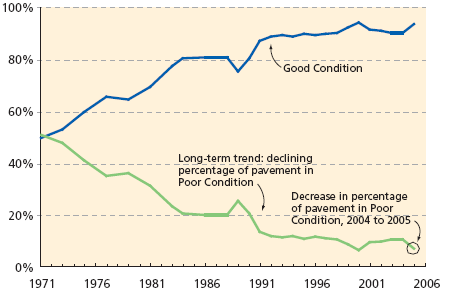 Project Prioritization and Decisionmaking
One of the most important steps in the implementation of a PMS is monitoring the pavement condition on a regular basis. WSDOT manages the highway system by annually monitoring all pavements to determine where, when, and what maintenance or rehabilitation treatments are warranted in an ongoing process.
This activity is a key element of the Highway System Plan Pavement Preservation Program. The data and analysis required to do this is termed the Washington State Pavement Management System (WSPMS). The WSPMS has evolved over a period of about 30 years. Initially, WSPMS was simply a listing of the condition of pavement segments on the WSDOT route system, but has become a process which uses the pavement condition informa-tion along with [construction history,] traffic, and information from other WSDOT data bases to predict the where, when, and what needed for pavement rehabilitation [activities to optimally preserve the pavement network.]5
Implementation of the pavement management system by WSDOT has helped the State to improve its pavement condition significantly.
The WSPMS uses pavement structural condition (PSC) as a trigger value to identify candidate pavement projects, as described in the following paragraphs:
Overall pavement distress is termed pavement structural condition (PSC) and is calculated separately for flexible and rigid pavements. The PSC has an upper limit of 100 (no distress) and a lower limit of zero (extensive distress). WSDOT attempts to program rehabilitation for pavement segments when they are projected to reach a PSC of 50.6

WSDOT has given careful consideration to the formulation and interpretation of the PSC itself, and the value of the PSC threshold, in terms of how pavement rehabilitation projects in Washington should be programmed. Cost analyses [lowest life-cycle cost] performed by WSDOT show that unit costs of rehabilitation increase by a factor of three to four for [hot-mix asphalt (HMA)] projects programmed at a PSC of zero compared to projects programmed at a PSC of 40 to 60.7

Initial development of threshold values for lowest-life-cycle cost approach was based only on agency costs and did not include user costs…. Threshold values for rutting to address safety and roughness to address user cost were subsequently implemented in identifying [candidate] projects.8
WSDOT employs the following process to develop a prioritized list of projects.
Using the pavement condition and performance curves, the WSPMS can forecast the expected [optimum] time to the next rehabilitation for each pavement section. Each candidate project is assigned to a priority group according to its predicted "due date." 9
For example, if a pavement section is expected to reach a PSC equal to 50 in 2008, then the pavement section is considered "due" for rehabilitation in 2008.
Priority groups are defined by individual year only for those six years that are encompassed by the investment program. These priority groups, taken collectively, form the priority listing of pavement preservation needs. The priority listing is a useful tool for the central [headquarter] office, program managers and the regions in developing the biennial preservation program. However, the list is supplemented by [review of the digital images collected as part of annual pavement condition data collection and] additional site visits to verify accuracy, assess causes of defects and determine abilities of the maintenance program to apply preventative or short term remedial treatments before a biennial program is developed.10
It should be noted that WSDOT takes into consideration the importance of the candidate projects on high-volume routes while preparing the priority list.
WSDOT attempts to rehabilitate high volume routes (interstate and principal arterial routes) when they are "due" and prevents them from reaching the "past due" category. Also, as part of the biennium rehabilitation projects selection process, "past due" projects may be included if increased user costs on high-volume routes justify their selection.11
Clearly, the focus of the WSDOT pavement management program is on pavement preservation. As mentioned previously, 27 percent of the entire system receives a bituminous surface treatment on a 6-to 8-year cycle. WSDOT applies this type of treatment to low-volume roads with an annual average daily traffic less than 2,000. Typically, 100 percent of chip seal projects that are due are programmed first. The remaining funds address rehabilitation projects (nearly 90 percent of rehabilitation projects are 50-mm [2-in.] overlay projects) with PSC values between 40 and 60, and if any funds are left, remaining past due projects will be programmed.
The pavement management system can forecast the optimal time for the next rehabilitation for each pavement section.
Implementation of the pavement management system by WSDOT has helped the State to improve its pavement condition significantly. For all route classifications (Interstate, Principal Arterial, Minor Arterial, and Major Collector), the overall PSC scores from 1971 to 2006 are shown in Figure 2. As stated in Washington State Highway Pavements: Trends, Conditions, and Strategic Plan, May 1999,12 "it is notable how this condition measure has improved since 1971-noteworthy is the reduction of those pavements being in the very poor category from about 20 percent of the total lane-miles in the early 1970's down to about one percent in 1994 and later."
In 1971, almost 50 percent of the State's pavements were in poor and very poor condition. Today, a little more than 10 percent of the roads are in poor and very poor condition.
Figure 2. Trends in Washington State pavement structural condition, 1969–2006 (statewide, all pavements). Data source: Washington State Department of Transportation Materials Lab.