Equipment Loans to Government Agencies
The Office of Federal Lands has the following equipment available for temporary loan to Federal, State and Local transportation agencies for collaborative research work, survey, inspection, and measurement assurance efforts. A loan agreement will be issued prior to the loan of property and the loan period will not exceed six months. The borrower will assume all costs involved in preparation, handling, loading, disconnecting, transportation, and shipping insurance from and to FHWA. Please email FLHinnovation@dot.gov for more information.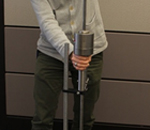 Dynamic Cone Penetrometer, Kessler DCP K-100
The K-100 MD DCP Kit measures the shear strength of soil with a CBR between 0.5-100.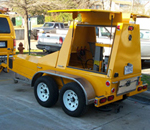 Falling Weight Deflectometer, Dynatest 130
The Dynatest Falling Weight Deflectometer (FWD) applies a dynamic load that simulates the loading of a moving wheel. The pavement response is analyzed to determine the elastic moduli, stresses and strains of each modeled layer.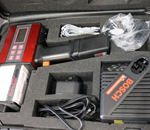 Field Retroreflectometer
Portable pavement marking management tool that measures retroreflective materials in the field.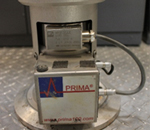 Light Weight Deflectometer, Carl Bro Prima 100
The Prima 100 mimics the moving vehicle loading by measuring the response of a transient load pulse and the load applied through a bearing plate.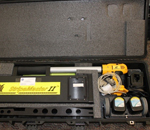 Pavement Marking Retroreflectometer, RoadVista StripeMaster II
Designed for use in the field, the StripeMaster 2 Touch measures the retroreflectivity (RL) of glass beads embedded in white or yellow thermoplastic, traffic paint or temporary marking materials.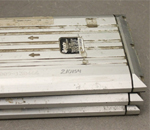 Traffic Counters, Histar (Nu-Metrics) NC-97
A portable vehicle detector uses vehicle magnetic imaging technology to provide accurate vehicle counts and speed studies.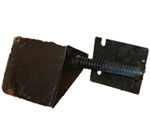 Troxler SafeTSlope Edge Smoother
The SafeTSlope Edge Smoother is a simple and cost effective device that attach to the screed to create a 30° angle wedge along the edge of the asphalt mat.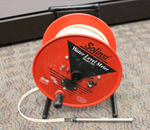 Water Level Meter, Solinst Model 101 Inclinometer
Portable hand operated meters For measuring the depth to water in wells, boreholes, standpipes, and tanks. They are sturdy, easy to use and read accurately to 1/100 ft. or each millimeter.