Bridging History: The Harford Road Bridge Project
Workshop Details
Why ACTT, Executive Summary, and Workshop Details
Why ACTT?
ACTT provides a fresh outlook by bringing national experts to your planning table.
ACTT introduces innovations that have been tested elsewhere.
ACTT saves time: according to FHWA's ACTT II report, published in March 2005, "most agencies have found ways to slice construction time by 30 percent or more."
ACTT saves money: ACTT suggestions enabled New Jersey to reduce its budget for the Route 46 bridge project from $10 million to $7.2 million.
ACTT works for you and your customer!
How do I ACTT?
Select a corridor: ACTT is most helpful when applied during the project development phase.
Make a workshop proposal to ACTT team members, and submit a copy of your proposal to the FHWA Division Office. Include details on the project corridor, timeline and goals.
Hold a pre-workshop meeting with the ACTT management team.
Select a meeting site, and coordinate workshop details with the FHWA Division Office.
Host the workshop.
Draft a report for submittal to FHWA.
Incorporate ACTT into project operations.
Executive Summary
One of the major challenges many Departments of Transportation (DOTs) now face is keeping these parts - the States' roadways and communications systems - dynamic in light of aging infrastructure, increased congestion and limited transportation dollars.
These are the very issues the Baltimore City Department of Transportation (BCDOT) is dealing with on the Replacement of Harford Road Bridge over Herring Run project, in Baltimore, Maryland.
The $16 million project features the replacement of the existing Harford Road Bridge over Herring Run Park, which is in need of full replacement due to deteriorating superstructure. The original Bridge is a very unique three span concrete filled arch bridge. The design was patented at the time of construction, and it is important to all involved in the project to build a new structure that maintains the legacy and tradition of the original bridge. Because the Bridge is located on Harford Road, a major North - South gateway into and out of Baltimore City, and crosses a major Park and waterway used by thousands of pedestrians, cyclists, and athletes, disruptions must be kept to a minimum. With an active community park directly below the bridge, stakeholder buy-in and communication are essential to the project's success.
With this in mind, BCDOT approached the Federal Highway Administration (FHWA) about hosting an Accelerated Construction Technology Transfer (ACTT) workshop for the Replacement of Harford Road Bridge over Herring Run project, Baltimore, Maryland. BCDOT is the first local public agency to conduct an ACTT workshop and has adopted the ACTT mindset and process for future projects.
Together, FHWA and BCDOT identified the following skill sets for the Harford Road Bridge workshop:
Construction.
Environmental.
Public Relations.
Structures.
Traffic Engineering/Maintenance of Traffic.
Each team focused on how the ACTT process applied to its area of expertise. The group as a whole searched for innovative ways to help BCDOT accelerate construction of the Harford Road Bridge project.
As the workshop progressed, each team summarized its thoughts and developed a list of priority recommendations. On the final day, each skill set team presented its suggestions to conference attendees. Now that the workshop is complete, BCDOT will evaluate the various recommendations and decide which ideas should be implemented as part of the project.
1. Workshop Details
1.1 Opening Session
The BCDOT ACTT replacement of Harford Road Bridge over Herring Run project workshop took place January 8-10, 2008. The workshop was held at the Conference Center at the Maritime Institute (CCMIT) in Linthicum, Maryland.
Baltimore City DOT Director Al Foxx and Dan Sanayi welcomed the group. MD SHA Deputy Administrator Doug Rose was invited but was unable to attend. FHWA Innovative Contracting Engineer, Project Engineer and workshop moderator Jerry Blanding gave a presentation entitled ACTT - Building on Success. Participants introduced themselves and Whitman, Requardt & Associates (WR&A) Vice President Bill Geschrei provided a project overview. The group then departed on a tour of the project site.
Al Foxx and Jerry Blanding at the BCDOT ACTT Workshop.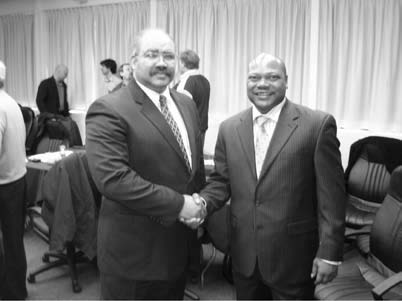 1.2 Workshop Process
Skill Set team members brainstorm during the BCDOT ACTT workshop.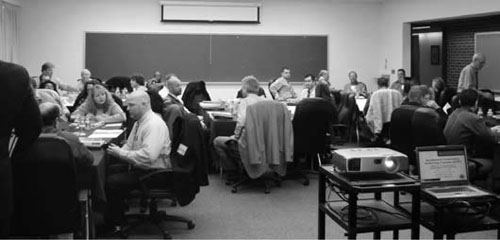 The BCDOT workshop followed the traditional ACTT process outlined in the "How to" Guide for State Highway Agencies. On Wednesday morning, the ACTT management team discussed the brainstorming process with workshop attendees. The skill set teams then broke apart to discuss the project and brainstorm preliminary ideas, reconvening before lunch to share initial thoughts. After lunch, the skill set teams continued their work, intermingling with other teams to ask questions and share ideas. The teams spent the remainder of the afternoon preparing final recommendations for presentation to the group on Thursday morning.
Workshop participants examine project plans.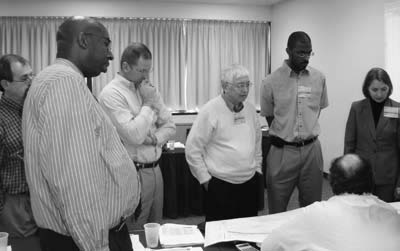 1.3 Skill Set Goals
Participants in each skill set had an established group of goals that was unique to its subject area:
Construction
Project Phasing.

Consider full closure.
Eliminate staged construction.
Explore cost and schedule savings.
Expand staging area.
Incorporate enhancements to detour route.

Structure.

Complete re-construction.
Eliminate the southern span of The Harford Road Bridge and rebuild the bridge with the new center span on prestressed concrete girders and the northern span on a precast concrete arch structure to be used as a pedestrian access.
Reconstruct approaches with new MSW retaining wall.
Incorporate pre-cast elements.
Consider aesthetics.
Accommodate bike path with modified typical section.
Environmental
Facilitate Agency Meeting to address all projects occurring at this location.
Maintain the Environmental Documentation at the Categorical Exclusion level.
Maintain 4(f) Evaluations as Programmatic.
Permits.

Use Agency Meeting to initiate permit modification request.
Public Relations
Public Involvement.

Last public meeting July 2005.
Need community advocates.

Inter-Agency Coordination.

Project construction.
Community Outreach.

Communication Venue.

Interactive web site.
Radio updates.
Business meetings.
Structures
Method of Construction.

Consider impacts to traditional stage construction versus closing existing roadway bridge.
Close pedestrian path and pedestrian bridge through construction work zone.
Eliminate maintaining pedestrian traffic on bridge during staged construction.
Modify shoring system.

Design Considerations.

Use bulb tees.
Consider use of stay-in-place, precast concrete deck panels, either in lower half with CIP composite topping or full-depth.
Consider precast spread footings, abutments, wingwalls, piers, and pilasters.
Simplify precast facade details.
Reduce 3-span bridge to longer main span with precast concrete arch pedestrian portals on both sides.
Traffic Engineering/MOT
Full Closure.

Change in bus service (both mass transit and school) along closure and detour routes.
Additional staging area for equipment on existing closed road.
Safety.
Pedestrian access.
Pedestrian access under Bridge.
School Access.
Truck routing.
ADA compliance for detour routes and intersection improvements.

Phased Construction.

Better local access (pedestrian, bus, vehicles).
Mixed safety concerns (more accidents at construction site, less at detour).
Pedestrian access under bridge.
Traffic capacity will be cut in half.