ACTT Workshop: Oklahoma
May 25-27, 2004, Oklahoma City, Oklahoma
Chapter 2: Project Details
The project is to relocate a portion of Interstate 40 that currently is located at the southern edge of downtown Oklahoma City. The existing facility that is being replaced consists primarily of an elevated structure that was built in the 1960s. These twin bridges are the longest in the State of Oklahoma and carry more than 110,000 vehicles per day. These vehicles pass over 250 fracture-critical members that were designed for an ultimate traffic of 76,000 vehicles per day. Six of seven segments of I-40 in this area are rated as critically high-crash sections. In addition, the existing facility does not provide sufficient shoulder widths to afford refuge or offer passage in the event of an incident.
The planned improvements include a realignment of 7.2 km (4.5 mi) of the Interstate and conversion of the existing Interstate alignment to a boulevard to access downtown Oklahoma City. The project boundaries have been established through the environmental process. The I-40 Crosstown Expressway project will extend from the east side of the I-40/44 junction to the west side of the I-40/235/35 junction. However, project designs have not been completed.
The project schedule is currently under development. The goal of ODOT is to achieve a mainline Interstate facility fully usable by the traveling public in September 2008.
Through TEA-21 and special appropriations, ODOT has received $114 million in funding for the project, of which approximately $103 million is available after application of obligation limitation. To date, almost $80 million has been obligated on various project activities. Current estimates place the total cost of the realignment at $350 million. Therefore, ODOT still requires approximately $250 million to complete the project.
Figure 1. I-40 Crosstown Expressway, Oklahoma City, Oklahoma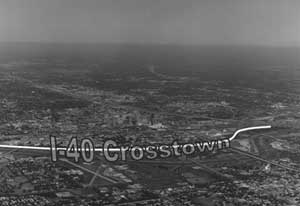 Highway accident rates for the existing facility are rated as critically high in six of the seven segments of I-40 in this project area. The existing I-40 Crosstown Expressway bridge has exceeded its design life and is deteriorating. The roadway sections in this project are functionally deficient for numerous reasons.
This corridor provides the primary access for downtown Oklahoma City and is the primary east-west route in the State. The project extends on I-40 from the junction with I-44 to the junction with I-35/235. Therefore, protracted construction times on this segment of I-40 would affect the Interstate system extending in six directions, as well as generate unnecessary delays and high user costs.
The realignment of the I-40 Crosstown Expressway has a direct impact on the local, State, regional, and national levels. This project constitutes a portion of one of the only all-weather, east-west, coast-to-coast Interstate highways in the Nation. Within this corridor, I-40 intersects with two other major Interstates. This key crossroads extends in six directions to provide access from coast to coast and from Mexico to Canada. Additionally, the I-40 Crosstown Expressway provides the primary access for downtown Oklahoma City, as well as Tinker Air Force Base, one of the foremost maintenance and repair facilities within the United States Department of Defense.
The I-40 Crosstown Expressway carries in excess of 110,000 vehicles per day. As such, unnecessary delays for the traveling public will cause millions in additional user costs.
This project is scheduled for completion in time for a ribbon cutting ceremony in September 2008. Additionally, the associated boulevard should be completed by June 2009. Therefore, it is imperative that ODOT utilize the most fiscally responsible, aggressive approach possible in order to achieve the desired results. Because this project provides the primary access to downtown, it has been a given constraint that traffic will continue to utilize the existing facility until such time as the new facility is constructed and tie-ins can be completed.
Since this project is located on the south edge of downtown Oklahoma City and provides the primary access for downtown, it will receive more attention and scrutiny than any project in the history of ODOT. As the primary east-west route in the State as well as the primary access for downtown Oklahoma City, the construction time for this project greatly influences the economic well-being of Oklahoma. At the standard pace for urban area construction under normal circumstances, this project would likely take approximately 9 years to construct.
During construction of the tie-ins at each end, delays would be experienced by more than 110,000 vehicles per day. The user costs on this phase of the project will be significant. The user costs on the demolition of the existing bridge and construction of the boulevard will also be significant.
A section of this work is near Bricktown and the existing Oklahoma City canal system. The corridor intersects with a proposed OKC canal extension project. The Interstate facility will be carried over the proposed canal extension, allowing passage by both water taxis and pedestrians. Development of retail, entertainment, and commercial establishments in this entertainment district is progressing along the canal system as Oklahoma City had hoped. The presence of a protracted construction project adjacent to the area would have a dampening influence on development.
2.1 Corridor Analysis
An I-40 study commissioned by ODOT analyzed various alternatives for improving the transportation capacity and safety of the corridor and proposed the best transportation improvement from the alternatives evaluated.
Description of Study Corridor
The study area corridor is located in Oklahoma City, Oklahoma, Oklahoma County. The corridor limits are:
North: NW 10th Street.
South: SW 15th Street.
East: Interchange with I-235/I-35 (near Lincoln/Byers).
West: Meridian Avenue.
The corridor's transportation system consists of the roadway system (I-40 and a network of city streets), the rail system serving the Burlington Northern/Santa Fe and Union Pacific Railroad companies, and a transit system called Metro Transit provided by the Central Oklahoma Transportation and Parking Authority (COTPA).
Existing Transportation Facilities
I-40 is the primary east/west route in Oklahoma and a National Highway System component spanning the Nation from North Carolina to California. It traverses the State of Oklahoma from Arkansas on the east, through Oklahoma City, to Texas on the west, and converges with other nationally-designated highways. I-44, I-35, and I-40 intersect in Oklahoma City and extend in six directions from Mexico to Canada and coast to coast, making Oklahoma City a key crossroads for Interstate and international travel. I-35 and I-40 are key corridors in the North American Free Trade Agreement (NAFTA) and are expected to experience significant increases in national and international travel, and thus are critical to the U.S. and global economy.
I-40 is an essential route for truck traffic, with major freight terminals located south of the central business district along the corridor. Truck freight movement studies have historically focused on six main routes: I-35, I-40, I-44, I-240, U.S. Highway 77, and State Highway 66. The 1994 Oklahoma Trucking Survey revealed freight companies most frequently use I-35, I-40, and I-44.
I-40 provides access to the downtown Oklahoma City area and Tinker Air Force Base, one of the foremost maintenance and repair facilities within the United States Department of Defense. Additionally, I-40 provides indirect access to the Will Rogers World Airport.
The area north of the existing I-40 alignment is the downtown area, comprised primarily of institutional sites such as the city and county jails, city hall, police station, civic center, county courthouse, and the Myriad Convention Center. The area south of the existing alignment is a combination of residential dwellings, industrial sites, parklands, and the North Canadian Rover and its open space.
For several years, Oklahoma City business and civic leaders have recognized the need to attract new businesses and expand existing businesses to create jobs for Oklahoma City residents. In 1991, the Oklahoma City mayor appointed several task forces to develop recommendations for the Metropolitan Area Projects (MAPS). This later evolved into the MAPS Committee in 1992, with the goal "to improve the economic well being of area residents by developing a successful plan for funding and constructing new and improved convention, tourism, sports, cultural, and educational facilities."
In late 1993, the Oklahoma City citizens approved a one-cent sales tax to finance the MAPS construction, which is designed to make the area more attractive to people who live and work in Oklahoma City. The projects are catalysts for accelerating development in the Bricktown area (the study area's northeast corner) and for stimulating economic growth. Some projects that may affect the study area include: "The Link" (the transit connection between the I-40/Meridian Avenue hotel and restaurant district to downtown Oklahoma City); Downtown Canal (the North Canadian River extension to water plazas to create a mix of shopping, sightseeing, dining, and urban attractions); Myriad Indoor Sports Arena; Bricktown Ballpark; and North Canadian Riverfront Development. Other area projects are the Myriad Convention Center Renovation, Metropolitan Learning Center, and the Civic Center Music Hall Renovation.
The MAPS adoption and sales tax approval for its funding implemented the redevelopment and revitalization plans. Although past city officials' efforts to promote economic development have faded or have been restructured, the momentum and assurance of the MAPS success have been strengthened by the continuing recovery efforts since the April 1995 bombing of the Alfred P. Murrah Federal Building.
In December 1998, Oklahoma City citizens voted on and approved the sales tax extension necessary for completing MAPS.
Specific Transportation Problems
The Oklahoma City I-40 section from the I-235/I-35 interchange, west 11.5 km (7.2 mi) to Meridian Avenue, known locally as the Crosstown Expressway, was constructed 30 years ago and consists of elevated and at-grade sections providing a six- to eight-lane full-access controlled freeway. Although state-of-the-art when initially constructed, this transportation facility has exceeded its design life and has several design features that do not meet current design standards as defined by the American Association of State Highway and Transportation Officials' (AASHTO), A Policy on Geometric Design of Highways and Streets.
Bridge Section
The primary concern, which initiated the study, is the existing condition and design of the bridge structure from west of Byers Avenue, west to Western Avenue. This structure is deteriorating and showing signs of fatigue, which indicates the progressive failure of a structure resulting from heavy repetitive loads. The bridge deck was rehabilitated with a high density overlay in 1977, but is now beyond its design life, is delaminating, and is in need of continuous maintenance. The substructure deterioration consists of:
Exposure of reinforcing steel because of the spalling of the concrete pier caps.
Leaking deck joints, which provide corrosive conditions for the pin-and-link hanger systems.
Missing bolts from the bridge's steel girder section.
The bridge structure consists of two adjacent structures, often referred to as "twin structures," which provide the travel lanes for the opposing travel directions. The north structure carries the westbound traffic and the south structure carries the eastbound traffic. The structure, constructed in 1955, is approximately 2,670 m (8,900 ft) long and is a "fracture-critical member" structure. "Fracture-critical member" means that the failure of one structural member can cause a collapse of that structure section. In 1989, the bridge was closed to evaluate and repair a crack in one of these members. The I-40 structure has approximately 250 "fracture-critical members" that have exceeded the expected fatigue life. Because a bridge section could collapse by one of these members failing, the ODOT conducts a safety inspection every 6 months.
Roadway Section
The roadway is functionally deficient because the existing I-40 roadway design consists of:
Vertical curves that restrict sight distance.
Inadequate ramp spacing that limits the construction of acceleration and deceleration lanes and inhibits the safety of the weave movements for the vehicles entering and exiting the facility.
Inadequate or no shoulders.
The roadway's safety and efficiency in handling the existing traffic demand and the projected future traffic are concerns, since the facility was originally designed for a 76,000 ADT volume. Additional traffic resulting from the MAPS' successful downtown development will further add to the corridor traffic. The current ADT volumes range from 93,800 to 112,700 vehicles per day on the existing I-40 alignment. The truck traffic volume ranges from 7.5 to 8.3 percent for the eastbound direction of travel and from 7.8 to 9.0 percent for the westbound direction of travel. I-40 is an essential truck traffic route with approximately 60 percent of the truck traffic originating from out of State. The highway facility is identified as a congested roadway in the Congestion Management System developed by the Association of Central Oklahoma Governments (ACOG) for the Oklahoma City Area Regional Transportation Study (OCARTS) area.
Safety issues are highlighted by an accident rate analysis, and efficiency can be measured using a capacity analysis.
Accident Rate Analysis
Typically, highway accident rates are calculated based on the number of accidents per 100 million vehicles. The ODOT statewide map, "Road Segments with Critically High Crash Rates-State Route Numbered System Only," indicates that six of the seven I-40 roadway sections within the corridor limits are rated as critically-high crash sections. To merit a critically-high crash rating, the roadway segment must be at least 1.6 km (1 mi) long and have at least five crashes. For analyzing traffic conditions between each major intersection arterial within the I-40 corridor, the Portland to May section is divided at I-44.
Figure 2. Long List of Alternatives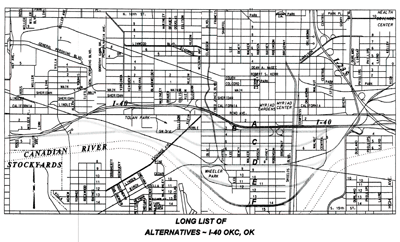 Capacity Analysis
Level of Service (LOS), based on facility speed and travel time, is a term used to describe and quantify the congestion level on a particular facility section. The Highway Capacity Manual (HCM) defines six levels of service, ranging from LOS A (best) to LOS F (worst). Volume to capacity ratios (v/c) are typically the prime indicator of highway LOS, with volume being the actual number of vehicles that traverse a specific roadway section. Capacity is calculated based on an upper threshold of vehicles per hour per lane for the same roadway section. In general, the lower the v/c ratio the less congestion is indicated. The range from A to E is quantified by ratios of 0.0 to 1.0; a v/c ratio greater than 1.0 in which traffic volumes exceed capacity are considered to operate at LOS F.5
2.2 Alternate D-The Locally Preferred Alternate
Lanes: 10 lanes (3 local/2 express for each direction)
Length: 6,270 m (20,900 ft) (from I-235 to May Avenue), 6.3 km (3.96 mi)
Residential Displacements: 29 (23 minority) for alignment, 14 additional for mitigation
Business Displacements: 44 (43 small and 1 medium)
Community Facility Displacements: 1 church
Estimated Total Cost (Feb. 1998): $236.5 million
Construction Time: 5 to 7 years
Highlights:
Constructed in railroad corridor five blocks south of existing alignment.
Retains rail access within existing rail corridor.
Combination at-grade or semi-depressed throughout entire length.
Six-lane boulevard in place of existing Interstate alignment.
Provides for multiple access points to downtown Oklahoma City.
Can be designed for 112 km/h (70 mi/h).
Direct access to Bricktown and other downtown improvements.
Easy to construct in stages.
Minimal disruption to existing I-40 or downtown during construction.
Net total user cost over a 30-year life cycle is a $35 million benefit ($80 million benefit less $45 million cost due to construction).
Access to Downtown
The proposed Alternative D design will provide full interchanges at Shields Boulevard and at Western Avenue. The proposed boulevard from I-235 to Agnew Avenue will provide improved access to Bricktown and the downtown area from eastbound and westbound traffic.
Relocations and Displacements
All alternatives involve residential and commercial displacements. The ODOT Relocation Assistance Program is available to all residents and businesses required to relocate when their homes or business sites are acquired for a transportation project. This program is conducted in accordance with the Uniform Relocation Assistance and Real Property Acquisitions Act of 1970, as amended. This program, provided to all displaced residents and businesses without discrimination, provides these residents and businesses with the maximum financial amounts and advisory assistance services that they are eligible to receive.
Alternative D would have the greatest residential displacement impacts. The business displacements include employee displacements. There are no controls or provisions for employee displacements, except for working with the business owner. It is unknown if these business owners will relocate and reopen within or outside the I-40 project area or opt to close. Alternative D would have the least minority employee displacements.
Cost
Cost included user costs, right-of-way and relocation costs, and construction costs.
User Costs
User costs, as used in the I-40 corridor analysis, are those costs incurred by motorists using I-40 and the adjacent and feeder roadway system. These costs include travel delay and vehicle operating and maintenance (O&M) costs.
The I-40 user cost analysis included an extensive I-40 traffic model simulation during each alternative's construction period to determine the total study area vehicle hours of travel (VHT) and the total study area vehicles miles of travel (VMT). The FHWA source documents and data were used to establish unit values for three cost categories: costs associated with hours of travel delay or hours saved; vehicle operating and maintenance cost increases because of extra stops (incurred during the construction period only); and vehicle operations and maintenance costs resulting from more vehicle miles traveled. These values were used to estimate the "economic" or monetary costs (and long term benefits) to users of the I-40 corridor.
Alternative D's construction period is estimated at 5 years. Additionally, Alternative D has the greatest user benefit ($80 million). When the user costs and benefits of the alternatives are viewed over a 30-year life cycle, only Alternative D has a positive user cost/benefit result, with net life-cycle benefits of approximately $35 million.
Right-of-Way and Relocation Cost
A certified real estate appraiser estimated the right-of-way and relocation costs. These costs are based upon visual property inspections, the appraiser's past experience, thorough area knowledge, and a review of recent sales of similar properties. Whole acquisitions were assumed as opposed to partial acquisitions that leave the owner a portion of his original property; therefore, no damages to remaining properties are included. Additionally, most parcel sizes within each alternative's proposed alignment are less than 30 m (100 ft) x 42 m (140 ft). Pursuant to State statutes and Title 23 of the Code of Federal Regulations (CFR) guidance, whole acquisitions are undertaken when the partial acquisition cost plus the severance damages cost exceed a total (whole) acquisition cost. The right-of-way cost portion is based on a price per square foot for a building and a price per linear foot for land.
The estimate's relocation cost portion was prepared by visually inspecting each proposed alignment and noting the apparent nature of each structure's occupants. In addition, interviews were conducted with moving professionals. A review of ODOT's actual historical costs of relocation benefits for similar displacements was also used to develop these estimates.
Construction Cost
The alternative's construction costs are based on material price per unit of measure. The construction components include demolition of the existing facility; utility relocation; mainline roadway work, including traffic control, marking, lighting, and signing; work on cross street structures; and construction of access facilities, including ramps and signalization.
Preferred Alternative
As a result of the Tier-Two evaluation, ODOT selected Alternative D as the locally preferred alternative because:
This alternative provides a ten-lane facility approximately 660 m (2,200 ft) south of the exiting I-40 alignment and involves converting the existing I-40 facility to a downtown business route. This business route would maintain the current at-grade freeway from Agnew to Western Avenues and bridge structure from Western Avenue to west of Walker Avenue, and reconstruct the existing I-40 facility from west of Walker to I-235 as an at-grade six-lane boulevard with at-grade intersections at the downtown cross streets.
Alternative D provides the best access to downtown Oklahoma City and Bricktown.
Full interchanges are proposed at Shields Boulevard and Western Avenue.
The proposed I-40 facility will be designed for 112 km/h (70 mi/h) and consists of at-grade and semi-depressed sections.
The overall cost is lower, including user costs and construction costs. The estimated cost (right-of-way/relocation and construction cost) is $236 million. The net user cost over a 30-year life cycle is a $35 million benefit.
The project's 5- to 7-year construction period is the shortest of the build alternatives.
Construction activities will least affect traffic, resulting in less disruption to existing businesses and employees.
The proposed facility will carry the design year traffic while providing additional service for both through and local traffic.
Figure 3. I-40 Crosstown - Working Alignment D

Additionally, Alternative D would use an existing transportation corridor rather than acquiring all proposed additional right-of-way from non-transportation land uses or local-level streets and roadways. Alternative D involves acquiring an estimated 55 acres of exiting zoned land use (excluding vacant land) for additional right-of-way. Of these 55 acres, 7 acres are for residential land use, 1 acre is for commercial land use, and 47 acres are for industrial land use.