ACTT Workshop: Oklahoma
May 25-27, 2004, Oklahoma City, Oklahoma
Chapter 3: Workshop Meeting Details
ODOT hosted an ACTT Workshop for the I-40 Crosstown Expressway Relocation from May 25-27, 2004, in Oklahoma City, Oklahoma. Appendix A includes a list of the attendees.
In a pre-workshop meeting with the ACTT Management Team on March 26, 2004, ODOT selected the Railroad/Utilities, Structures/Geotechnical, Innovative Contracting/Financing, Long Life Pavement/Maintenance, Traffic/ITS/Safety/Public Relations, Environmental, Construction/Materials, and Roadway Design/Geometrics skill sets for the I-40 Crosstown Expressway Relocation ACTT Workshop.
3.1 Opening Session
The workshop began with opening remarks from Gary Ridley, Director of ODOT, which emphasized the importance of this facility to Oklahoma citizens and businesses, the local and statewide economy, and guests to Oklahoma. His presentation also set the goals and objectives for this project, which are: 1) Safety, 2) Having I-40 open to the public by September 2008, and 3) Staying within the project budget. Following these remarks, Shirley Ybarra, former Virginia Department of Transportation Secretary of Transportation, posed the question, "Why ACTT? Why Now?" before bringing on John Bowman, ODOT I-40 Crosstown Relocation Project Development Engineer, and Keith Angier of MacArthur Associated Consultants to give an overview of this project.
3.2 Workshop Process And Recommendations
In the next day-and-a-half, the skill set groups met to discuss various aspects of the project and methods for accelerated project implementation. After allowing time for each skill set group to discuss issues and begin forming ideas, participants intermingled to further discuss and consult with other groups on strategies and concepts.
Each group completed reporting forms or provided hand written notes, which are included in this report as Appendix C. Each skill set group was also asked to rank their ideas in order of priority, and to make a presentation to the whole conference. The following are the recommendations relating to each skill set.
3.2.1 Railroad/Utilities
Establish early completion incentives:

Incorporate drop dead dates.
Pay 24-hour work schedules (overtime).

Proceed with the utility coordination and relocation at the 30 percent design stage.
Maintain one primary Utility Coordinator (already in place by ODOT).
Obtain the remaining partial property takes in accordance with utility relocations.
Take control of utility relocations by:

Providing clear objectives and realistic timeframes for relocations.
Utilizing established relocation corridors.

Incorporate water and sewer utilities as part of the roadway contracts.
Encourage 24-hour work schedules.
Clear the depressed section of the roadway of utilities via alternative routes (i.e., possibly 7th Street).
3.2.2 Structures/Geotechnical
Advantages of elevating depressed section:

Eliminate railroad shoe-fly.
Minimize railroad relocations.
18 months out of the critical path.
Eliminate drainage/ground water hazardous material issues.
Eliminate Lee Street outfall reconstruction.
Improve safety and rescue issues.
Pedestrian bridge.
Shields Avenue reconstruction.
Full interchange at Shields Avenue.
Union Station and Cold Storage.

Disadvantages of elevating depressed section:

Revisit environmental document.
Noise impacts.
Visual impacts.
Long term maintenance needs.
Need for deicing or anti-icing.
Increase the need for borrow.
The ramp lengths will change.

Advantages of identifying staging areas:

Saves time and money.
Move bigger precast elements for easier delivery.
Minimize the impact on local traffic and to existing infrastructure.

Disadvantages of identifying staging areas:

Potential impacts to adjoining property/neighborhoods.

Early geotech investigation recommending a two-phase investigation:

Preliminary (now).
Design.
Especially around the cold storage plant, structures, landfills, and high fills.
There are a lot of things that can be done to accelerate construction in bad soils.
Need to know if the excavation from the depressed section can be used for fill.

Consider alternate foundation types and load testing:

Use self consolidating concrete for drilled shafts.
Micro-piles are faster and can use smaller equipment for installation.
Load testing needs to be completed during the design phase.

Alternative retaining walls:

Eliminate cast-in-place wall design.
The plans would identify line, grade, and aesthetics, and the wall selection and construction would be done by the contractor, Roll-In-Bridge.

Construction for BNSF railroad:

Eliminate shoe-fly by constructing permanent structure off alignment and then moving it in place within 24-hour periods.
Time and major cost savings.
Moves this item off the critical path for the I-40 bridge.
There is a risk to the railroad if the structure is not open in time.

Consider bridge VS walls on all elevated ramps:

Need to identify the transition between wall and bridge to minimize cost and time.

Consider prefabricated structure elements throughout:

Full depth precast decks.
Segmental concrete box girder superstructure.
Prefabricated superstructure.
Prefabricated substructures.

Consider giving prequalified contractors advanced plans and shortening the bid time:

Provide 60 percent plans to prequalified contractors.
Conduct constructability meetings to get contractor input.
Allows reduction in formal bid time.

Reduce the number of contracts-saves time:

Increases competition.
Minimizes soil handling.
Reduces conflicts between contractors.
Disadvantage: limits opportunities for small contractors.

Review specs to eliminate time delays:

Use HP material and maturity meters.
Use accelerated testing technology to address material acceptance, such as maturity meter.
There are many time constraints on concrete.

Conduct a formal bridge type study:

Longer spans.
Standardization of structure types.
Limiting skew angles.
Simplify complex framing.
Optimize substructures and foundations.
3.2.3 Innovative Contracting/Financing
Adopt a financing contingency plan:

Sources and uses of funds.
Fund availability.
Cash flow schedule.

Sources and uses of funds:

Dedicated funding.
Scheduled regular Federal aid.
Grant Anticipation Revenue Vehicle (GARVEE) financing to fund shortfalls:

Future Federal funds will pay the debt.

Alternative State revenue streams for debt financing:

Uncommitted toll revenues from existing facilities.
Air rights lease revenues.
Renting utility corridors within right-of-way.
Private sponsorship of the boulevard.

Sources and uses of funds:

Alternative local revenue for construction of boulevard.
Private sponsorship of the boulevard.
Shadow tax on parking fees.
Tax increment financing.
Special assessment district.
Public/private partnership.

Debt financing:

Municipal bonds.
Transportation Infrastructure Finance and Innovation Act (TIFIA).
Commercial paper.
63-20 financing.

Fund availability:

What will it take to make alternate revenue sources available?
When will those funds become available for use?
Legislative action for GARVEE, toll revenues, or lease financing.

Cash flow schedule:

What is the timing of project expenditures?
Track monthly.

Project delivery mechanisms:

Design/build.
Partial design/build.
Design/bid/build.
Construction manager at risk.
Reduce number of construction contracts.
Reduce delays.
Minimize conflicts between contractors.
Reduce cost.
Greater efficiencies.
Improve administration.

Procurement strategies:

Cost + time bidding.
Best value.
Selections based on qualifications and not just cost.
Alternative technical concepts.
Stipends.
Guaranteed maximum price.
Contracting techniques-incentive/disincentive.
Lane rental.
No excuse clauses.
Performance measures.
Sources for long lead materials dedicated prior to construction.
Partnering agreements.
Warranties.
State retains salvage value of scrap materials.
Master utility relocation agreements and schedules.
Figure 4. Selected Alternative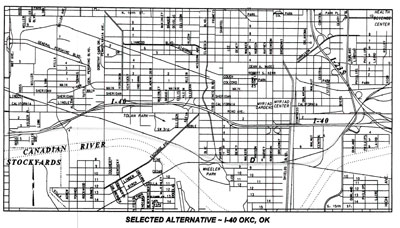 3.2.4 Long Life Pavement/Maintenance
Construction sequencing (get in, get out):

Mainline bridges complete at time of paving.
Bridge contractors and paving contractors bound by contract to cooperate/not obstruct.
Seasonal limitations for paving must be scheduled/considered.

Single paving contract:

Makes an onsite plant more feasible.
Reduces coordination efforts.
Improves uniformity.
Potentially speeds construction and reduces cost.
Barrier: current system encourages multiple contracts to spread the work around.

Incentives:

Magnitude of incentives should be proportional to the magnitude of the project.
Correlate properties and performance to develop appropriate incentives.

Long life pavement:

Design life in harmony with other structures along mainline:

50+ year design life attainable.

Use of mechanistic-empirical design methodology.
Move away from outdated empirical design methods toward mechanistic approach.
Dowel jointed concrete pavement recommended:

Good performance with local experience.
Less sensitive to subgrade stiffness variations due to groundwater proximity.
Multiple rehab options at end of service life.

Pavement drainage:

Effective drainage essential for long life pavement.
Drainage of particular importance due to depressed road section near ground water elevation and river flood levels.
Video inspection for acceptance.
Durable drainage outlets (for continued performance).

Construction controls:

Implement new techniques to measure key construction features.
Maturity.
In-place strength measure.
To accelerate construction.
Temperature management for curing control.

Nondestructive dowel locator:

Ensure proper functioning of transverse joints.
Prolong working life of joints.
MIT-Scan device.

Portland cement concrete (PCC) mixture considerations:

Design a highly durable mixture that is still constructible.
Specification requirements to include:

Air void spacing (freeze-thaw durability).
Optimized aggregate gradation (permeability, reactivity, shrinkage, cost, workability).
Aggregate type-limestone (coefficient of thermal expansion).

Performance specifications:

Drainage.
Air void spacing.
Dowel alignment.
Curing.
Smoothness.
Surface Texture.
3.2.5 Traffic/ITS/Safety/Public Relations
Traffic and safety:

Traffic/phasing assessed.
Use full closures and combine closures where capacity exists.
Accelerate alternate route construction.
Traffic control designed early on to identify conflicts.
Pedestrian needs and construction traffic.
Identify responsible/accountable:

Entity (contract administration).
Entire project and phases.

Lighting plans:

Including north/south routes (temporary and permanent).

Traffic control plan-how is it implemented?

Master contract scheduler has oversight.
Independent traffic control contractor.
Issues-clause for damage of devices.
Performance based-includes pedestrians.

Intelligent transportation system (ITS)-implement smart work zones:

Establish elements of permanent system before major ground breaking:

CCTV cameras.
Dynamic message signs.
Smart work zones.
Roadway weather sensors.

Continue with regional traffic management program.
Provide traveler information.
Implement dedicated service patrols.
Implement incident management (performance based).
Coordinate emergency response.
Dedicated towing agency/contract.
Establish Web info/e-mail.
Public outreach-I-40 crosstown project-we'll get you there!
Launch intensive media outreach now to inform public of upcoming construction.
Develop information plan for motorists, residents, and business owners.
Provide accurate and timely information via e-mail and fax lists.
Educate the public on freeway condition, need for expedited project, and potential impacts.
Direct motorists to alternate routes without scaring people from businesses and entertainment venues.
Focus people on the positive aspects of project.
Form Crosstown Impact Council-discuss emergency response, hazmat, etc.
Conduct project tours-legislators, teachers, business organizations.
Design project Web site, use its camera images, include easy to understand project scope and phasing, "contact us" information, and before and after pictures.
Institute a toll free 24-hour information line (511?).
Conduct regular public information project meetings.
Design a project logo to use on Web site and collateral materials.
Disseminate traffic reports twice a week and as needed via fax, e-mail, and the Web.
Partner with media-traffic reports in newspapers, monthly meetings on site.
Develop media kits and talking points for department and project spokespersons.
3.2.6 Environmental
Identify limits of old landfill in area of Byers, Canal, and proposed I-40.
Conduct immediate, comprehensive hazmat subsurface investigation.
Identify appropriate areas for contractor staging sites; obtain permits.
Implement early corridor hazmat remediation contract before construction and during construction.
Accelerate pedestrian bridge.
Drainage; consider combining final design with sediment control-permanent desilitation basins.
Provide dust and noise monitoring during construction.
Provide continuity of design team and construction oversight team.
Construct noise walls and fencing early.
Confirm 404 permit is obtained in a timely manner and 401 permits are addressed appropriately and in a timely fashion.
Define in railroad agreement who is responsible for old ties.
Evaluate potential for burning wood debris on project site vs. landfill disposal.
3.2.7 Construction/Materials
Railroads and utilities:

Sit down meetings for construction review.
Master agreement for railroads and utilities.
Incentive/disincentive supplemental agreements.
Resolve issues with utilities within railroad right-of-way.
Time commitment-solidify on ODOT's part.
Give railroads an incentive for early completion of relocation.

Constructability review:

Review at 30 percent and 70 percent by local contractors and independent reviewers.
90 percent specification review.
Develop specifications along with plans.

Contracts:

Reduce number of contracts based on logical construction sequence.
Incentive for contractor cooperation and early completion while obtaining high quality.
Dispute resolution board and partnering used to keep project moving.

Innovative processes:

Use GPS and electronic data gathering and record keeping to speed up surveying, project documentation, and progressive/final contractor payment.
Contractor would include purchase price of excess right-of-way in bid and assume ownership of parcel(s) when project is complete.

Contract Administration:

Use electronic submittals with 15-day turn around.
Single resident engineer point of contact for entire project.
Raise limit of change orders. Give the division engineer a $100,000 limit and the director a $500,000 limit on change orders without Commission approval.
Use contractor's test results for acceptance with ODOT oversight.
Allow 70 percent subcontracting by special provision. The prime contractor will still have primary responsibility for contract materials availability. Use material procurement contracts to obtain long lead times before work begins on construction projects.
Have preestablished borrow sites designated before project is let to contract.

Miscellaneous issues:

Use canal water for mixing concrete.
Let initial contracts for drainage, rail, water lines, and sewer lines early to clear the way for future projects.
Give civic groups an active part early on to obtain buy-in so that ascetic elements are manageable, cost effective, maintainable, properly defined, and constructible.
Partner with DEQ to develop project-specific erosion control plan to keep project within guidelines and on schedule.
3.2.8 Roadway Design/Geometrics
Change laws to allow for design/build.
Standardize design and construction:

Bridges and bridge beams.
Storm sewer (prefabricated inlets).

Relocate railroad out of corridor as soon as possible.
Sequence:

Railroads relocated.
Drainage channel/box.
Center section (move dirt to final location).

Use maximum rate for calendar days with incentives (based on user delays).
Request geotech, soil borings, hazardous materials, and ground water testing for the corridor (center section first).
Insert hazardous materials remediation into contract.
Start each project at the same time (street closures).
Look at the convertibility of I-35/I-40/I-235 interchange for future configuration. Investigate impact on current project.
Remove Shields eastbound (loop) on ramp, use Boulevard eastbound (loop) on ramp.
Full interchange at Robinson instead of Shields.
Clean up Boulevard eastbound to I-40E/I-35S (possible CD road). Consider moving PGL and point of rotation to crown in highway (crown two lanes from median).
Remove eastbound frontage road between Pennsylvania and Western (consider CD roads).
Convertibility of I-40/I-44 interchange. Investigate impact on current project.
Eliminate Agnew interchange and make Pennsylvania a full interchange:

Eliminate Agnew eastbound off.
Eliminate Agnew westbound on.
Eliminate Agnew westbound off.
Revise eastbound off ramp to Pennsylvania via Boulevard.
Combine Penn westbound on ramp with westbound Boulevard.

Add auxiliary lanes:

Add auxiliary lanes between Pennsylvania and Western on both sides.
Add auxiliary lanes between Western and Robinson on both sides.

Robinson Avenue interchange:

Make Robinson Avenue a full interchange (tight diamond).
Improve Robinson between new I-40 and new Boulevard to six-lane facility.

Shields Boulevard interchange-eliminate ramps at Shields Boulevard.
I-40/I-35/I-235 interchange-deletions Reno to Byers eliminated:

Eliminate Reno realignment.
Eliminate proposed I-35 northbound to I-40 westbound.

I-40/I-35/I-235 revised interchange retain Byers to Lincoln connection:

Retain Reno to I-35 southbound.
I-40 eastbound to I-35 southbound (south of loop):

Add auxiliary lane between Robinson eastbound on ramp to new I-40 eastbound to I-35 southbound ramp.

Eastbound Boulevard connection to I-35 southbound.
Revised northbound I-35 to westbound I-40 and westbound Boulevard.
A description of each of these skill sets is included in Appendix B.