Highway Quality Compendium
Conference Captures the Many Faces of Highway Quality
Unique construction methods, mega projects that are changing the face of transportation for their communities, and progressive new partnerships were three of the many faces of highway quality on display at the National Partnership for Highway Quality's (NPHQ) 2005 Quality Conference. NPHQ brings together State, Federal, and highway industry leaders to encourage the use of quality practices that will improve safety and service for highway users. Held December 13-14, 2005, in Orlando, Florida, the conference spotlighted groundbreaking practices across the country. "The conference provided an excellent opportunity to learn from some notable, quality-managed programs," said Bob Templeton, Executive Director of NPHQ. Conference attendees included State department of transportation (DOT) officials and design, construction, and project engineers; officials, managers, and engineers from private industry; and Federal Highway Administration (FHWA) representatives.
The Iowa River Bridge in Hardin County, IA, was assembled on one side of the river and rolled 496 m (1,630 ft) across the river valley into position.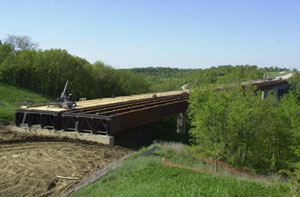 "Quality as a mechanism allows us to deliver a motivating work environment for our employees, while at the same time delivering what our customers want," noted conference keynote speaker Pete Rahn, Director of the Missouri Department of Transportation. Among the quality projects highlighted at the conference was the Iowa DOT's construction of the new U.S. 20 Iowa River Bridge in Hardin County. Using an innovative construction method known as incremental launching, the superstructure of the new bridge was assembled on one side of the river and then rolled some 496 m (1,630 ft) across the river valley into its final position. The incremental launched-girder technique eliminated the need for the temporary erection towers and in place erection of structural steel required by conventional construction methods. This allowed Iowa DOT to meet the stringent environmental requirements of constructing the bridge in the Iowa River Greenbelt, a rare, remaining piece of old-growth woodland. The project's innovation was honored with NPHQ's 2005 National Achievement Award.
The Colorado Department of Transportation's Transportation Expansion Project, or T-REX, also provided a vivid example of quality practices. The $1.67 billion multimodal project is improving 27 km (17 mi) of highway in the metropolitan Denver area, along with adding 30 km (19 mi) of light rail service. Its $1.2 billion design-build contract is the largest in the country and the first to encompass both highway and transit elements. Groundbreaking for the project began in September 2001, with completion scheduled for the end of 2006. Accelerated construction has been a hallmark of the project. "T-REX is sprinting into its final year 22 months ahead of the original estimated completion, thanks, in part, to performance specifications that give the contractor the latitude to innovate and improve," said Dave Geiger, Director of the Office of Asset Management at FHWA.
The T-REX project in Denver, CO, includes the reconstruction of 11 bridges spanning I-25. The Colorado Boulevard Bridge over I-25 was one of three bridges rebuilt in phases, so that traffic could be maintained on the structure at all times.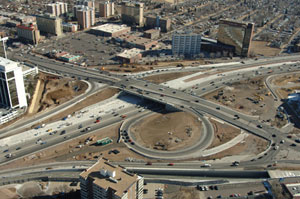 NPHQ's new accreditation process for state quality partnerships (SQPs) was also a featured topic at the conference. SQPs comprised of transportation stakeholders who meet regularly and share common goals for the continuous improvement of highways and bridges can provide numerous benefits to States, including improved partnering on projects, cost savings, greater efficiency, and increased customer satisfaction. SQP members typically include representatives from the State DOT, FHWA division office, industry associations, city and county offices, and other stakeholders. "An SQP advances service, safety, efficiency, and environmental stewardship," said Templeton. "It sends a clear message that a State DOT plans to capture every opportunity to serve the driving public and boost economic prosperity. While the SQP concept is still new to many people, I think we're gaining some momentum." NPHQ's goal is to have an SQP in every State by 2008.
Greg Mayo and Georgene Geary of the Georgia Department of Transportation (GDOT) told conference attendees how Georgia transformed its 12-year-old Georgia Quality Initiative into the new intermodal Georgia Partnership for Transportation Quality (GPTQ), becoming the first SQP to receive NPHQ accreditation. GPTQ includes original members of the Georgia Quality Initiative, such as GDOT, the Georgia Highway Contractors Association, and FHWA's Georgia division office, as well as new partners ranging from the Georgia Transit Association to the Georgia Transportation Institute. GPTQ's initiatives include workforce training for highway personnel. To learn more about GPTQ, visit www.gptq.com. Guidelines for starting an SQP and applying for NPHQ accreditation are available in NPHQ's booklet, How to Grow an SQP. The booklet can be found online at www.nphq.org (click on "State Quality Partnership Resources").
For more information about NPHQ or the 2005 Quality Conference, or to subscribe to NPHQ's newsletter, contact Bob Templeton at NPHQ, 512-301-9899 (fax: 512-301-9897; email: btemplenphq@aol.com), or visit www.nphq.org.
Reprinted from Focus, April 2006.