Category 2: The Rural Highways Merit Award
2002 TH 61 Silver Creek Cliff Tunnel and North Shore Scenic Highway, near Two Harbors, Minnesota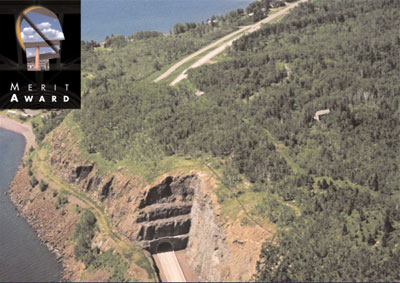 TH 61 Silver Creek Cliff Tunnel and North Shore Scenic Highway,
near Two Harbors, Minnesota
Designer:
Charles Nelson & Associates, Minneapolis, MN
HNTB Engineers
E&K, Inc.
Contractor:
Johnson Brothers Construction, Litchfield, MN
Frontier-Kemper, Evansville, IN
Traylor Brothers Corporation, Evansville, IN
The TH 61 North Shore Scenic Highway is a 150-mile coastal interregional highway corridor that links northeastern Minnesota with the rest of the state, nation, and Canada. The design and construction of the TH 61 realignment also involved mining a tunnel through Silver Creek Cliff to provide a safe, cost-effective, and state-of-the-art system to replace a dangerous steep and narrow two-lane roadway on the side of the cliff.