Congratulations from the Administrator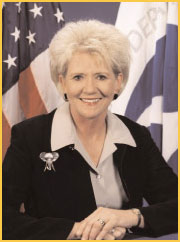 On behalf of Secretary Mineta, I offer my congratulations to the winners of the 2002 Excellence in Highway Design competition. The Federal Highway Administration has sponsored a design competition in one form or another since 1968, and the winners this year are among the best we have seen.
Today, many highway agencies are turning toward a design approach known as Context Sensitive Solutions or Context Sensitive Design. This approach seeks to involve all parties affected by a highway project as early as possible in the planning and design process. The goal is to create a design that will be well suited to the unique context surrounding the
highway project. Such a design will strike the right balance to meet a whole range of transportation-related community needs: safety, mobility, environmental enhancement, economic productivity, accessibility, aesthetics, and security.
As I look at the general criteria for the Excellence in Highway Design Awards, I recognize that the best designs, the most creative and innovative designs, share the philosophy behind the Context Sensitive Solutions approach. Excellent designs are those that solve the specific problems of a specific context and deliver a range of benefits to the community in one harmonious, aesthetically pleasing package.
At the Federal Highway Administration, we are focusing on three core areas within our strategic goals, what we call our Vital Few-safety, environmental stewardship, and congestion mitigation. The crucial importance of highway design to fulfill our mission and reach our goals is illustrated by the winning entries showcased in this publication. Improving safety and enhancing the environment are cornerstones of many of the winning designs. And increasing mobility and reducing congestion is an essential element of many of the designs.
As the demands on our highway system become increasingly complex, the need for innovative and sensitive design solutions will grow as well. The winners of the 2002 Excellence in Highway Design competition give us great examples of improving safety, relieving congestion and protecting the environment. Again, Secretary Mineta and I congratulate all the winners for their outstanding contributions and their well deserved awards.
Mary E. Peters
Federal Highway Administrator