Transportation Air Quality Selected Facts and Figures
Progress in Reducing Motor Vehicle Emissions
PDF files can be viewed with the Acrobat® Reader®
Have We Made Progress in Reducing Motor Vehicle Emissions?
Air pollution emissions from motor vehicles have dropped considerably since 1970–VOC emissions are down 87 percent, NOx emissions are down 64 percent, PM10 emissions are down 37 percent, and CO emissions are down 86 percent. Since 1990, PM2.5 emissions are down 48 percent; however transportation carbon dioxide (CO2) emissions increased 16 percent. The reductions are due primarily to more stringent light-duty engine and fuel standards. These occurred at the same time as a 56 percent increase in population, 241 percent growth in gross domestic product, and 166 percent growth in VMT.
Percent Change in Motor Vehicle Emissions, Demographics, and Travel (1970–2013)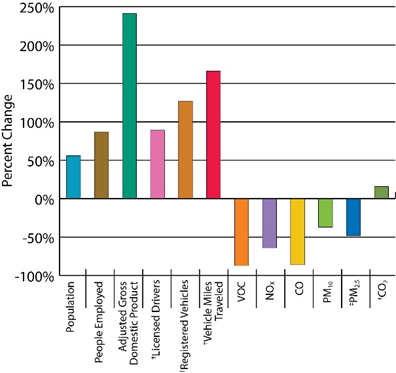 Notes: Figures for licensed tdrivers, tregistered vehicles and tVMT are from 2011. Data for ‡PM2.5 and ‡CO2 are from 1990.
Sources: Bureau of Transportation Statistics, National Transportation Statistics, Table 1-35, March 2014, http://www.rita.dot.gov/bts/sites/rita.dot.gov.bts/files/publications/national_transportation_statistics/html/table_01_35.html
U.S. Census Bureau, Population Division, Table 1, Annual Estimates of the Resident Population for the United States, Regions, States, and Puerto Rico: April 1, 2010 to July 1, 2014 (NST-EST2014-01), http://www.census.gov/popest/data/national/totals/2014/NST-EST2014-alldata.html
U.S. Department of Commerce, Bureau of Economic Analysis, National Economic Accounts, May 2015, http://www.bea.gov/National/index.htm
U.S. Department of Labor, Bureau of Labor Statistics, The Employment Situation–February 2015, http://www.bls.gov/news.release/archives/empsit_03062015.pdf
Federal Highway Administration, Office of Highway Policy Information, Highway Statistics 2011, Chart DV- 1C, December 2012, http://www.fhwa.dot.gov/policyinformation/statistics/2011/dv1c.cfm
Federal Highway Administration Highway Statistics 2013, Public Road Mileage - VMT - Lane Miles 1920– 2013, Chart VMT-421C, http://www.fhwa.dot.gov/policyinformation/statistics/2013/vmt421c.cfm
U.S. Environmental Protection Agency, Clearinghouse for Inventories and Emissions Factors (CHIEF), Current Emission Trends Summaries, https://www.epa.gov/air-emissions-inventories/air-pollutant-emissions-trends-data
U.S. Environmental Protection Agency, Inventory of U.S. Greenhouse Gas Emissions and Sinks, https://www3.epa.gov/climatechange/ghgemissions/usinventoryreport.html