Local Directions, Maps, and Bicycle Parking
On this page you will find:
---
Biking Routes to US DOT Headquarters
Local Bicycle Maps
The Washington Area Bicyclists Association has a list of downloadable maps for the great DC area. For more detailed bicycle maps in the Washington DC area, use these web links:
You may also find the ADC Washington Regional Bike Map useful.
---
Bike Parking and Facilities for DOT Employees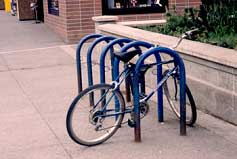 Bicycle parking
DOT employees (both federal employees and contractors), can park in the DOT building parking garage. There are about 50 bicycle racks scattered on the P1 level of the garage mostly near the accessible vehicle parking.
Bike parking for visitors
Unfortunately, there are no bike racks for visitors to the DOT building, although there are several fences that can serve this purpose. There are bike racks across from the DOT building on the other side of M St SE.
Access to gym needed for showers
The DOT building has a fitness center that many commuters use for changing and getting clean. Access to the gym requires a membership. Currently, contractors are not permitted gym access, but this may change based on the results of a pilot program.
Headquarters Bicycle Parking Map