Separated Bike Lane Planning and Design Guide
Table of Contents
PDF Version (99 MB)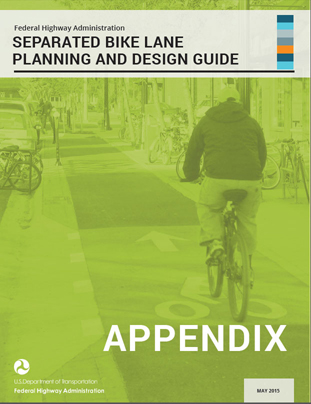 PDF Version (14 MB)
PDF Version (99 MB)
PDF files can be viewed with the Acrobat® Reader®
Table of Contents
Separated Bike Lanes Defined
Separated Bike Lanes in the United States
Separated Bike Lanes in Context
Separated Bike Lanes and the Community
Structure of the Guide
Background on Planning and Design Recommendations
Implementing Separated Bike Lanes Using a Flexible Approach
Separated Bike Lanes and Connected Low-Stress Bicycle Networks
Safety Context
Planning and Design Process Diagram
Identifying a Successful Location
Consider: Users of Separated Bike Lanes
Consider: Connections with Separated Bike Lanes
Consider: Context of Separated Bike Lanes
Opportunities for Separated Bike Lane Installation
Funding, Maintenance, and Outreach
Funding Separated Bike Lanes
Maintaining Separated Bike Lanes
Outreach on Separated Bike Lanes
Holistic Evaluation of Separated Bike Lanes
Best Practices on Data Collection
Flexibility in the Planning and Design Process
Directional and Width Characteristics
Driveways
Transit Stops
Accessible Parking
Loading Zones
Turning Movements
Intersection Markings
Signalization Strategies
Signal Phasing
Bicycle Turning Movements
Sign Guidance
Markings Guidance
Separated Bike Lane Transitions
Decision Making Process Examples
One-Way Street with Left-Side Conflicts
Two-Way Separated Bike Lane on One-Way Street
Median-Running Two-Way Separated Bike Lane
APPENDIX
PDF Version (14 MB)
Appendix B: Lessons Learned Report
Appendix C: Crash Analysis Report
Appendix D: Project Evaluation Checklist
Appendix E: Data Collection Information
Appendix F: Future Research Needs
Figures
Figure 1: Elements of Separated Bike Lane Planning and Design
Figure 2: Spectrum of Bicycle Facility Types
Figure 3: Four Types of Transportation Cyclists in Portland
Figure 4: Planning and Design Process Diagram
Figure 5: Number of Complete Streets Projects Nationwide, 2005-2013
Figure 6: Outreach Process for Separated Bike Lanes
Figure 7: Planning and Design Process Diagram
Figure 8: Directional Characteristics: One-Way Design Option 1
Figure 9: Directional Characteristics: One-Way Design Option 2
Figure 10: Directional Characteristics: One-Way Design Option 3
Figure 11: Directional Characteristics: Two-Way Design Option 1
Figure 12: Directional Characteristics: Two-Way Design Option 2
Figure 13: Directional Characteristics: Two-Way Design Option 3
Figure 14: Midblock Considerations: Driveway Design Option 1
Figure 15: Midblock Considerations: Driveway Design Option 2
Figure 16: Midblock Considerations: Transit Stop Design Option 1
Figure 17: Midblock Considerations: Transit Stop Design Option 2
Figure 18: Midblock Considerations: Transit Stop Design Option 3
Figure 19: Midblock Considerations: Accessible Parking Design Option
Figure 20: Midblock Considerations: Loading Zone Design Option 1
Figure 21: Midblock Considerations: Loading Zone Design Option 2
Figure 22: Intersection Design: Signalization
Figure 23: Intersection Design: Lateral Shift
Figure 24: Intersection Design: Mixing Zone
Figure 25: Intersection Design: Bend-In
Figure 26: Intersection Design: Bend-Out
Figure 27: Lane Markings: White Chevrons and White Lines
Figure 28: Lane Markings: Use of Green Paint
Figure 29: Signal Phasing Examples
Figure 30: Bicycle Turning Movements: Bike Boxes and Early Exit
Figure 31: Bicycle Turning Movements: 2-Stage Turn Queue Boxes
Figure 32: Decision Making Process Example 1
Figure 33: Decision Making Process Example 2
Figure 34: Decision Making Process Example 3
Tables
Table 1: Resources for Bicycle Design Elements
Table 2: Planning Elements for Separated Bike Lanes
Table 3: Intersection Treatment Options
Table 4: Bend-In and Bend-Out Comparison
---
NOTICE
This document is disseminated under the sponsorship of the U.S. Department of Transportation in the interest of information exchange. This document was prepared for the Federal Highway Administration (Task Order DTFH61-11-D-00035-T-13001) by the University of North Carolina (UNC) Highway Safety Research Center, Sam Schwartz Engineering, and Kittelson & Associates, Inc. The U.S. Government assumes no liability for the use of the information contained in this document.
The U.S. Government does not endorse products or manufacturers. Trademarks or manufacturers' names appear in this report only because they are considered essential to the objective of this document.
The contents of this report reflect the views of the authors, who are responsible for thefacts and accuracy of the data presented herein.
The report does not constitute a standard, specification, or regulation. It does not create orconfer any rights for or on any person or operate to bind the public.
Images in the report are intended to serve as examples of the range of real world existing conditions; they are not limited to best practices or approved designs and in some cases may reflect conditions that are not recommended.
COMPLIANCE WITH THE MUTCD
Any traffic control devices that are used for separated bike lanes must comply with thManual on Uniform Traffic Control Devices (MUTCD). The MUTCD is incorporated breference in 23 Code of Federal Regulations, Part 655, Subpart F, and is approved as the national standard for designing, applying, and planning traffic control devices installed oany street, highway, or bikeway open to public travel. The FHWA issues the MUTCD, which contains all national design, application, and placement standards, guidance, options, and support provisions for traffic control devices used with separated bike lanes. Thjurisdiction implementing the bike lane must ensure that the project complies with the MUTCD. Please note that interim approvals (IAs) have been issued by the FHWA for green colored pavement (IA-14) and bicycle signal faces (IA-17). Agencies who desire to use green colored pavement or bicycle signal faces must request specific approval from the FHWAusing the procedure outlined in Paragraphs 14 through 22 of Section 1A.10 of the MUTCD. Please also note that bike boxes and two-stage turn boxes are still experimental. Agencies who desire to experiment with bike boxes or two-stage turn boxes must request approval from the FHWA using the procedure outlined in Paragraphs 8 through 11 of Section 1A.10 of the MUTCD. The FHWA maintains a web page regarding the MUTCD approval status of various bicycle-related treatments at https://www.fhwa.dot.gov/environment/bicycle_pedestrian/guidance/design_guidance/mutcd.
Publication Number: FHWA-HEP-15-025