Designing Sidewalks and Trails for Access
Part II of II: Best Practices Design Guide
All facilities, including sidewalks, require regular maintenance to reduce the damage caused over time by the effects of weather and use. However, many maintenance issues can be reduced if properly addressed in the planning and designing phases before construction even begins. Proper maintenance is essential to promote user safety, to ensure ease of access, and Sidewalk Maintenance and Construction Site Safety to encourage the use of a designated route. The implementing regulations under Title II of the Americans with Disabilities Act require all features and equipment that are required to be accessible to be maintained in operable working condition for use by individuals with disabilities (U.S. Department of Justice, 1991a).
Figure 10-1. Regular sidewalk maintenance can prevent or correct sidewalk conditions, such as changes in level.
Accessible designs are useless if maintenance is neglected and sidewalks are allowed to degrade to a state where they cannot be used or must be avoided during travel. Frequently identified roadway safety and sidewalk design problems include:
Sidewalk surfaces in poor repair, such as uneven or broken concrete and slabs uplifted by tree roots; and
Lack of regular sidewalk maintenance, including overhanging trees and excessive snow on sidewalks.
Maintenance strategies should be included in the preliminary planning stages of new construction and alterations. Maintenance plans should also address existing facilities. The extent and frequency of maintenance schedules will vary greatly depending on the location, amount of use, and resources available. It is recommended that a plan be developed that clearly specifies the frequency of maintenance activities and how reported maintenance concerns will be addressed.
In order to maintain passable sidewalk conditions, current and potential problems must be identified through an objective assessment process. There are many methods available for identifying maintenance needs on existing sidewalks. For example:
Large cities may devote a branch of their Public Works department solely to sidewalk inspection and repair;
The Sidewalk Assessment Process (SWAP) records and prioritizes maintenance needs on sidewalks (see Chapter 11);
Pedestrians may identify and report maintenance problems (see Section 10.3); and
A city may establish an improvement program that identifies sites requiring improvements, access, or maintenance.
For a maintenance program to be effective, it must identify conditions that can impede pedestrian access and quickly respond with prompt repairs. Any citizen complaints reported should be given first consideration for improvement or repair if the reporting involves a safety or access issue.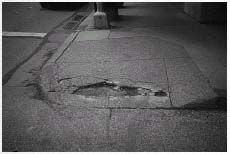 Figure 10-2. Sidewalk cracks and broken concrete are common sidewalk maintenance problems that inhibit pedestrian access to sidewalks.
Sidewalk inspectors should look for conditions likely to inhibit pedestrian access or cause injuries. The following list of common sidewalk maintenance problems was generated from promotional material created for homeowners by the Bureau of Maintenance in the City of Portland, Oregon (1996) and the Division of Engineering for the Lexington-Fayette County Urban Government (1993):
Step separation - A vertical displacement of 13 mm (0.5 in) or greater at any point on the walkway that could cause pedestrians to trip or prevent the wheels of a wheelchair or stroller from rolling smoothly;
Badly cracked concrete - Holes and rough spots ranging from hairline cracks to indentations wider than 13 mm (0.5 in);
Spalled areas - Fragments of concrete or other building material detached from larger structures;
Settled areas that trap water - Sidewalk segments with depressions, reverse cross slopes, or other indentations that make the sidewalk path lower than the curb. These depressions trap silt and water on the sidewalk and reduce the slip resistant nature of the surface;
Tree root damage - Roots from trees growing in adjacent landscaping that cause the walkway surface to buckle and crack;
Vegetation overgrowth - Ground cover, trees, or shrubs on properties or setbacks adjacent to the path that have not been pruned can encroach onto the path and create obstacles;
Obstacles - Objects located on the sidewalk, in setbacks, or on properties adjacent to the sidewalk that obstruct the passage space. Obstacles commonly include trash receptacles, utility poles, newspaper vending machines, and mailboxes;
General Safety - Any safety issue that a pedestrian or sidewalk inspector believes should merit attention;
Blocked drainage inlets and inadequate flow planning;
Temporary construction interruptions; and
Inadequate patching after utility installation.
Although sidewalks are usually elements of the public right-of-way, some city charters assign the responsibility for sidewalk upkeep to the owner of the adjacent property. City charters commonly specify that the city cannot be held liable for any accidents or injuries incurred due to sidewalk conditions.
When homeowners and businesses are responsible for sidewalk maintenance, they are allowed to decide whether to hire a contractor, perform repairs on their own, or have the city do the repair. Homeowner associations in some neighborhoods address right-of-way maintenance as a group to minimize the cost to individual members. In some areas, the city will subsidize property owners for sidewalk repairs. Local laws may also dictate whether or not a homeowner must hire a professional contractor to undertake sidewalk repair. Regardless of the approach for sidewalk maintenance, municipal inspectors should review and approve all repairs to guarantee that the improved sidewalk meets pedestrian access needs.
In addition to maintaining the physical characteristics of sidewalks, agencies should also maintain signs, signals, and other information regarding crossing construction and general pedestrian facility conditions. Periodic reassessment of sidewalks should be conducted to verify that conditions have not changed. Assessment data should also be verified after a catastrophic event, such as a flood or an earthquake.
Signs should comply with MUTCD and ADAAG specifications. In general, signs should also be reevaluated periodically and replaced when age and weathering reduces legibility. The design of the sign and signal should consider the information that is being displayed, as well as actions taken to reduce theft or vandalism. Signs should be removed or replaced when messages are no longer needed, the content of the information has changed, or information is not being provided for people with visual impairments.
Figure 10-3. Residents of Seattle can request the installation of a wheelchair ramp at an intersection by completing this form and submitting it to the City's Wheelchair Ramp Program.
Those responsible for sidewalk maintenance should provide users with a convenient means to report sites in need of maintenance. The following techniques have been used successfully by a variety of municipalities to obtain maintenance input from users:
Publishing a comprehensive maintenance guide with easy to follow guidelines that highlight the local maintenance goals and procedures;
Using mass mailings to send self-addressed stamped forms for requesting a repair. For example, the Maine Department of Transportation's "Spot Me" program sends residents a postcard asking for small repair/improvement suggestions along bikeways. This type of a program could also be used to improve sidewalk access;
Using additional signs or adhesive stickers attached to existing signs, to instruct pedestrians on how to submit maintenance/improvement requests;
Periodically placing information flyers in local newspapers; and
Making maintenance information available at public and school libraries.
Figure 10-4. The Maine Department of Transportation sends to its residents this "Spot Me" postcard. Residents use the postcard to suggest small repairs and improvements along streets and sidewalks.
Citizens' Request programs can provide local maintenance agencies with an efficient way of repairing facilities. Residents living in an area can often identify issues quicker than a centralized agency.
Pedestrians who take the time to submit problems to the appropriate agency need to receive a timely written response or see quick results to feel their efforts were worthwhile. If timely action or notification of pending action is not taken, participants could become frustrated and be less likely to spend time in the future identifying problems. If problems are to be resolved in an upcoming project, then the citizen can be notified of the plan.
Figure 10-5. PROBLEM: Construction sites should include temporary ramps and should be blocked off with solid fencing. The thin tape in this illustration is not detectable using a long white cane.
Construction sites contain a variety of hazardous conditions such as work areas, workers, tools, equipment, machines, and stockpiles of materials that are potential obstacles and dangers to pedestrians when not correctly cordoned off from public use. Roadway and sidewalk maintenance and construction activities can adversely affect pedestrian access by:
Removing entire street sections and/or sidewalks from public circulation;
Failing to provide a continuous, accessible path of travel around or through construction;
Not providing adequate warning and rerouting signs so that pedestrians can avoid the affected area;
Placing potentially dangerous equipment and machines in close proximity to pedestrians;
Reducing or blocking the pedestrian zone with materials or equipment;
Failing to ensure that people with vision impairments can easily detect and avoid the construction site;
Restricting the use of crosswalks by blocking access to available curb ramps;
Not providing a safe and accessible alternative route around the construction site to adjacent businesses and destinations; and
Using ineffective or unusable barriers such as plastic tape around the site.
Figure 10-6. Signs notifying pedestrians of damaged sites or construction work should be located at the corner to prevent pedestrians from reaching the problem and having to turn around. Note: When technology improves, audible information of sidewalk closures should be provided for pedestrians with visual impairments.
A variety of measures can be taken to reduce potential safety and access problems at or near construction sites. A continuous route for all pedestrians must be maintained at all times. It is not acceptable to simply close a sidewalk without identifying an alternate circulation route. The alternate route must enable pedestrians to bypass the construction site without retracing their steps or going significantly out of their way. Additional consideration should be given to the needs of pedestrians with disabilities since they may not have the ability to improvise (e.g., balancing along the curb or a very narrow path) or use unofficial alternatives (e.g., using an adjacent grass surface). When a temporary route is established, it must be accessible to people with disabilities.
Information sources should be used to provide advance warning to pedestrians of the presence of the sidewalk construction site and to clearly mark the alternate circulation routes available. Information sources should use a variety of methods (e.g., signs, audible information, and electronic information sources) to convey this information to pedestrians. It is particularly important to ensure that all information sources are accessible to people with vision and cognitive impairments that may not be able to access signs or written information sources that have traditionally been used. To ensure the highest level of accessibility, information sources should:
Conform to ADAAG for items such as finish and contrast, raised and Braille characters, character proportion and height, pictorial symbol signs (pictograms), and mounting height;
Recognize that many people with cognitive impairments will be unable to read or understand written text and graphics;
Utilize simple language and graphics that are easily understood;
Make pedestrians aware of the sidewalk construction site location and the impact on the circulation route at each intersection or cross street location prior to the construction site, so pedestrians can alter their route before they arrive at the site;
Make all pedestrians, including those with vision impairments, aware of the problem site and intended repairs as soon as identification of the problem has been recognized by the municipality before the repair or construction work begins;
Discourage contractors from blocking sidewalks and parking lane to provide contractor parking;
Indicate the duration of the construction work and any changes to the regular circulation route at the proposed site a reasonable amount of time before the construction takes place so that pedestrians who use the route on a regular basis have sufficient time to plan and learn alternate routes to their destination;
Clearly delineate the alternate circulation route location and any instructions required for its use (e.g., altered crosswalk signal locations);
When it becomes available, use technology that provides audible information to people with vision impairments at construction sites. A small broadcasting device that gives recorded instructions when activated by a motion sensor is one method of providing effective audible information to people with vision impairments; and
Consider using traffic lanes to continue pedestrian access since most pedestrians will walk in the street. Jersey barriers can provide protection for pedestrians from traffic, while parking lanes can provide a temporary pathway.
Figure 10-7. GOOD DESIGN: Mesh fencing and temporary ramps are critical features at construction sights.
Additional information can be provided via off-site information sources, including the internet or a telephone information line. However, these should be used only to supplement on-site information sources. Off-site information sources are beneficial since they allow pedestrians to obtain information in advance of their travel to or near the construction site. Advance information makes it easier for pedestrians to plan an alternate route to avoid the construction site.
It is essential that ground level, solid, continuous barriers be constructed to prevent pedestrians from entering the construction site either intentionally or unintentionally. Pedestrian safety is compromised because of the obstacles and hazards that will be present if access to the construction site is permitted. The use of flagging tape, ribbon, or signs to identify a site without a solid barrier is inappropriate. Barriers should also be used for all temporary closures, such as window cleaners and painters working overhead.
Barriers defining the alternate route should:
Be a minimum of 915 mm (36 in) in height and continuous with the ground surface;
Extend around the entire perimeter of the construction site or the entire length of the alternate circulation route;
Have no breaks or gaps along the full length of the barrier;
Have a solid, continuous bottom rail between 10 mm (4 in) and 305 mm (12 in) in height;
Be of a high contrast color and material;
Provide temporary ramps and boardwalks as required to ensure a smooth and continuous surface that complies with ADAAG;
Have a level landing, at least 1.525 m x 1.525 m (60 in x 60 in) in size, at the top and bottom of any slopes greater than 5 percent; and
Include the area encompassing a smooth transition from the permanent to the temporary route.
Strong consideration should be given to closing off one lane of the street to traffic if pedestrians need to be diverted off of the sidewalk at a site location. This allows the outside (curb) lane for motorists to be used as the alternate pedestrian circulation route. It is easier and quicker for vehicles to find an alternate route than pedestrians, especially those with vision, cognitive, or mobility impairments. Construction contractors should also ensure that supervisors, contractors, and workers at the site are sensitized to the potential pedestrian conflicts that may occur. In this way, they can be alert to changing hazards and conditions that might impact pedestrian safety (e.g., the delivery of a new load of materials) and provide any assistance that pedestrians may require.