Designing Sidewalks and Trails for Access
Part II of II: Best Practices Design Guide
At a trail crossing, users may change directions, encounter other user groups, experience a narrower or wider trail width, or encounter automobile traffic. Designers should carefully develop trail crossings to ensure that they are accessible to the full range of trail users. It is recommended that any type of trail crossing be designed using right angles to maximize visibility and accessibility. In addition, design elements, such as clear sight lines and accessible information, should also be incorporated. The following chapter provides specific design recommendations for the following types of trail crossings:
Trails intersecting other trails;
Bridges;
Trails intersecting streets and roadways;
Grade separated crossings; and
Railroad crossings.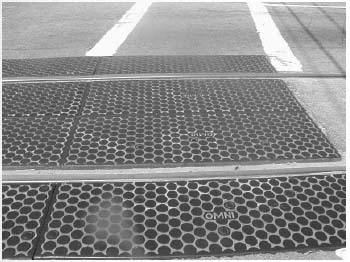 Figure 16-1. Installing a rubber surface rather than asphalt on a shared use path is an example of how rail crossings can be improved for pedestrians.
The following chapter applies to recreation trails and shared use paths. The term trail is used to address both types of outdoor pathways. If a design strategy does not apply to both shared paths and recreation trails, a specific remark will be provided.
At the intersection of two trails, different user groups often meet one another. To enhance safety, users should be aware that they are approaching an intersection and there is a potential for encountering users from a variety of directions. This can be done through a combination of signs and unobstructed sight lines. To accomplish unobstructed sight lines, trails should intersect at 90-degree angles. Furthermore, designers should verify that sight lines are unobstructed from both a seated standing position. If the trail also includes equestrians, higher sight lines should cleared. On shared use paths, longer lines should be provided for users, such as bicyclists, that may be traveling at higher speeds.
Figure 16-2. Clear sight lines and signage should be provided when trails intersect other trails to avoid conflicts between user groups.
In addition to clear sight lines, other design strategies can also be implemented to reduce conflicts at trail intersections, including:
Figure 16-3. Off-setting trail intersections minimizes potential conflicts between trail users by creating multiple three-way intersections as opposed to a single four-way intersection.
Off-setting the trail intersection and creating two three-way intersections rather than one four-way intersection;
Designing a level and smooth physical connection between the two trail surfaces;
Providing signs at the intersection that clearly indicate the desired direction of travel, user right-of-way, and the numerous possible destinations and their distances;
Providing sign formats in high use areas, such as audible recording devices, that are accessible to individuals with vision impairments and those who have a limited ability to read text;
Clearly indicating, through signs barriers, the allowed user groups; and
Providing signage with Trail Access Information to communicate grade, cross-slope, trail width, and obstacle information.
Figure 16-4. When a trail intersects another trail, providing signs that clearly indicate which users have the right of way will help mitigate conflict.
Bridges are common trail structures used to traverse waterways or other trail barriers, such as ravines or rivers. Bridges should be designed for the various types of anticipated trail users. Additional skills and abilities should not be necessary to negotiate the bridge. For example, a trail that provides adequate tread width and access to pedestrians with mobility impairments should not rely on a log bridge or step stone crossing. The following considerations should be included when designing bridges:
Figure 16-5. PROBLEM: The design of a trail crossing should be consistent with the trail leading up to it. In this illustration, a split log crossing is provided, but a bridge would be more appropriate.
Change in level - Bridges should be flush with the trail surface;
Handrails - Handrails should be considered to protect all bridge users and provide a gripping surface to maintain balance or support. If handrails are provided, they should be designed according to ADAAG 4.26; the top rail should be at least 1.1 m (43 in) above the ground;
Alignment - Bridges should be aligned so that users can adequately see and prepare for the transition between the trail and bridge. Steep ramps or steps should be avoided at the bridge approach;
Dimensions - On shared-use paths, bridges should be as wide as the path with a 610 mm (2 ft) buffer on either side. Ideally, bridges on recreation trails should also be as wide as the paths leading up to them; however, a minimum width of 915 mm (36 in) is critical. Bridges should be wide enough to accommodate the type of trail user, such as bicyclist, snowmobile, and all terrain vehicle driver; and
Bridges - Bridges should not be arched but have flat grades.
Figure 16-6. POTENTIAL PROBLEM: If the bridge is not flush with the trail surface, people with mobility impairments may be denied access.
Figure 16-7. GOOD DESIGN: Bridges that are flush with the trail surface provide greater access to trail users.
Figure 16-8. GOOD DESIGN: On this outdoor recreation trail, the width of the bridge is consistent with the width of the trail leading up to the bridge.
Trails intersecting a street create a greater safety hazard than intersections with other trails because of the higher volume and speed of the street traffic. In order to maximize the safety and accessibility of trail-to-street intersections, the following trail design considerations are recommended:
The trail should intersect the street at a 90-degree angle;
Increase trail width at the intersection to reduce user conflicts;
Provide good sight lines for both motorists and trail users;
Provide signage to ensure that motorists are aware of the trail crossing;
Provide a visible crosswalk across the intersection to increase trail user and motorist awareness.
Signs, both on the road and the trail, should clearly indicate whether motorists or trail users have the right of way; and
Use curb ramps as required include detectable warnings to ensure that trail users with vision impairments are aware of the street. Curb ramps should be designed and located in accordance with Section 16.3.1.d
At a road and trail intersection, raising the level of the road up to the level of the trail can eliminate the need for curb ramps and contributes to traffic calming because of the raised crosswalk that is created (see Section 8.4). If this design is used, detectable warnings should be included between the edge of the trail and the roadway to ensure that users with vision impairments can identify the intersection.
When trails intersect roads, the design of trail curb ramps should, as a minimum, follow the recommendations provided in Chapter 7, with the exception of ramp width. The width of the ramp should be at least as wide as the average width of the trail to improve safety for users who will be traveling at various speeds. In addition, the overall width of the trail should be increased, so the curb ramp can be slightly offset to the side. The increased width reduces conflict at the intersection by providing more space for users at the bottom of the ramp. Apply truncated domes when providing a wider curb ramp width. The offset design of the curb ramp allows individuals with vision impairments to follow a straight path of travel to a curb. In general, curbs are more detectable for people with vision impairments than curb ramps. If the offset design cannot be used and the curb ramp must extend the full width of the beaten path, a detectable warning should be provided to alert users with vision impairments to the changing conditions (see Chapter 6, Accessible Information).
Figure 16-9. GOOD DESIGN: Curb ramps on trails should be slightly offset whenever possible to reduce conflict at an intersection and make it easier for people with vision impairments to detect the street.
If a grade crossing between a trail and street is not desirable, a grade separated crossing should be considered. In most situations, motorists will cross at grade and the trail will be routed over or under the roadway. However, designers should also consider allowing the trail to cross at grade and create an underpass or overpass for motorists. Refer to Section for additional information on designing grade separated crossings. When the trail is rerouted, the grade separated crossings must be accessible (any constructed facility must be accessible). The choice of an underpass or overpass is largely determined by the terrain, type of trail/road use, and available funding.
In most cases, underpasses provide a greater level of access because the required elevation changes are usually less severe than changes for an overpass. When an underpass is used, attention must be paid to:
Figure 16-10. GOOD DESIGN: A well designed underpass is well lit and provides additional vertical clearance to account for the vertical shy distance.
Sight lines - Sight lines should be unobstructed from both a seated and standing position. Good sight lines are essential for a safe path of travel and they provide a greater sense of security;
Level of illumination - Lighting within the underpass should be bright to accommodate the needs of people with vision impairments and increase comfort levels for all pedestrians. Indirect lighting, such as that reflected off the underpass walls or ceiling, minimizes shadows and glare, which benefits users with vision impairments; and
Vertical clearance - Additional vertical height should be provided at an underpass to enhance user comfort. This additional height is often referred to as vertical shy distance. At least 3.05 m (10 ft) is recommended.
Figure 16-11. GOOD DESIGN: In some situations, designers should consider allowing the trail to cross at grade and creating an underpass for motorists.
If an overpass is selected, long approaches or switchbacks should be used to maintain grades that provide access to people with mobility impairments.
Trails that cross railroads pose potential hazards to all trail users, but particularly those who rely on wheeled forms of mobility because the size of the flangeway gap 51 mm (2 in) exceeds the recommended width for openings 13 mm (0.5 in). Getting a wheel caught in the flangeway gap is a safety hazard (for more information, see Section 8.11).
To minimize the impact of the flangeway gap, it is important that trails should intersect the tracks at a right angle. In addition, the following design strategies should be used:
Figure 16-12. POTENTIAL PROBLEM: Broken surfaces should be avoided at railroad crossings. A surface material that will not buckle, expand, or contract significantly should be used near railroad tracks.
Approaches to the track and the area between the tracks should be raised to the level of the top of the rail because rail ties that are not flush with the travel surface create a tripping hazard, in addition to the gap hazard. A surface material that will not buckle, expand, or contract significantly (e.g., textured rubber railroad crossing pads) should be used;
Approaches to the track should ramped with minimal grades and should be flat for a distance of 1.525 m (5 feet) on either side of the tracks, free of obstacles, and have a firm and stable surface;
For recreation trails, the trail surface should be hardened to reduce the debris that scatters over the tracks as users pass;
Sight lines and signage should ensure that all users, and particularly those with disabilities affecting hearing, vision, or mobility impairments, have adequate warning about the intersection;
Signals and/or gates should considered to warn trail users of the rail crossing.
Figure 16-13. GOOD DESIGN: The approaches to the railroad tracks and the area between the tracks should be raised to the level of the top of the rail.
Currently there are no design strategies that can completely eliminate the flangeway gap for high speed, regulation size trains. The gap could be eliminated in the future with further research to develop a system similar to what is currently available for low speed, light rail trains. A rubber insert is available to fill the flangeway gap for light rail tracks that have trains traveling at low speeds (e.g., approaching a transit stop). The flangeway fillers provide a level surface for pedestrians and other trail users but deflect downward with the weight of the train. In this way, pedestrians have a "gap free" surface and the trail and rail function is unaffected.
Figure 16-14. The above "flangeway filler" eliminates the gap in the path of travel for pedestrians when crossing railroad tracks. The filler, consisting of a rubber insert, will deflect downward with the weight of a train and, therefore, does not affect low speed rail function.