Noise Barrier Design Handbook
11. Installation Considerations
The noise barrier system, including the posts, panels, and foundation, must be designed and installed to withstand local wind loads as determined by the reference wind specifications for each unique installation, in conjunction with the soil design parameters along the centerline of the wall. Regardless whether the noise barrier system is to be prefabricated or fabricated on site, the manufacturer/contractor should be required to provide advance notice of the date that the fabrication of the noise barrier components is expected to commence. This is to provide sufficient opportunity for the responsible organization to observe and, possibly, take samples for quality control and quality assurance testing.
This section discusses a variety of installation-related processes including
11.1 Site Grading and Preparation
Earth grading and/or paving at the base of the noise barrier panels and posts should be such that the bottom panels are effectively buried to avoid any gaps. The earth and/or pavement should be sloped away from the installation to prevent the washout of soil at the base of the noise barrier.
All graded earth should be sufficiently compacted in accordance with ASTM D1557. ref.67 This is to reduce or eliminate settling of the surrounding earth and possibly creating gaps at the base of the wall between the panels and the ground line.
Changes in vertical alignment, or the ground line, should occur at the posts, or the posts should be installed where these changes occur.
11.2 Foundation Requirements.
The site-specific type, depth, size, and shape of the foundations should be determined in accordance with the governing codes based on the determined soil design parameters along the alignment of the noise barrier installation. The topic of footings was discussed previously in Section 8.4.1 and Section 8.4.2
11.3 Quality Assurances
All materials delivered to the construction site should be checked to assure that they meet all the stipulated requirements. This is typically done in three ways:
11.3.1 Visual Examination.
A visual examination of all components should be done at the plant and at the site before, during, and after installation. Specifically, components should be visually inspected for:
Proper dimensions;
Surface defects;
Inconsistency in color and texture;
Cracks;
Rust stains;
Deterioration;
Warping;
Honeycombing (for concrete barrier systems);
Voids (for concrete barrier systems);
Spalling (for concrete barrier systems);
Delamination (for concrete barrier systems);
Oxidation (for metal barrier systems);
Checking (for wood barrier systems);
Splitting (for wood barrier systems);
Loose or missing knots (for wood barrier systems);
Lack of incising (for wood barrier systems); and
Any other surface damage or imperfections such as dents, scratches, chips, and gouges.
11.3.2 Proof of Certification.
In some cases, the quality of a product may be inspected by another approving or certifying responsible organization, or a self-governing industrial association. A certificate may be provided from the manufacturer of that particular component, certifying that the product had been manufactured to a specific standard and that the materials used are of a certain quality. This type of quality assurance certification is typical for most steel products where the certificate is issued by the mill, usually certifying the grade of the metal and some physical and chemical properties. These certificates should be made available at the time of supply.
11.3.3 Testing Methods.
There are two types of physical testing that can be done on any product: (1) destructive; and (2) non-destructive. Nondestructive testing allows the product to be evaluated without destroying its properties or appearance. If this type of testing cannot provide the necessary degree of accuracy or adequate information, some form of destructive testing may be required. There are varying degrees of destructive testing, ranging from total destruction of the product to minor cosmetic damage, which may be either too small to see or easily repairable.
11.3.4 Sampling.
Samples for additional testing should only be provided when products are delivered to the site, which are ready for installation and have passed both the visual inspection and the proof of certification requirements.
11.4 Handling and Storage of Materials on Site
Handling and storage of noise barrier components on site should be according to the manufacturer's specifications.
11.5 Barrier Assembly and Construction
This section discusses the considerations associated with barrier assembly and construction, including construction tolerances, sealants, fasteners, and other related processes.
11.5.1 Construction Tolerances
To ensure proper fitting of components and an acceptable overall appearance, the noise barrier should be constructed to the height and horizontal and vertical alignment within specified tolerances. Regardless of the aesthetic treatment and changes in elevation to accommodate vertical and horizontal alignment shifts, the minimum specified height of the noise barrier should be maintained at all times.
11.5.2 Grout, Caulking, and Sealants.
Any gaps or cracks in the installed noise barrier system should be filled with an acceptable filler materials (i.e. grout, caulking, backer rods, or sealant). When this type of material is recommended, it is important that all surfaces be clean, dry, and free of loose material before applying the filler material. In some cases, it may be necessary to use a flashing to cover larger gaps or to redirect water away from the noise barrier wall. In all cases, it is critical to ensure that light cannot be seen through any part of the noise barrier system and that the filler material or flashing does not trap water inside the wall components or near the base and foundation of the wall.
11.5.3 Anchors, Fasteners, and Lifting Inserts.
Anchors, fasteners, and lifting inserts should be either made of a non-corroding metal or have a corrosion resistant coating applied after fabrication, but before installation.
11.5.4 Field Welds.
Factory-applied coatings, such as paints, stains, or galvanizing, are considered to be far superior to field-applied methods. Therefore, any field operation that would require recoating the component surfaces, such as welding of metal components, should be kept to an absolute minimum to maintain the integrity and durability of the original coating. If field welds are necessary, the weld and its surrounding area should be cleaned and painted with an acceptable organic zinc-rich paint matching the color of the surrounding surfaces.
11.5.5 Coatings.
If painted, stained, or galvanized surfaces become abraded during shipping, storage, or installation, those surfaces should be cleaned and re-coated with an organic zinc-rich paint that matches the color of the surrounding surfaces.
11.5.6 Installation Jigs.
During the installation of noise barriers, devices are often used to support barrier system elements (see Figure 236). While form work is typically used to support cast-in-place concrete pours, installation jigs are devices which are assembled and placed to hold pre-assembled or pre-manufactured components such as noise barrier posts and/or panels. A typical use of a jig may be to hold a noise barrier post at its final position in an excavated foundation while the foundation concrete is poured and during the concrete's curing process. Jigs may also be used to support noise barrier panels during the process of anchoring the panels to their supporting structure.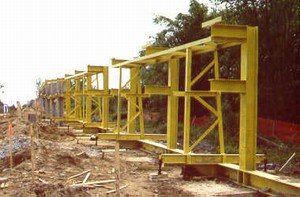 Figure 236. Installation jigs
photo #6536
11.5.7 Installation Scaffolding.
In most cases, scaffolding is needed to install most types of noise barriers. Cranes may be used to install prefabricated or preassembled panels (see Figure 237), but crews are still needed on scaffolding to fasten the panels to the posts and framework (see Figures 238 and 239). Scaffolding needs room, a good solid foundation, and a considerable amount of effort and time to install. All of these factors should be considered before this type of material is selected for a specific site.
Figure 237. Intallation considerations
photo #6535
Figure 238. Intallation considerations
photo #2406
Figure 239. Intallation considerations
photo #2327
11.6 Construction Noise Barriers
In certain instances, noise generated by construction activities may warrant the consideration of noise abatement during the project construction phase. Such abatement may be necessitated by the proximity of construction activities to sensitive receptor sites, the activities at the receptor site itself, the time of both construction and receptor site activities, and the type of construction activity. It may be possible to limit working hours, limit certain activities during certain hours, and/or adjust project construction staging to allow for the earliest possible construction of the project's permanent noise barriers. Figure 240 shows a permanent noise barrier built prior to much of the project's construction activities. It may also be necessary to provide temporary noise barriers for certain operations. On any particular project, it may be necessary to use varying combinations of any or all of these techniques.
Figure 240. Construction noise barriers
photo #6539b
11.6.1 Temporary Noise Walls and Berms.
Both stationary and mobile noise sources may be shielded by placing either a noise berm or wall between the source and the receiver. Such a berm, if needed for only a relatively short period of time, may be constructed of virtually any construction material, with minimum stabilization (as per soil erosion requirements) provided. Noise wall enclosures can be constructed of material such as construction grade plywood or sheet metal. They may be built in sections which can be easily transported to the location needed, assembled, disassembled after use, and moved for use at a new location. It may be possible to create a construction noise barrier by temporarily supporting noise panels which will ultimately become part of a permanent noise barrier system.
11.6.2 Early Construction of Permanent Noise Walls and Berms.
If possible, the desirable construction noise abatement technique for projects having permanent noise barriers is to construct such barriers as early in the construction process as possible. The barrier can then be used to abate construction-activity-related noise and, ultimately, the highway traffic noise it is designed for. With this scenario, more opportunities also exist for placement of stationary noise sources such as compressors in shielded locations. Obviously, such barrier construction may not always be possible as early in the project staging as may be desired. Certain grading, earthwork, fabrication, and drainage operations often must precede such barrier construction. Figure 241 shows an early-constructed permanent barrier protecting adjacent residences from drilling activities.
Figure 241. Early construction of permanent noise barriers
photo #6538
Section Summary
Installations considerations for all noise barriers.

Item#
Main Topic
Sub-Topic
Consideration
See Also Section
11-1
Site Grading & Preparation
.
All graded earth should be compacted to reduce or eliminate settling of the surrounding earth and possibly creating gaps at the base of the wall between the panels and the ground line.
11.1
11-2
Quality Assurances
Testing Methods
Non-destructive testing is the preferred method; however, it may not always be the most accurate, or possible, for the determination and verification of some properties.
11.3
11-3
Construction Tolerances
.
Regardless of the aesthetic treatment and changes in elevation to accommodate alignment shifts, the minimum specified height of the noise barrier should be maintained at all times.
11.5.1
11-4
Installation Materials & Processes
Grout, Caulking, and Sealants
It is critical to ensure that light cannot be seen through any part of the noise barrier system and that the filler material or flashing does not trap water inside the wall components or near the base and foundation of the wall.
11.5.2
Coatings
If painted, stained or galvanized surfaces become abraded during shipping, storage, etc., those surfaces should be cleaned and re-coated.
11.5.5