Additional Trail Elements
Switchbacks, climbing turns, retaining walls, and similar trail elements are common in trail construction. They are often relatively difficult to design and construct correctly. Inadequate maintenance greatly shortens their useful lives. However, a well-designed trail with elements that are built properly can last for decades and be quite unobtrusive.
The best way to learn how to build trail elements is to seek someone who has a reputation for designing and building well-thought-out switchbacks, climbing turns, or walls. Have that expert conduct a seminar for your crew or actually participate in the construction of a trail you're working on.
Switchbacks and climbing turns are used to reverse the direction of travel on hillsides and to gain elevation quickly (figure 65). What is the difference between the two? A climbing turn is a reversal in direction that maintains the existing grade going through the turn without a constructed landing. Climbing turns have a wider turn radius and are used on gentle slopes, typically 15 percent or less. Ideally, 7-percent sideslopes are best.
A switchback is also a reversal in direction, but it has a relatively level constructed landing. Switchbacks are used on steeper terrain, usually steeper than 15 percent. Switchback turns have pretty tight corners because of the steeper grades. Usually, special treatments such as approaches, barriers, and drainages need to be considered. Both of these turns take skill to locate. Choosing when to use each one is not always easy.

Figure 65--Climbing turns should be built on gentler sideslopes, usually 15
percent or less. Ideally, 7-percent sideslopes are best.
Understanding user psychology (human or animal) is more important to the success of climbing turns and switchbacks than to the success of any other trail element. The turns must be easier, more obvious, and more convenient than the alternatives. Climbing turns work best when terrain or vegetation screens the view of travelers coming down the upper approach toward the turn. Avoid building sets of these turns on open hillsides unless the terrain is very steep. It's usually best not to build turns, or the connecting legs of a series of turns, on or across a ridge. The local critters have traveled directly up and down these ridges since the last ice age. They are not going to understand why you are building low hurdles in their path, and they will not be forced onto your trail and turns.
Don't Overdo It
Keep in mind the minimum tool philosophy and build only as many trail elements as you absolutely need to reach your goal.
Plan carefully to avoid impassable or very difficult terrain, reducing the need for switchbacks and climbing turns.
Climbing Turns
Climbing turns are the trail element most often constructed inappropriately. The usual problem is that a climbing turn is built (or attempted) on steep terrain where a switchback is needed. A climbing turn is built on the slope surface, and where it turns, it climbs at the same rate as the slope itself. Climbing turns work best when built on slopes of 15 percent or less.
The advantages of climbing turns in appropriate terrain is that a wider radius turn of 4 to 6 meters (13 to 20 feet) is relatively easy to construct (figure 66). Trails that serve off-highway-vehicle traffic often use insloped, or banked turns so that riders can keep up enough speed for control. Climbing turns are also easier than switchbacks for packstock and bikes to negotiate (figure 67). Climbing turns are usually less expensive than switchbacks because much less excavation is required and fill is not used.

Figure 66--Climbing turns continue the climb through the turn. They can be
insloped or outsloped. Add grade reversals at both approaches to keep water off
the turn.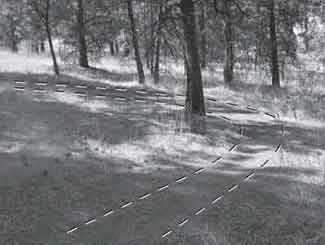 Figure 67--Climbing turns are easier for packstock
and cyclists to negotiate than switchbacks.
The tread at each end of the turn should be full-bench construction, matching that of the approaches. As the turn reaches the fall line, less material will be excavated. In the turn, the tread should not require excavation other than that needed to reach mineral soil.
To prevent shortcutting, wrap the turn around natural obstacles or place guide structures along the inside edge of the turn. The psychologically perfect place to build climbing turns is through dense brush or dog-hair thickets of trees. Always design grade reversals into both of the approaches to keep water off the turn.
Switchbacks
Switchbacks are used in steep terrain (figure 68). Suitable terrain for a switchback becomes harder to locate and maintenance costs increase as the sideslope becomes steeper. Sideslopes from 15 to 45 percent are preferred locations for switchbacks. Although switchbacks can be constructed on sideslopes of up to 55 percent, retaining structures are needed on such steep slopes.

Figure 68--A switchback with a turning platform.
Switchback turns are harder to build correctly than climbing turns, but they keep tread stable on steeper terrain. Most switchbacks are constructed to a much lower standard than is needed. The key to successful switchback construction is adequate excavation, using appropriate structures to hold the fill in place, and building psychologically sound approaches.
Look for natural platforms when you are scouting for possible switchback locations. Use these platforms as control points when locating the connecting tread. Suitable platforms will save you a lot of time later by reducing the amount of excavation and fill needed.
A switchback consists of two approaches, a landing or turning platform, a drain for the upper approach and platform, and guide structures. The upper approach and the upper half of the turning platform are excavated from the slope. Part of the lower approach and the lower half of the turn are constructed on fill (figure 69).

Figure 69--Part of the lower approach and the lower half
of this switchback are constructed on fill.
The approaches are the place where most of the trouble starts with switchback turns. The approaches should be designed for the primary user group. In general, the last 20 meters (65 feet) to the turn should be as steep as the desired level of difficulty will allow. This grade should be smoothly eased to match that of the turn in the last 2 to 3 meters (6 ½ to 10 feet).
Do not flatten the grade for 20 meters (65 feet) before the turn. If anything, steepen the approach grades to foster the sense that the switchback is the most convenient way of gaining or losing altitude (figure 70). There is absolutely nothing as infuriating as walking a nearly flat grade to a distant switchback turn while looking several meters over the edge at the nearly flat grade headed the other direction. You can build a Maginot Line of barricades and still not prevent people, packstock, and wildlife from cutting your switchback. The only exception is a trail designed primarily for wheeled vehicles where a flatter approach makes it easier for riders to control their vehicles.

Figure 70--The rocks help prevent users from being
tempted to cut this switchback.
As the upper approach nears the turn, a grade reversal should be constructed. The tread below this point should be insloped until the halfway point in the turn. Both sides of this drain ditch should be backsloped to an angle appropriate for the local soil. As the turn is reached, the tread should be 0.5 to 1 meter (19 to 39 inches) wider than the approach tread. This is particularly important on small radius turns and for wheeled vehicles. It's less necessary for hikers and packstock.
The turn can be a smooth radius ranging from 1.5 to 3 meters (5 to 10 feet) or a simple Y-shaped platform. A smooth radius turn is important if the trail's use includes wheeled traffic or packstrings. The Y platform works for hikers (figure 71). The turn platform is nearly flat, reaching no more than a 5-percent grade. The upper side is excavated from the sideslope and borrow is used to construct the fill on the lower side. Switchbacks on steep sideslopes can require very large excavations to reach a stable backslope angle and provide clearance for packstock loads. The greater the turn's radius, the wider the platform, or the flatter the turn, the more excavation that will be required. A point may be reached where a retaining wall is needed to stabilize the backslope.

Figure 71--A switchback with a "Y" turning platform, suitable for hiking trails.

Drawings of the side view and top view of switchbacks with retaining walls. The drawing includes the text:

Switchback with rock retaining wall
Backslope (refer to trail excavation details)
Insloped tread
Drain ditch
Batter 2:1
Outsloped tread
Original ground line
Retaining wall
Cut slope
Outslope
Upgrade
Inslope
Drain ditch
Landing (0- to 5-percent outslope)
Retaining wall
Upgrade
Outslope
Fill slope
Retaining wall