Chapter 5--Designing Trail Crossings and Structures--Continued
Below-Grade Crossings--Culverts and Underpasses
In some cases, underpasses--or below-grade crossings--are more suitable than at-grade crossings or bridges. Large-diameter structures--culverts and underpasses--generally serve riders well. Prefabricated underpasses are available in aluminum, steel, and concrete. They can be round, elliptical, arched, or box-shaped. Examples of underpasses are shown in figures 5-29 and 5-30. Trails with belowgrade crossings must meet design regulations or guidance such as AASHTO specifications, and they require the expertise of engineers. The advantage to recreationists and wildlife can sometimes justify the higher cost of below-grade crossings rather than at-grade crossings. When designing belowgrade crossings, carefully consider the safety of approaches, drainage structures, the tread surface, clearance, sight distance, and lighting. Figure 5-31 shows separate, adjacent underpasses for motorized traffic and trail users.

Figure 5-29--Underpasses can have different
configurations, such as this one with approach
wings.
--Courtesy of Bridgetek.

Figure 5-30--Make horizontal trail clearance
in underpasses the same width as the trail or
wider.
--Courtesy of Bridgetek.

Figure 5-31--For safety, provide separate
underpass routes for motorized users
and trail users.
--Courtesy of Bridgetek.
Below-Grade Approaches
It is often difficult to provide the necessary overhead clearance required by riders when approaches slope down into below-grade passages. Design new structures so approaches are level with the trail tread. If drainage or site conditions require a slight slope, make it constant from one end of the passage to the other. Retrofitted below-grade trail approaches sometimes slope downward at both ends, reducing clearance and making drainage difficult. Avoid this situation wherever possible. When sloped approaches to retrofitted culverts or underpasses are unavoidable, design them with no more than a 5-percent grade. Avoid hard, smooth tread treatments for approaches.
Below-Grade Tread Surfaces
Relatively level, natural tread surfaces leading into underpasses generally require no additional treatment. The exception is a tread surface that is frequently wet or muddy. Sloping trails that are frequently wet may benefit from geosynthetic materials. If culverts don't drain adequately, they are unsuitable for horse trails. Design the approach and surfaces of the underpass to prevent water, snow, sand, soil, or other materials from collecting where they will hamper traction or interfere with clearance. Use horse-friendly surface materials. Make sure that the below-grade crossings are large enough for the equipment needed to maintain them. See Chapter 6--Choosing Horse-Friendly Surface Materials for more information.
Below-Grade Clearance
If a trail animal startles while in an underpass or below-grade culvert, the animal, rider, and other trail users may be injured. This is especially true in narrow underpasses or those with low, curved ceilings. For safety, design culverts and underpasses on horse trails so the vertical clearance is no lower than 10 feet (3 meters) across the entire width of the tread. The preferred height is 12 feet (3.6 meters). Horizontal clearance often extends 2 to 3 feet (0.6 to 0.9 meter) beyond the tread edge on both sides of the trail. Horizontal and vertical clearance in passages should be no less than the clearing limits on the rest of the trail.
When figuring horizontal and vertical clearance in underpasses, allow space for maneuvering and passing. Box-shaped structures should meet the standard height guidelines and be no less than 8 feet (2.4 meters) wide. A preferred width of 12 feet (3.6 meters) allows space for trail users to pass. The culvert in figure 5-32 appears wide enough for riders, but the vertical clearance is suspect. Culverts that curve near the top must provide 10 to 12 feet (3 to 3.6 meters) of overhead clearance without forcing riders to the center of the trail. Riders can suffer severe injuries if they hit their heads. The horizontal clearance at head height should be at least as wide as the trail itself and no narrower than 5 feet (1.5 meters) wide. This may be difficult to achieve with tapered culverts (figure 5-33).

Figure 5-32--When selecting equestrian
underpasses, such as this common
box culvert, carefully consider overhead
and horizontal clearance.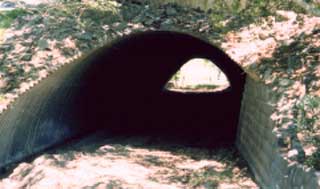 Figure 5-33--Riders need more lateral
clearance near the top of underpasses than other
users. Provide 12 feet of overhead clearance
that is the entire width of the trail. Avoid
sloping roofs that force riders to the center
of the tread.
Enclosed-Area Lighting
Adequate lighting and sight distance are important inside, outside, and at approaches to enclosed trail corridors. The eyes of stock don't adjust quickly to lighting changes, and many animals stop or hesitate when they can't see well.
In highly developed areas, artificial lights may be helpful, especially if the corridor approach is sloped. If possible, install fixtures flush with the approach walls. In trail corridors, locate fixtures at least 10 feet (3 meters) above the trail surface where they will not encroach on clearance. Keep the scale appropriate to trail users, and vary the light intensity for trail conditions or location. Consult a professional lighting designer or engineer for a site-specific plan.
Some divided highways provide a light well--or opening--in the median to allow sunlight into the passage below and enhance visibility during the day.
Culverts That Carry Water
With careful design, some culverts that carry water can include a separate trail tread
(figure 5-34).
Successful designs prevent trail tread material from being eroded at either end of the culvert.

Figure 5-34--A culvert shared by a stream and the
trail. When flooding occurs, both courses channel floodwater.
Figure 5-35 illustrates a culvert that carries water and also includes a trail. Inside the culvert, a channel along the outer edge of the trail carries water out of the culvert. Abutments direct the water to a catchment pond below the trail tread.

Figure 5-35--A trail and a water channel share this specially
designed culvert. The channel keeps water off the trail and
abutments direct the runoff into a catchment pond.