Chapter 7--Planning Recreation Sites
The prerequisite for developing any recreation site is access and permission to use the area. Other factors that come into play include: user preferences, safety, budgets, legal requirements, site limitations, and climate. A good recreation site meets the needs of users, minimizes conflicts, and has an appropriate level of development, while protecting the natural environment. Careful planning is the key to a successful equestrian recreation site, whether it is a trailhead, single-party campground, group camp, or a combination of the three.
User Needs
The needs of equestrians are similar to the needs of other users. For example, all recreationists need water. Riders not only need a need a water source, they need one that accommodates their stock.
Because riders' preferences vary greatly across the country, when planning recreation sites for equestrians, arrange a public meeting to gather input. Invite representatives from a wide range of equestrian organizations. If equestrian trailheads and campgrounds are nearby, visit them. While there, ask riders what they like about the facilities and what they would like to improve.
Site Conflicts
If recreation user groups are not fully compatible, safety may become an issue. For example, many children are not horsewise. They may play in ways that startle horses and mules. Adults who are not familiar with stock might unintentionally create problems as well. People, stock, and facilities could be harmed in such situations. Riders appreciate separation from other users in campgrounds, at trailheads, and at trail access points. Landforms, roads, streams, drainages, and vegetation can be used for separation. Suggested separation strategies include:
Trailheads and campgrounds--Design sites to avoid disturbances between trailhead visitors and equestrian campers. Figure 7-1 shows a site where distance separates vehicles traveling to the campground from trailhead users.
Equestrian and nonequestrian campgrounds-- Restrict equestrian campgrounds to campers who have stock. Provide substantial separation between equestrian and nonequestrian campgrounds. Keep nonequestrian users away to reduce the potential for inadvertent injury. Figure 7-2 shows a site where equestrian and nonequestrian campgrounds are separated by distance and a highway.
Single-party equestrian camping and group equestrian camping--Separate the single-party equestrian sites from those designed for groups. Single-party campers appreciate a buffer, because large groups may be loud.
Equestrian and nonequestrian trailhead parking-- Separate equestrians and other users at trailhead parking areas. Post signs indicating where groups should park. The separation does not need to be extensive, because visitors don't stay in parking areas very long, making conflicts less likely. Figure 7-3 shows a trailhead with facilities and vegetation that separate conflicting user groups. Some agencies also provide separate trail access points for conflicting user groups. Signs should identify access points for different types of users and educate users about appropriate behavior around stock.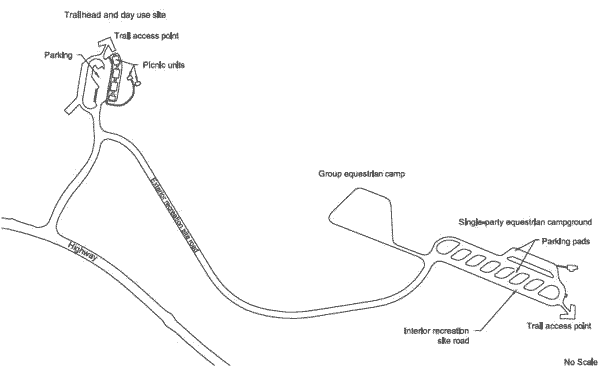 Figure 7-1--A recreation site where distance separates vehicles
traveling to the equestrian campground from the trailhead.

Figure 7-2--A recreation site where distance and a highway separate the equestrian
and nonequestrian campgrounds.

Drawing of an equestrian and nonequestrian campgrounds that are seperated by a highway. In the drawing the text reads, Group equestrian camp parking, Single-party equestrian campground loop road, Exterior recreation site road, Shower building, Motorhome dump station, Shower building parking, Highway, Single-party nonequestrian campground loop road, Back-in spur, Pullthrough pad, and Interior recreation site road.

Figure 7-3--A trailhead where facilities and vegetation separate
conflicting user groups.
Appropriate Levels of Development
Will a trailhead or campground have minimal equestrian facilities and offer an opportunity to get away from it all, or will there be extensive modern conveniences? The answer to this question describes the site's level of development. A recreation site's level of development accommodates the land management agency's master plan and the setting. This guidebook uses the terms low, moderate, and high development as subjective classifications describing the degree of manmade change in developed recreation sites. The levels of development for recreation sites roughly correspond with the roaded natural, rural, and urban recreation classifications of the Recreation Opportunity Spectrum (ROS) Users Guide (U.S. Department of Agriculture Forest Service 1982). The Wilderness Recreation Opportunity Spectrum (WROS) is beyond the scope of this guidebook. Normal development for ROS classes is defined as:
Roaded natural areas--Rustic facilities provide some comfort for users as well as site protection. Contemporary rustic design is usually based on native materials, and synthetic materials are not evident. Site modification is moderate.
Rural areas--Some facilities are designed primarily for user comfort and convenience. Synthetic but harmonious materials may be incorporated. The design may be more complex and refined. Site modification for facilities is moderate to heavy.
Urban areas--Facilities are designed mostly for user comfort and convenience. Synthetic materials are commonly used. Facility design may be highly complex and refined, but is in harmony with or complements the site. Site modification for facilities is extensive.
Site Selection
The ultimate site for equestrian trailheads and campgrounds has the following:
Convenient driving access--The site has access roads that accommodate vehicles towing horse trailers. Many trail users prefer a site that is within 5 miles (8 kilometers) of a paved road.
Trail access--The site accesses a trail system. Riders staying in a campground for several nights generally prefer to travel a different loop trail each day.
Mild terrain--The site has somewhat level ground. As long as portions of the site are suitable for building, some existing natural drainages and landforms may serve as buffers between conflicting uses.
Good soil conditions--The site has soils that percolate water quickly to avoid wet or muddy conditions. Such soils also withstand traffic without excessive compaction or erosion.
Areas of existing vegetation--The site's tree canopy provides at least partial shade. An understory serves as a natural visual buffer. Vegetation serves to separate conflicting uses.
Areas of minimal vegetation--The site has a natural opening surrounded by trees and shrubs that is suitable for parking areas, eliminating the need to remove existing vegetation.
Adequate size--The site has sufficient area for the project. If the site is not large enough for the planned facilities, resource damage is likely.
Suitable landscape--The site allows facilities to blend with the natural topography. Avoid a site that would make the recreation facilities prominent features when viewed from surrounding roads, trails, recreation sites, residences, or commercial properties.
A thorough site analysis is invaluable. When archeological or cultural resources are present, or if plants or wild animals are classified as threatened or endangered, the complexity of planning and design can increase significantly. Deciding to build on flood plains may increase construction and maintenance costs.
Vegetation and Landscaping
A vegetation management plan usually is part of the recreation site master plan. Silviculturists, botanists, or other specialists evaluate existing conditions and species for health, hardiness, age, longevity, and similar factors that influence proposed landscape changes. Subsequent recommendations will vary by climate and region of the country. For example, in heavily forested sites it may be desirable to remove some vegetation, providing clear areas open to the sun. In hot climates, priorities may include saving existing vegetation and preserving shade.
Toxic Vegetation
When planing equestrian amenities and facilities, avoid any vegetation that is toxic to horses and mules. If there's just a little toxic vegetation, remove it. Otherwise, consider moving the amenity away from the toxic vegetation. If it is impractical to avoid a large patch of toxic vegetation, post notices at information stations to alert riders about the hazards.
Noxious Weeds
Noxious weeds affect the health of the recreation site. Seeds often arrive inadvertently in hay and straw, on vehicles and clothing, and in hair and manure. The seeds germinate and proliferate quickly. Address the issue with handouts, notices, and signs, as appropriate. Consult Chapter 13--Reducing Environmental and Health Concerns for more information regarding toxic and noxious vegetation.
Amenities and Facilities
Equestrian facilities and amenities--trail access, water sources, toilets, corrals, and so forth--help determine the value of a site (figure 7-5). The most important elements at trailheads and campgrounds are trail access, convenient toilet buildings, and a sturdy place to secure stock. Potable water is highly desirable, although in some areas recreationists bring their own water. Table 7-1 summarizes the relative desirability of selected facilities and amenities at recreation sites. Figures 7-6, 7-7, and 7-8 show suggested placement of facilities and amenities at a trailhead, a single-party campground, and a group camp. Consult Chapter 10--Securing Horses and Mules, for more information about confinement options.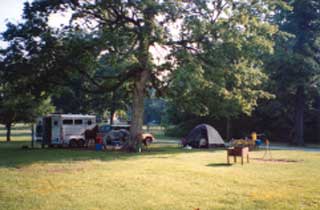 Figure 7-5--This open camp unit has parking, an area for setting
up a tent, a fire surface, and a picnic table. Other campground
facilities include a manure bin, toilet buildings, and common
water hydrants. In the region where it is located, this campground
is considered high development. In other areas, this campground
would be considered low to moderate development.
--Courtesy of Kandee Haertel
Table 7-1-Suggested recreation facilities at equestrian trailheads and campgrounds.
Facility
Basic
Often provided
Optional
Trail access
X
Water sources*
X
Toilet building
X
Shower building (campground only)
X
Wash rack
X
Mounting ramp**
X
Loading ramp
X
Mounting block
X
Manure disposal***
X
Highline or corral
X
Hitch rail
X
Arena or round pen
X

* In some areas, recreationists bring their own water.

** Mounting ramps must be accessible, if they are provided.

*** Manure disposal is not required in all areas of the country.

Figure 7-6--Suggested locations for facilities at an equestrian trailhead with a
high level of development.

In the drawing the text reads, Large arena, Arena lighting and sprinkler controls, Equestrian trail access point, Mounting block, Water trough, Toilet building, Shelter, Trail access point, Nonequestrian parking with paved surface, Road, No scale, Landscape island, Equestrian pullthrough parking with aggregate, Parking markers, Manure bin, Trash, Hitch rail, Small arena, Wash rack, Aggrate surface, Mounting ramp, and 60 ft. dia. round pen.

Figure 7-7--Suggested locations for facilities at a single-party equestrian camp
unit with a moderate level of development.

Figure 7-8--Suggested locations for facilities at an equestrian group camp with
a moderate level of development.