Chapter 8--Designing Roads and Parking Areas--Continued
Road System Design--Continued
Parking Area Grade
For the safety and comfort of riders and their stock, equestrian parking areas need to be somewhat level. This makes it easier to unload stock and gear, to saddle an animal, or to spend time in mobile living quarters. Horses or mules tied to trailers are much happier standing for an extended period in a level area. The recommended grade for a parking area is 1 to 2 percent, a comfortable range that allows proper drainage of rainwater and animal urine. Accessibility requirements also stipulate grades within this range.
Parking Area Layout
The appropriate parking configuration depends on drivers' parking preferences, the number of parking spaces desired, and the size of the site. In a group camp, some riders are satisfied with an open area where they can park as they wish. Others prefer to have individual camp units, each with its own parking pad. Because preferences vary, visit with local horse organizations to discover their members' preferred configuration for group parking.
Staging Areas
Popular equestrian sites need staging areas where it is easy and safe to unload, groom, and saddle stock. This means providing extra length and width in parking spaces. Extra length allows riders to unload stock and tie them at the rear of the trailer. Extra width allows stock to be tied at the trailer's side. Figure 8-7 shows a rider saddling a horse in an area with inadequate space. The horse must stand close to the trailer, making it difficult to saddle the animal properly and safely. Figure 8-8 shows horses tied to a trailer with adequate staging area.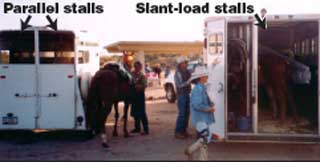 Figure 8-7--Saddling a horse or mule requires access to all sides
of the animal, and tight quarters make the job difficult. Note
the difference in the horse trailers. The trailer on the left has
parallel horse stalls, and the trailer on the right has slant-load--or
angled--stalls with a storage area behind the partially closed door.

Figure 8-8--Adequate space in parking areas makes it easier
and safer to saddle and care for horses and mules. They are more
comfortable and are more apt to wait quietly.
To determine the optimum width for parking spaces, consider the trailer width, stock requirements, and space needed for walking behind the stock. Generally, trailers are 8 feet (2.4 meters) wide. Stock tied to the side of the trailer need about 12 feet (3.6 meters) at the side of the trailer, if they stand perpendicular to the trailer. Another 4 feet (1.2 meters) is needed for a person to safely walk or lead an animal behind tied stock. Where space allows, add an extra 4 feet for open doors on neighboring vehicles, for a parking space that is 28 feet (8.5 meters) wide. Figure 8-9 illustrates parking and staging dimensions for several vehicle and horse trailer combinations.
Determining the length of a parking space with staging area is similar to figuring its width. The minimum length required for safely unloading a horse or mule from the rear of a horse trailer with an open door or ramp is 15 feet (4.6 meters). Table 8-3 gives lengths of common vehicles and slant-load trailers, as provided by several horse trailer manufacturers. A slant-load trailer allows stock to stand diagonal to the sidewall instead of parallel (see figure 8-7). A gooseneck trailer is similar to a fifth-wheel trailer. An extension (the gooseneck) extends over the pickup bed and is attached to a ball hitch in the truck bed. Vehicle lengths range from a standard pickup truck pulling a two-horse trailer to a 44-foot (13.4-meter) motorhome towing a six-horse trailer with living quarters and tack room. Because many campgrounds use a garbage service, the length of a standard garbage truck is provided.

Figure 8-9--Optimum parking and staging dimensions
for vehicles towing horse trailers.
Table 8-3-Lengths of vehicles, trailers, and a standard garbage truck. All trailers are slant loading.
Vehicle
Length (feet)
2-horse bumper-pull trailer
16*
3-horse bumper-pull trailer
19*
4-horse bumper-pull trailer
23*
6-horse bumper-pull trailer
32*
2-horse gooseneck trailer
26 to 33**
3-horse gooseneck trailer
28 to 35**
4-horse gooseneck trailer
32 to 39**
6-horse gooseneck trailer
42 to 49**
Pickup truck
15 to 22.5
Motorhome
32 to 46.5
Garbage truck
28
* Measurements for bumper-pull trailers include the length of the hitch.

** Measurements for gooseneck trailers do not include the overhang above the truck bed.
A 19-foot (5.8-meter) pickup truck towing a bumperpull, two-horse trailer would need a total length of 55 feet (16.8 meters) to park and unload safely. This includes a 15-foot (4.6-meter) unloading area plus walking space at both ends of the vehicle. A fourhorse gooseneck trailer drawn by a 19-foot pickup truck would need 78 feet (23.8 meters) for parking and loading. A 78-foot-long parking space covers most parking and loading needs. Forty-two-foot (12.8-meter) motorhomes pulling six-horse trailers with interior living quarters may need a space 110 feet (33.5 meters) long (figures 8-10 and 8-11). If these long trailers are common or expected in the facility, provide several longer spaces for them. If local riders commonly use two-horse trailers, provide some 55-foot- (16.8-meter-) long spaces for them.

Figure 8-10--Horse trailers come in many different sizes and
configurations. Common slant-load gooseneck trailers range from
about 26 to 49 feet long.

Figure 8-11--Some vehicles carry up to eight horses, contain
living quarters, and include storage space.
Open Parking Areas
Some riders prefer a parking area that does not have defined parking spaces. This allows drivers to arrange vehicles in a manner that best suits their needs. When space is plentiful and riders want flexibility, an open parking area is appropriate for a group camp or trailhead. Where possible, locate open parking areas in a large, sparsely vegetated area with a slope no steeper than 4 percent.
Riders want to park facing the exit as they arrive, orienting their vehicles for an easy departure. The parking area should be large enough for undefined parking spaces 28 feet by 78 feet (8.5 meters by 23.8 meters) and aisles that are 15 feet (4.6 meters) wide per lane. The generously sized parking area will allow many parking configurations. Designers may plan one parking configuration and riders may park in a very different way. Figure 8-12 illustrates the planned configuration for a group camp and how horse groups, such as 4-H clubs, often park in the allotted space. The impromptu arrangement opens the center area for the club's activities.
A variation of the open parking area concept incorporates several small parking areas (figures 8-13 and 8-14). The small areas help break up the expanse of a large parking area and may be more attractive. In a group camp, having more than one parking area provides flexibility. A few different groups could use the site simultaneously or one large group could occupy all the parking areas.

Figure 8-12--Designed parking compared
to actual parking patterns.

Figure 8-13--A recreation site for three small groups or one large group.
An activity area is located in the center.

Figure 8-14--A group camp parking area that can be
used by two small groups or one large group.
Small Parking Areas
Figure 8-15 shows a parking concept appropriate for small trailheads. The circulation pattern includes a loop turnaround to prevent vehicles from becoming trapped when all parking spaces are full. Because the parking area is not paved, arrows cannot mark the direction of traffic flow. In the United States, designers can use a counter-clockwise traffic flow that takes advantage of the familiar right-hand driving pattern. Landscape islands guide vehicle traffic and determine parking orientation. Directional signs may be a helpful addition, along with wheel stops.

Figure 8-15--Loop parking at a trailhead.
Parking Delineation
Because paved equestrian parking areas are not recommended, delineating the parking spaces becomes a challenge. Many agencies don't delineate parking spaces. Where delineation is necessary, striping is just one of several alternatives.

Figure 8-16--Concrete markers are used to delineate unpaved
parking spaces in some areas of the country.
Existing Vegetation
If there is natural vegetation in a planned parking area, consider preserving it and turning the surrounding area into a landscape island (see figures 8-14 and 8-15). The vegetation visually breaks up the parking area, and the landscape island can guide motorized traffic and provide a spot for drainage basins. Where vegetation is sparse, preserve or plant trees and shrubs along parking area perimeters and in islands. The plantings relieve visual monotony, and the shade is invaluable in hot weather.

Figure 8-17--A concrete parking marker.
Road and Parking Area Surfaces
Equestrians frequently ride or stand on interior recreation site roads, in parking areas, and on parking pads. Many times these areas are paved with asphalt, chip seal, or concrete--surfaces that are not recommended for equestrian use. Pavement and stock don't mix well because the hard surface provides poor traction for metal horseshoes. Aggregate is the recommended surface for equestrian recreation areas, because it is slip-resistant, doesn't allow water to pool, and is comfortable to stand or walk on.
Pavement can be used for exterior recreation site roads, which often receive more traffic than interior roads (figure 8-18). Major benefits to paving exterior roads include minimizing dust and reducing maintenance requirements. Because horses usually don't use exterior recreation site roads, pavement there generally doesn't pose a hazard. If paved exterior roads lead to trail access points, construct an adjacent, unpaved trail for horses and mules.
At a trailhead intended for shared use, apply aggregate only in the section where riders unload and saddle stock before a ride. Pave the remaining nonequestrian sections of the parking area (figure 8-19). Consult Chapter 6--Choosing Horse-Friendly Surface Materials for more information regarding surfaces.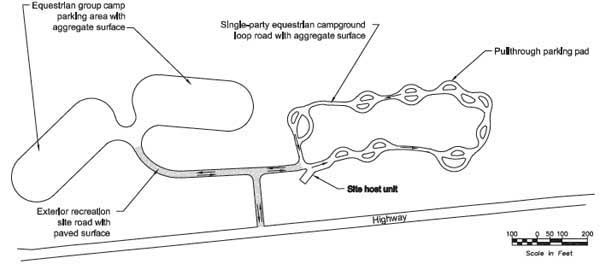 Figure 8-18--Pavement should not be used in equestrian areas.
Paving the exterior recreation site road is an exception to this rule
because stock seldom travel there.

Figure 8-19--When user groups are separated, surface materials can match
the needs of different groups. In this illustration, the equestrian parking
area is surfaced with aggregate and the nonequestrian parking area is paved.
Traffic Control
Avoid placing barriers that restrict vehicles along the perimeters of site roads and parking areas that are traveled by stock. Barriers in these areas can be dangerous for stock and riders. Some stock may become nervous around barriers, such as wood bollards. This is especially true if the passageway between the bollards is constricted. Attempts to ride or lead a nervous animal through the barrier may produce a rodeo. While there are no completely horse-safe barriers, a wood or steel railing is suitable (figure 8-20). Make sure barriers have no sharp edges or other potential hazards. Large boulders appear more natural to a horse or mule and may be an alternative to bollards.

Figure 8-20--A horse-friendly steel barrier.