Chapter 16--Learning From Others--Continued
Houston Mesa Horse Camp--Tonto National Forest, Payson, AZ
The Houston Mesa Horse Camp is in the pine and oak forests of the Tonto National Forest at an elevation of 5,000 feet (1,524 meters). The site is on a major highway near Payson, AZ, a community of 28,000.
The uneven topography at this location posed interesting design challenges. The design team had never designed an equestrian campground, so the first step was learning about the subject. The landscape architect, a horse owner, organized a camping trip for team members and their horses. The group spent the night at Little Elden Horse Camp on the Apache-Sitgreaves National Forest. During the stay, the team met with the site's designer, maintenance personnel, and campground hosts. They gathered information from these sources, including learning how important it is for campground hosts to be knowledgeable riders. Some members of the team also rode the trails and visited with other campers, who suggested their ideas on the proposed equestrian recreation site at Houston Mesa. Campers commonly requested water troughs and a shower building.
The Houston Mesa Horse Camp includes single-party camp units for nonequestrians and equestrians, and group camps for equestrians. The horse camp is fenced to prevent horses from escaping. The nonequestrian campground has 48 trailer and motorhome units and 29 tent sites, all carefully located to avoid numerous drainages. Facilities include: flush toilets, a shower building, water hydrants, and a dump station. The campground also includes a 50-person amphitheater and an interpretive trail, made possible with funding from a State heritage grant.
The designers selected the area farthest from the highway for the horse camp to avoid noise and conflicts with motorized traffic. The highway splits the two areas, separating riders and other visitors. Once a preliminary design was completed, it was presented to members of the Arizona State Horseman's Association, an equine advocacy organization. Based on feedback, designers modified the equestrian group camp to include a large open parking area (figure 16-16), where equestrian groups could park according to their needs. Figure 16-17 shows the modified site plan.

Figure 16-16--The layout of the group camp parking area at the
Houston Mesa Horse Camp reflects existing topography.

Figure 16-17--Houston Mesa Horse Camp in the Tonto National Forest.
Significant drainages in the area defined the unusual shapes of the group camp parking areas. Together, two adjacent equestrian group camps accommodate up to 65 people. An accessible equestrian group gathering area includes a shelter, a serving table, a fire ring that is 6 feet (1.8 meters) in diameter, and group-sized pedestal grills (figure 16-18).

Figure 16-18--The accessible group gathering area has a shelter,
group-sized pedestal grills, a serving table, and a large fire ring.
It was not feasible to provide pullthrough parking pads at all single-party camp units. Some back-in parking pads were included because they were easier to fit between the existing washes and hills than pullthrough parking pads. The horse camp has 30 single-party equestrian camp units, each furnished with a combination fire ring and grill, a picnic table, and a single corral set (figure 16-19). Because project funds were insufficient to purchase corrals, riders donated materials and installed them. The finished corrals use portable panels attached to posts set in concrete. Equestrian camp units have access to water hydrants, water troughs, and flush toilets. Showers are available in the nonequestrian campground.

Figure 16-19--Furnishings at the single-party equestrian camp
units include a single corral set, a picnic table, and a combination
fire ring and grill.
The Houston Mesa Horse Camp quickly became the most popular horse camp in Arizona, regularly filling on the weekends. Shortly thereafter, a problem became apparent. The trail system included 6- and 9-mile (9.7- and 14.5-kilometer) loop trails, but the trails were not enough to keep overnight riders occupied for long. More trails or longer trails would have been better. When many riders quit using the facilities, the Forest Service began allowing access to other users. When safety concerns arose, equestrian use dropped even further. If the trail system is expanded and the horse camp reverts to rider-only use, the Houston Mesa Horse Camp may appeal to riders again.
Waterfall Glen Forest Preserve--Forest Preserve District of DuPage County, IL
Long before the arrival of European settlers, Native Americans camped on limestone bluffs overlooking the Des Plaines River--a convenient vantage point. Today this scenic area is home to the Forest Preserve District of DuPage County, IL. The district, which is just southwest of Chicago, has 60 preserves covering 25,000 acres (10,117 hectares) that include 140 miles (about 225 kilometers) of trails.
Waterfall Glen Forest Preserve (figure 16-20), which encompasses 2,487 acres (1,006 hectares), is in the southeast corner of the district. The preserve includes diverse topography, geology, and soils, formed by the Wisconsin Glacier. This diversity underlies multiple habitats--prairies, savannas, barrens, marshes, sedge meadows, fens, oak-maple woodlands, as well as planted pine groves. Numerous native plants, fish, amphibians, reptiles, mammals, and resident and migrant birds make their homes there.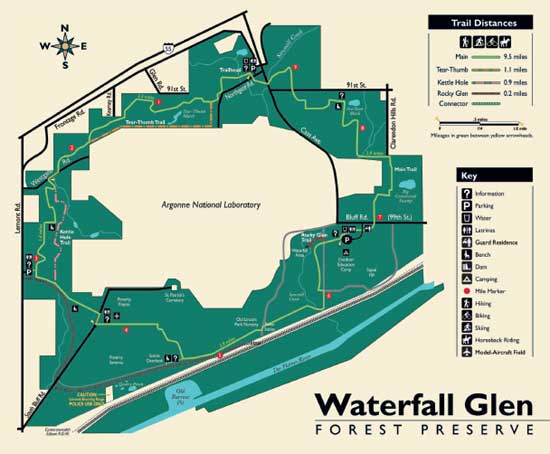 Figure 16-20--Waterfall Glen Forest Preserve near Chicago, IL.
--Courtesy of the Forest District of DuPage County, IL.
The area's modern recreation history began in 1907, when 107 acres were purchased from a local landowner so its topsoil could be used to build Lincoln Park. The Forest Preserve District purchased property from private owners in 1925, trading parcels to create a contiguous piece of land. In 1973, the district received 2,222 acres of Federal surplus land from the National Park Service's Lands to Parks Program. The doughnut-shaped parcel surrounded the Argonne National Laboratory Reserve and came with numerous easements, rights-of-way, access roads, and conditions. To accommodate the restrictions, preserve planners developed a master plan oriented to outdoor recreation rather than large group gatherings--trails and related opportunities are emphasized over picnic and camping activities. While there are no picnic areas, visitors are welcome to enjoy a picnic in the mowed grass. Fires are not allowed except at the trailhead fire ring.
Today, Waterfall Glen Forest Preserve is popular with hikers, cyclists, riders, cross-country skiers, and wildlife watchers. Fishing and orienteering are also popular activities. Amenities include toilet buildings, observation benches, drinking water sources, an outdoor education camp, and several parking areas. A model-aircraft field near the trail is easily visible. Conflicts between stock and planes are rare. The Northgate Road Trailhead is very popular with equestrians and other trail users, and a pattern of courteous use also has evolved there (figure 16-21). Visitors with horse trailers use spaces designated for them and other users park elsewhere in the loop (figure 16-22). The parking area is paved with slipresistant slurry, improving traction for all. For more information regarding the slurry, refer to Chapter 6--Choosing Horse-Friendly Surface Materials. Signs indicate traffic direction and equestrian parking spaces. Where riders must travel in paved areas, a parallel path--similar to a shoulder--is surfaced with limestone screenings. The equestrian trail access point includes a mounting and hitching area.

Figure 16-21--A slip-resistant finish on the surface of this
parking area improves traction for pedestrians and equestrians.
--Courtesy of Kandee Haertel.
The preserve's three marked trails are from 0.2 miles (0.3 kilometer) to 9.5 miles (15.3 kilometers) long and meander through scenic areas. The main trail loop follows existing service roads, while other trail routes are limited by topography and soil conditions. The 8-foot- (2.4-meter-) wide main trail is surfaced with crushed limestone, accommodating shared use. Numerous unmarked footpaths dissect the preserve. Many trails are suitable for horseback riders. In winter, when crosscountry skiers share the trails, etiquette information signs are installed temporarily. Winter trails are groomed about 9 feet (2.7 meters) wide, with ski tracks on the outside edges. Riders and pedestrians use the center tread. To date, few conflicts have been reported.
The preserve attempted to prohibit riders from traveling offtrail and degrading sensitive areas. A local equestrian group advocated the use of education over formal restrictions. The group began educating other riders, and preserve managers mailed an informative newsletter to previously registered trail users. These efforts, coupled with ranger patrols, effectively accomplished the task.

Figure 16-22--The parking lot at Waterfall Glen Forest Preserve.
--Courtesy of the Forest District of DuPage County, IL.
Inside the preserve's southern boundary is an active Burlington Northern Santa Fe Railway right-of-way. Trains travel the route daily. Where the main trail crosses Sawmill Creek, the rails and main trail are as close as 250 feet (76.2 meters) for about 225 feet (68.6 meters), although the trail is outside the rail corridor. In the southwest corner of the preserve, an infrequently used railroad spur line lies within 30 feet (9.1 meters) of the trail for about 500 feet (152.4 meters). There are no formal crossings of the railway corridor, nor are there any fences separating the preserve or trail from the rails. The public is not encouraged to travel there, and approaching trains issue warning blasts on their horns. Trail users informally adjust to the rail use, and so far, planners have received no reports of conflicts between riders and trains.
Equestrian Trailheads and Campgrounds With High Development
Highly developed trailheads and campgrounds often are close to urban areas or in frequently visited recreation sites. They also may serve large trail networks. Each of the following examples provides maximum recreation opportunities for riders as well as shared-use opportunities for other recreationists.
Frazier Recreation Site--Tonto National Forest, Roosevelt, AZ
The Frazier Recreation Site (figure 16-23) nestles in the Sonoran Desert at Roosevelt Lake, one of Arizona's most outstanding water-based recreation areas. The lake is the largest of four reservoirs within a 2-hour drive of Phoenix and Tucson. The facility has the first lakeside horse camp built in the Southwestern Region of the Forest Service. From the recreation site, trail users access the Arizona Trail, an 800-mile (1,287-kilometer), nonmotorized trail.

Figure 16-23--The Frazier Recreation Site in the Tonto National Forest.
When developing the recreation site, the landscape architect and engineers faced these design challenges:
Site vegetation must remain undisturbed, by agreement with the Arizona Game and Fish Department.
All permanent facilities, such as toilet buildings, must be located above the high water level.
The recreation site must include picnicking opportunities for visitors who don't ride stock.
Equestrian amenities must be purchased with nonproject funds.
New facilities were built on a 3-acre abandoned administrative site with a large asphalt parking area and several building foundations. The facilities included an interpretive site, a nonequestrian day-use area, and a horse camp that accommodates single parties and groups.
The single-party camping area was constricted and required a unique layout. Working with the Arizona State Horseman's Association, designers created a high-density layout (figure 16-24). Association members said lake views outweighed density concerns in this case.

Figure 16-24--This high-density site accommodates many riders
at a time and is very popular.
The popular equestrian area has eight single-party camp units, two of which are accessible. The camp units (figure 16-25) have pullthrough parking pads with compacted aggregate surfaces. Each camp unit has a shelter, a picnic table, a combination fire ring and grill, and a single corral set. A severalparty camp unit (figure 16-26) accommodates three equestrian parties. Steep terrain restricts the installation of horse corral sets there, but the pullthrough parking pads have enough space for portable corrals or for tying stock to trailers. The horse and living areas are surfaced with decomposed granite that is compacted only in the living areas. The accessible camp units have firm and stable surfaces in the living areas. A map at the visitor information station notes the locations of the accessible camp units.

Figure 16-25--Camp units have excellent lake views. Each
site has a pullthrough parking pad, a shelter, a picnic table, a
combination fire ring/grill, and a set of single corrals.

Figure 16-26--A several-party camp unit accommodates up to
three equestrian parties. Space limitations preclude corrals.
A natural drainage, thick desert vegetation, and 200 feet (61 meters) separate the equestrian group camp from the equestrian single-party camp units. The 50-person equestrian group camp (figure 16-27) is about 200 by 250 feet (61 by 76.2 meters). The site's topography determined the shape of the compacted decomposed granite parking area, which has no designated parking spaces. The paved and accessible equestrian group gathering area has six picnic tables under a shelter, two group pedestal grills, a serving table, and a fire ring that is 6 feet (1.8 meters) in diameter (figure 16-28).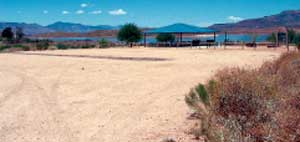 Figure 16-27--The equestrian group site
accommodates 50 people.

Figure 16-28--The accessible group site has a shelter, six picnic
tables, two group pedestal grills, a serving table, a lantern hanger,
and a large fire ring.
The nonequestrian day-use area includes 26 picnic units that accommodate single parties, double parties, and groups. The picnic units have picnic tables and access to a single or group pedestal grill. Most have a shelter, although two of the picnic units are under large canopy trees, eliminating the need for shelters. A cove in the lake separates the nonequestrian and equestrian areas.
Desert trees were planted for shade in both the day-use area and campground. Flush toilets and dumpsters are available in both areas. Dumpsters in the equestrian area accommodate trash and manure. Visitor information stations are at the day-use area, the single-party campground, and the group gathering area. The day-use area also has an interpretive plaza.
The Bureau of Reclamation provided funding for facilities such as roads, gates, signs, toilet buildings, water hydrants, an interpretive plaza, shelters, and site amenities. Volunteers donated materials and labor to build steel pipe corrals (figure 16-29). The Forest Service donated water troughs, and members of the Backcountry Horsemen of America donated materials and labor for hitch rails. This recreation site is an example of successful cooperation between public agencies and volunteers.

Figure 16-29--Volunteers donated
materials and built the corrals.
Stonegate Equestrian Park--Scottsdale, AZ
Stonegate Equestrian Park (figure 16-30) is a 23-acre facility in northeastern Scottsdale, AZ. Many commercial and residential horse owners live in the area. The park has two horse arenas, a round pen, nature trail, playground, picnic area, shelters, and a multiuse room. The trailhead is designated for day use and accesses several popular trail systems.

Figure 16-30--The Stonegate Equestrian Park in Scottsdale, AZ.
--Courtesy of City of Scottsdale, AZ.
The parking area has space for vehicles pulling horse trailers. The decomposed granite surface is compacted and has parking markers. Curbs that are level and almost flush with the adjacent surface alleviate tripping as stock leave the area. Light fixtures in the parking area comply with city light pollution guidelines.
The park has a gated entrance and perimeter fence. Both arenas have sprinkler systems that users can turn on as needed. One arena has lights that users operate with a timer. The park provides water troughs (figures 16-31 and 16-32), hitch rails, and manure bins.

Figure 16-31--Stonegate Equestrian Park features
a raised water trough with hand-operated
fill and drain controls.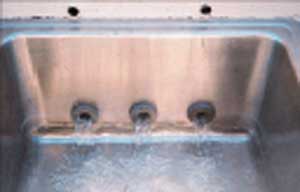 Figure 16-32--The shallow basin fills
quickly and is easy to clean.
A shelter houses two restrooms and the multiuse room. The structure includes large overhangs covering a patio with picnic tables and benches (figure 16-33). A small children's park with playground equipment is nearby.

Figure 16-33--The shelter at Stonegate Equestrian Park includes
two restrooms and a multiuse room. Picnic tables and benches fit
under the large overhang.
Horseshoe Park and Equestrian Centre--Queen Creek, AZ
Queen Creek, AZ, has traditionally been a rural community with large agricultural acreages. The area has a high concentration of horse properties, and many youth activities center on farming and livestock, particularly horses and ponies.
As commercial growth and planned residential development increased, the community developed a master plan for the Horseshoe Park and Equestrian Centre. The proposed park site is a landfill area slated for closure, near San Tan Mountain Park, a large open space with recreation trails for riders and other nonmotorized users. Eventually, shared-use trails will connect to Horseshoe Park and Equestrian Centre, many equestrian residential properties, and San Tan Mountain Park.
The Parks, Trails, and Open Space Master Plan is notable because of public involvement during the planning process. After touring area sites, a citizen subcommittee of the Parks, Trails, and Open Space Committee developed a public involvement plan, a vision statement, and a list of high-priority amenities. A landscape architectural firm created a set of conceptual plans. Three public open houses were held. After changes were made, the town council unanimously approved the final master plan and a tentative completion date was set. The town is using the construction manager at-risk process, which binds the design team and the contractor to work together before and during construction for faster, more cost-efficient completion.
The final master plan for the park includes an equestrian event area, a community park, and trails. The master plan design (figure 16-34) accommodates different types of community events, such as dog shows, livestock shows and auctions, concerts, and youth-oriented programs that attract up to 3,000 spectators. The facility plan reflects year-round day and evening use. The proposed equestrian event area includes four lighted arenas (one is covered). It also contains livestock pens and chutes, stalls, motorhome hookups, trailer parking, wash racks, a restroom and concession building, vendor areas, an administration building, spectator seating, and a maintenance facility. The community park has a playground, a group picnic area, a toilet building, an arena for community use, a round pen, an open turf area, and an amphitheater. The area has 1.5 miles (2.4 kilometers) of shareduse trails with a scenic overlook at the highest point of the landfill. The unpaved trails are designed for nonmotorized users and meet accessibility guidelines.
The project has two phases: The first phase will develop 33 acres containing the equestrian center and amenities, motorhome hookups, trailer parking, vendor areas, concessions, showers, restrooms, offices, and maintenance facilities. Trails, a small park and amphitheater, picnic shelters, and a mountaintop gazebo will be constructed during the second phase.

Figure 16-34--The Horseshoe Park and Equestrian Centre in Queen Creek, AZ.
--Courtesy of Town of Queen Creek, AZ.
WestWorld and WestWorld Trailhead--Scottsdale, AZ
WestWorld is a very large equestrian facility where some of the nation's largest horse shows are held, including the Arabian Horse Show and the American Quarter Horse Association's Sun Circuit Show. WestWorld facilities include many arenas, barns, and exhibit facilities that can accommodate shows with over 1,000 horses (figure 16-35). Two 100-foot (30.5- meter) arenas with sprinkling systems accommodate horse activities (figure 16-36).
WestWorld is an example of Government interagency cooperation--Scottsdale operates the facility under a license from the U.S. Department of the Interior Bureau of Reclamation. WestWorld sits in a massive retention basin on lands managed by the Bureau of Reclamation just north of the Central Arizona Project Canal. The canal carries water from the Colorado River to central portions of Arizona. The basin is designed to hold stormwater runoff. Flooding is a recognized--and distinct--possibility.

Figure 16-35--The WestWorld Equestrian and Special Events
Center in Scottsdale, AZ. The horse trails are accessed
from the new trailhead (circle).
--Courtesy of City of Scottsdale, AZ.
Scottsdale's recreation trail system skirts WestWorld and can be accessed from the WestWorld Trailhead, a large public facility that accommodates pedestrians, bicyclists, and riders. Partly because of its proximity to WestWorld's other equestrian facilities, the trailhead receives substantial use from riders. The road and parking areas at the trailhead are constructed of decomposed granite with a stabilizer. This treatment reduces dust and creates a firm and stable surface that is accessible. Accessible parking spaces are adjacent to a shade structure with picnic tables and restrooms. Concrete edge curbs are flush with adjacent surfaces to hold surface material in place without presenting a tripping hazard. An accessible route leads from the parking area to the shade structure.

Figure 16-36--The center has two 100-foot arenas.
Equestrian parking spaces are 70 feet (21.3 meters) long and 24 feet (7.3 meters) wide (figure 16-37). Concrete markers delineate pullthrough spaces arranged in a fishbone pattern. Additional parking spaces along the perimeter of the trailhead are for extra-long horse trailers. All trail users have immediate access to the nonmotorized trail system. Well-positioned bollards prevent motor vehicles from accessing trails.

Figure 16-37--Equestrian parking spaces are 70 feet long and
24 feet wide. The spaces are arranged in a fishbone pattern and
delineated with concrete markers.
The trailhead includes separate parking areas for equestrians and other trail users. Amenities include a water trough and lighting. Riders must fill the water trough. A simple automatic drain empties the water after each use (figure 16-38). There is a large dumpster for manure (figure 16-39). WestWorld Trailhead lighting fixtures adhere to city light pollution guidelines.

Figure 16-38-- A shallow water trough is convenient for riders
and allows stock to keep an eye out while they drink.

Figure 16-39-- A dumpster is provided
for convenient manure disposal.