Rails-with-Trails: Lessons Learned
SECTION V: Design
Trestles and Bridges
As part of the feasibility analysis, the presence of trestles and bridges will loom large as major constraints to the overall feasibility of a project. Virtually all railroad corridors will have at least some minor bridges or culverts either as part of the local drainage system, or the local network of streams and creeks. In some cases, there will be longer trestles and bridges over roadways, highways, rivers, and canyons. In almost all cases, the railroad structures are not designed to accommodate pedestrians at all, let alone bicycles, and represent a real safety hazard (and attraction) to trespassers.
Simple prefabricated bridges over small streams, culverts, and other waterways are not expensive items. However, they may impact a project's feasibility from an environmental perspective. A new bridge over a highway or on a long trestle may have enormous costs, and may, in some cases, represent the single greatest cost on the project.
RWT bridges constructed over existing roadways or over corridors with existing trails or bikeways pose a special problem. Neighboring residents will want access to the RWT. Since these connections will need to meet ADA gradient standards, they may involve the construction of an expensive series of ramps.
Engineers can design solutions to virtually any challenge (see Figure 5.41). Any trail facility that is to be appended to or otherwise incorporated into a bridge must maintain full and unimpeded bridge maintenance and inspection access. Some of the prototype solutions for RWTs on corridors with bridges and trestles include:
Use of existing structure. In rare cases, an RWT has been constructed on an existing railroad structure. This has been accomplished in Harper's Ferry, Virginia, on a bridge where there were formerly two or more tracks by placing the RWT on the roadbed of the abandoned tracks and placing a security fence between the active tracks and the RWT. The other option is to construct a bridge structure that is attached in some fashion to the existing trestle or bridge. For example, in May 2001, the City of Portland, Oregon, opened a new 3 m (10ft) shared use path, cantilevered onto the south side of the Union Pacific Railroad bridge (Steel Bridge), set back 3.7m (12 ft) from the track centerline. While this may be less expensive than constructing a completely new bridge, the RWT developer must be prepared to make structural integrity improvements to the existing bridge and assume maintenance and liability protection for the new combined structure.

Construct a new structure. This offers a simple, independent solution, rather than trying to utilize an existing railroad structure. This option may be very expensive and may have negative environmental impacts if it requires construction in a riparian or other habitat. If constructed over a State highway, it may require time-consuming permit approvals and strict design standards.
Return to TOC
---
Single track tunnel on Lake Oswego Trolley Line.

Lake Oswego, OR
The presence of a single track tunnel on a railroad corridor typically signifies that an RWT is not feasible, at least on the segment where the tunnel is located. There is one known case of a shared rail-with-trail single track tunnel: the York County Heritage Trail, Pennsylvania, which is along an active tourist rail line. Trail users are required to wait when a train is in the tunnel. Usually, tunnels are constructed where the topography dictates the need for going through -- rather than around -- terrain, meaning that an RWT would have a difficult time traversing over or around the obstacle to avoid a tunnel.
In some cases, there is a roadway or even an abandoned railroad roadbed that could be used by an RWT to circumvent the tunnel. If the terrain is not too steep, an RWT could go over the tunnel hill. While multi-track tunnels with one or more abandoned tracks could conceivably serve dual usages, no known examples exist, and they should be avoided.
Return to TOC
---
Environmental Constraints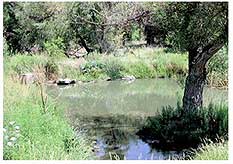 RWT designs must take endangered species
into consideration.
Victorville, CA
If necessary, a full environmental assessment per State and Federal National Environmental Policy Act (NEPA) law should be included as part of the RWT feasibility study. Environmental impacts are not relegated simply to riparian zones, but include impacts to:
public safety
public expenditures
light and glare
geology, soils, and hydrology
biological resources
land use
cultural resources
aesthetics
transportation and circulation
economics
parks and recreation
noise levels
The environmental analysis should be conducted simultaneously with feasibility study to allow for the RWT design team to minimize or avoid significant environmental impacts. The environmental analysis also provides a good forum for public input and political approvals, and usually is a required activity if the project is to receive Federal funding. In some cases, the environmental impacts of a proposed RWT will be so great as to make the project unfeasible. In other cases, the RWT enhances a previously damaged site. Thus, the impacts may be offset by proposed mitigation and/or by the benefits accrued from the project.