Rails-with-Trails: Lessons Learned
SECTION V: Design
Support Facilities and Amenities
Any new trail or RWT will require support facilities both to enhance the experience for trail users, and to serve basic user and manager needs. Some of these items could be considered extra amenities that are dependent on local desires and available budget, while others should be considered basic elements of any new trail facility.
Trailheads and Parking Areas
Any new RWT will attract people to drive and park near the facility, potentially impacting local neighborhoods. The best design will locate trailheads, parking areas, restrooms, and other such facilities on the same side of the tracks as the trail, so as to avoid additional crossings. A feasibility study should include a full analysis of access to the trail from local communities, along with a projection of future annual and peak day usage and modal split. Should the analysis reveal that a significant number of vehicles will be parking near the RWT, a trailhead parking scheme should be included as part of the feasibility study (see Figure 5.42).
Tree-lined RWT looking north.
Burlington, VT
Aside from parking, trailheads also offer amenities such as restrooms, entrance signs and maps, kiosks, drinking fountains, and other features. These and other details of trailheads are a standard element of most trail master plans and trailhead designs, which any landscape architecture or trail planning firm should provide as part of the design team.
Return to TOC
---
Landscaping
FIGURE 5.42
Trailhead and parking design
Lighting on Eastbank Esplanade.

Portland, OR
Trailhead sign, Burlington Waterfront Bikeway.

Burlington, VT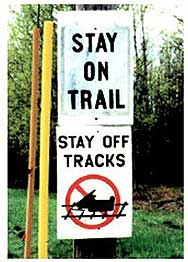 Signing on the Railroad Trail.

Gaylord, MI
Equestrian RWT users require special design consideration.
Bourbon, MO
Landscaping is an optional but very important element of any new trail. Landscaping offers not only visual relief and aesthetic benefits, but also shelter from the sun and wind and assistance with erosion control. At the same time, landscaping can be very expensive to install and maintain, especially if it requires irrigation. Most trail projects utilize landscaping at gateways and specific areas along the corridor, and often use native, drought-resistant species that do not require irrigation. Landscaping should not interfere with track and roadbed maintenance or the visibility of motorists, trail users, or the locomotive engineers at crossings.
Drainage
Railroad corridors are constructed with both lateral and cross roadbed drainage in order to keep water off of the tracks and ballast. Lateral drainage consists of the ditches seen parallel to most tracks and ballast, which in turn feed into natural or built waterways. Cross-roadbed drainage pipes are used to connect lateral drainage ditches via a connection under the tracks.
Maintaining the integrity of the railroad drainage system is of paramount importance for any RWT. Since many RWTs are constructed where there is an existing lateral drainage ditch or swale, a new drainage system must be designed. The cost of this system, along with a section identifying the basic design approach, should be included in the feasibility study. Also, the RWT paved surface will add to the local surface runoff, and should be included in the drainage calculations as appropriate.
The feasibility study should include a section on drainage, and especially how the existing railroad drainage system will be maintained. Prototype designs of any changes along with cost estimates should be included if the RWT will impact the existing drainage system in any way. The railroad company or agency should review plans, even if the proposed trail is adjacent to railroad property.
Lighting
Lighting an RWT is dependent on a variety of factors, including cost to install, maintain, and operate; whether the RWT will be used as a commuter facility in the winter and low light hours; and potential impact on neighbors. Most paved paths are not illuminated due to the expense to install and maintain the lighting and the potential impacts on nearby homes. Exceptions to this are at-grade crossings and undercrossings, where lighting is a matter of safety and visibility. Trail designers should take into account lighting impacts on train operation and visibility for any RWT crossing of or under a roadway and/or tracks.
One innovative pathway lighting concept that may be considered is to have lighting activated by motion detectors, so that the trail is lighted while people approach and a few minutes after they pass, but not for the entire night.
Signing and Markings
Advisory and regulatory signs on RWTs related to transportation (stop, slow, curve ahead, etc.) should follow MUTCD standards, especially for signs that directly impact user safety. The size, frequency, location, and other aspects are clearly identified in the MUTCD or State highway design manual. Local agencies may use their own discretion for other signs, such as user protocol between pedestrians and bicyclists, speed limits, hours of use, and emergency contact information.
The feasibility study should present recommendations, designs, specifications, and costs on signing and striping that meet Federal and State standards, and the local agency needs. This may include entrance or gateway signs, natural or historic interpretation signs, or regulatory and etiquette signs.
Return to TOC
---
Equestrian Considerations
Lack of equestrian experience near railroads, horses' instinctual flight behavior, and equestrians' general wariness of new and potentially challenging situations require specific design considerations when planning for equestrian use on RWTs. All RWTs with potential equestrian use require site-specific analysis. Some equestrian users advocate fences of sufficient height to prevent horses jumping them when startled or frightened; however, this concern must be balanced with the need for visibility of trains for both horses and riders. Horses that cannot see an oncoming or approaching train will experience greater fear and confusion than if they are able to see and identify the source of noise. Equestrian use should not be promoted where barriers create a narrow trail environment.
Trail width is an overriding design issue when considering equestrian use on RWTs. RWTs designed to accommodate equestrian use should provide separate pathway treads for multiple users. Narrow railroad rights-of-way that afford width for only a single paved trail, or that provide inadequate shy distance for horses frightened by nearby or oncoming trains, are not appropriate candidates for accommodation of equestrian use.
Trestles and bridges require additional considerations. Many horses are frightened by bridges and other elevated environments, particularly lattice or perforated bridges and trestles that allow the animal a view of the ground surface substantially below the bridge deck. Most horses are not accustomed to this environment and will respond unpredictably with potentially negative consequences.
Return to TOC
---
Considerations for Steam Locomotives
Several trails exist and/or are proposed within proximity to steam locomotives, for which special consideration is warranted. From time to time, depending on operations and the steam locomotive itself, it is necessary to blow condensation out of the steam cylinders while the locomotive is standing or moving. The outlets for this escaping steam and moisture are less than 300 mm (12 in) above the ground, and generally shoot out perpendicular to the locomotive. This may startle nearby trail users. Also, the reciprocating motion of valves and drive rods (attached to the large drive wheels) require additional lateral clearance for safety reasons. Thus, the feasibility study for RWTs proposed alongside steam locomotives should analyze the need for additional setback and other safety measures.