May 26, 2010 STEP Webinar
The Federal Highway Administration (FHWA) Office of Planning, Environment and Realty's (HEP) Surface Transportation Environment and Planning Cooperative Research Program (STEP) ended on September 30, 2012. For current HEP research information, please see HEP's research web site.
---
The Surface Transportation Environment.and Planning Cooperative Research Program
Presents
"STEP and Livability"
Webinar
May 26, 2010
12:00 p.m. to 1:30 p.m.
Also available as Microsoft Powerpoint (16 MB) and Adobe PDF (4.5 MB) fornats.
To view PDF files, you need the Acrobat® Reader®. A PowerPoint viewer is available from Microsoft.
Webinar Housekeeping Tips
Asking Questions

Designated time at the end of presentation for questions and answers

Phone

Please state name and affiliation

Chat feature

If using the chat please send all questions to Felicia Young
Webinar Moderator
Felicia Young
Team Leader, Research and Financial Service
FHWA Office of Human Environment
Welcome and Overview
Welcome to the STEP Webinar on Livability
Agenda
STEP Overview
Livability Initiatives
STEP/Livability Resources
Polling Questions
Question and Answers
Good afternoon and thank you for attending the first Surface Transportation Environment Planning and Research Cooperative Program (STEP)'s webinar on Livability.
What is STEP?
Surface Transportation Environment and Planning Cooperative Research Program
Federally-administered nationally orientated research program
Improve the understanding of the complex relationship between surface transportation, planning and the environment
Identify, address and reassess national research priorities for environment, planning and realty
STEP Funding and Legislative Guidance
SAFETEA-LU authorized $16.875 million per year for FY2006-2009
$14million was available for FY2010
STEP funding anticipated to be included in the next authorization legislation
A variety of procurement mechanisms are used to award STEP funds
Who Gets STEP Money?
State Governments
Metropolitan Planning Organizations
Local Governments
Universities
Federal Agencies
Private Sector
Stakeholder Involvement
Outreach and stakeholder feedback are used to refine and implement national research agenda
Partnerships are formed to leverage funds

Federal, State and Local agencies
National Cooperative Highway ResearchProgram
Future Strategic Highway Research Program
Pooled funds and foreign jurisdictions
Examples of outreach activities
National workshops
Annual community-of-practice conferences
Program advisory groups
Peer reviews
STEP Emphasis Areas
STEP Emphasis Areas for Today
Context Sensitive Solutions
Public Involvement, Scenario Planning and Visualization in Planning
Other Activities that Support State/Local/Tribal Planning Capacity Building
Introductions
Shari Schaftlein
Acting Director
FHWA Office of Human Environment
Gabe Rousseau
Team Leader, Livability
FHWA Office of Human Environment
Livability
Livability is about tying the quality and location of transportation facilities to broader opportunities such as access to good jobs, affordable housing, quality schools, and safe streets.

Livability is, "investing in a way that recognizes the unique character of each community."
U.S. DOT Secretary Ray LaHood
Livability is about tying the quality and location of transportation facilities to broader opportunities such as access to good jobs, affordable housing, quality schools, and safe streets. This includes addressing safety and capacity issues on all roads through better planning and design, maximizing and expanding new technologies such as ITS and the use of quiet pavements, using Travel Demand Management approaches to system planning and operations, etc.
US DOT Secretary Ray LaHood defined livability as "investing in a way that recognizes the unique character of each community. The era of one-size-fits-all transportation projects must give way to one where preserving and enhancing unique community characteristics, be they rural or urban, is a primary mission of our work rather than an afterthought."
Livable Communities
A livable community is one in which people have multiple, convenient transportation and housing options as well as destinations easily accessible to people traveling in and out of cars.

Livable Communities are where people have access to many different forms of transportation and affordable housing..."
U.S. DOT Secretary, Ray LaHood

Livable communities are where transportation, housing and commercial development investments have been coordinated such that people have access to adequate, affordable and environmentally sustainable travel. The specific attributes that define livability in any individual community are shaped by the values of its citizens and unique local conditions.
Sustainable Communities, Partnership's Principles
| | | |
| --- | --- | --- |
| Provide More Transportation Choices | Coordinate Policies and Leverage Investment | Promote Equitable Affordable Housing |
| | | |
| --- | --- | --- |
| Enhance Economic Competitiveness | Support Existing Communities | Value Communities and Neighborhoods |
In March 2009 HUD and DOT announced an interagency partnership to promote sustainable communities to help families gain better access to affordable housing, more transportation options, and lower transportation costs. In June 2009, EPA joined with the HUD and DOT to form the Partnership for Sustainable Communities. The goal of the Partnership is to improve access to affordable housing, to provide more transportation options and to lower transportation costs, all while protecting the environment.
The Partnership developed the following set of guiding livability principles:
Provide more transportation choices. Develop safe, reliable and economical transportation choices to decrease household transportation costs, reduce our nations' dependence on foreign oil, improve air quality, reduce greenhouse gas emissions and promote public health.
Promote equitable, affordable housing. Expand location- and energy-efficient housing choices for people of all ages, incomes, races and ethnicities to increase mobility and lower the combined cost of housing and transportation.
Enhance economic competitiveness. Improve economic competitiveness through reliable and timely access to employment centers, educational opportunities, services and other basic needs by workers as well as expanded business access to markets.
Support existing communities. Target federal funding toward existing communities - through such strategies as transit oriented, mixed-use development and land recycling - to increase community revitalization, improve the efficiency of public works investments, and safeguard rural landscapes.
Coordinate policies and leverage investment. Align federal policies and funding to remove barriers to collaboration, leverage funding and increase the accountability and effectiveness of all levels of government to plan for future growth, including making smart energy choices such as locally generated renewable energy.
Value communities and neighborhoods. Enhance the unique characteristics of all communities by investing in healthy, safe and walkable neighborhoods - rural, urban or suburban.
FHWA's Livability Initiative Progress to Date
Awareness Building

CSS Clearinghouse Sponsored a Livability Webinar (Sept.2009)
Let's Talk Planning FHWA/FTA Livability Initiative Training (October 2009)
CTE Livability Webcast (Nov. 2009)
Let's Talk Planning, Transportation and Land Use Webinar (Feb. 2010)

Capacity Building

Livable Communities Strategic Initiative
Livability in Transportation Guidebook
Context Sensitive Solutions (CSS) Clearinghouse sponsored a webinar on DOT's role in livability. The discussion was led by Beth Osborne, Deputy Assistant Secretary for Transportation Policy, Gloria Shepherd, FHWA's Associate Administrator for Planning, Environment, and Realty, and Robert Tuccillo, FTA's Associate Administrator for Budget and Policy.
FHWA and FTA developed and held joint training for its field planners on livability. The purpose of the training was 1) to prepare Division/Regional/Technical Service Team Planners to work with State DOTs, Transit Operators and Metropolitan Planning Organizations in implementing the Livability Initiative 2) to identify livability linkages within current programs and initiatives and 3) to discuss strategies that FHWA/FTA planners can employ to advance Livability. Speakers from the FHWA Office of Planning, Environment and Realty, the FHWA Resource Center, and the FTA Office of Planning and Environment provided information on livability's role in public participation, land use, context sensitive solutions, safety, climate change, operational strategies, bicycle/pedestrian and transit oriented development. Case studies of states implementing the principles of livability were also presented.
FHWA and FTA in conjunction with the Center for Transportation and the Environment, held a live webcast to discuss the DOT, HUD, EPA Interagency Partnership for Sustainable Communities. The webcast was held in the form of a panel discussion. Panelist included Elizabeth Wilkins, White House Policy Assistant for Urban Affairs and Mobility and Opportunity with the White House Domestic Policy Council, Beth Osborne, Deputy Assistant Secretary for Transportation Policy with the U.S. DOT, Shelley Porticha, Senior Advisor for Sustainable Housing and Communities, with the U.S. Department of Housing and Urban Development, John Frece, Smart Growth Program Director, with the U. S. Environmental Protection Agency. The webcast provided an overview of the DOT, HUD, and EPA Partnership for Sustainable Communities and highlighted the partnership's current efforts. More than 1100 people registered from all 50 states as well as people from British Columbia, Ontario, Canada, Sydney, Australia, and Madrid, Spain participated in the webcast.
FHWA held a Planning on the Web (POW) session that focused on Livability: Connecting Transportation and Land Use. Staff from FHWA's field offices, resource center and headquarters gave presentations. The session was a follow up to the October 27th Let's Talk Planning webinar on Livability
Capacity Building
Livable Communities Strategic Initiative research project was identified as a part of FHWA's strategic initiative priorities. The objective of the project is to develop tools to support livability and strategies that promote livable communities. The project includes the development of a white paper, livability workshops, toolbox of materials, regional comprehensive livability plan and a marketing plan that will support the promotion of the aforementioned tasks.
Ken will talk more about the Livability Transportation Guidebook
Strategic Initiative: Strategies for Livable Communities
The Livability research project was identified as part of the strategic initiative priorities for FHWA R&T Flexible Funds

Products

White Paper
Livability Workshops
Toolbox of Training Material
Regional Comprehensive Livability Plan
Marketing Plan
STEP Funded Livability Initiatives
Livability in Transportation Guidebook

WSDOT Community Design Assistance Program
CDTC New Visions 2030

Best Practices on Complete Streets
Scenario Planning Workshops
Context Sensitive Solutions
Livability Guidebook
Presented by
Ken Petty
FHWA Office of Planning
Livability Guidebook
Fully STEP Funded
Designed as a General Practitioners Resource and Guide
For MPOs, State DOTs and others in the Advancement of Livable Community Developments
Developed with FTA
America's transportation industry has built the worlds largest and best highway network that connects people, business and communities all across the country. However it is now time to complete our multi modal transportation networks and providing multiple transportation options for those they can't drive or choose not to drive.
The Livability Guidebook is intended to be used as a Guidance manual for making sure people of all ages, have real choices for walking, transit and other modes of transportation and to help improve the health and quality of life for all residents.
Livability Guidebook
The Reason for the Guidebook

Planning is no longer a Stand Alone Exercise
The Guidebook demonstrates the importance of Linking Land Use and Transportation Planning
The Guidebook ties together a wide range of overlapping objectives

Walkable Communities
TOD
Complete Streets
CSS
Healthy Neighborhoods
Smart Growth
Sustainability
As we all know, Transportation Planning is not a standalone process. While many of the concepts of Livability have been around for a long time the new concept behind Livability is to bring all these initiatives together under one big umbrella. The Livability Guidebook does just that, it shows how and where walkable communities have been successful, it looks at Smart Growth, CSS and Complete Streets and shows that Livability is not a one size fits all process.
Livability Guidebook
The Guidebook is based on a series of urban and rural case studies and strategies that facilitate:

Revitalizing Rural Small Towns
Better Connecting Downtowns with Neighborhoods
Completing Broken Street Networks
Investing in Compact Mixed Use Development
Maximizing the Efficiency of Existing Transportation Infrastructure
Mitigating the Impacts of Climate Change
Preserving our Natural and Cultural Resources
100% STEP funded, the Guidebook is based on a series of case studies using both rural and urban examples. We have also add case studies that look at how communities have better connected their communities through their transportation system, how mixed use development can improve the Quality of Life for its residents and a host of other topics shown here. Once the Guidebook is complete a downloadable version it will be posted on our Livability web site which is https://www.fhwa.dot.gov/livability/. Please enjoy this new publication and we look forward to hearing back from you.
New Visions 2030: The Regional Transportation Plan for New York's Capital Region
Chris O'Neill
Sandy Misiewicz, AICP
Capital District Transportation Committee
New Visions 2030
New Visions first adopted in 1997; major three year update completed in 2007
Extensive and in depth public outreach in both generations
New emphasis on transportation investments for creating and sustaining a "Quality Region"
Emphasizes land use planning
New Visions 2030 Principles
Plan and build for all modes
Preserve and manage the existing investment in the region's transportation system
Develop the region's potential to be a uniquely attractive, vibrant and diverse metropolitan area
Link transportation and land use planning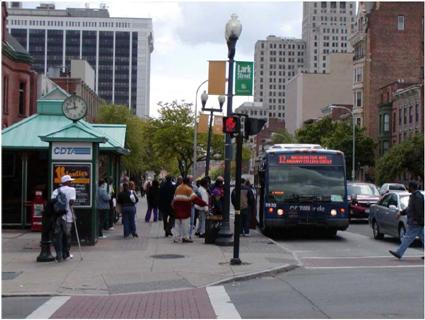 New Visions 2030
Transportation Investments will encourage:

Urban reinvestment, infill development
Concentrated growth
Mixed use, transit oriented development
Regional and community quality of life
Land use plans and corridor studies
Protection of urban, suburban and rural character
Performance Measures
Performance measures include:

Community Quality of Life
Pedestrian, Bicycle, Transit Access

Trade Offs among performance measures- highway oriented measures must be balanced against land use and other modes
Public Participation is key to making trade offs and defining community values.
Linkage Program
Implementation program
Emphasizes link between land use planning and transportation planning
Regional principles relevant at the local level
Public participation
Linkage Forum
$4.5 M fed/state/local investment in 65 studies
TIP Funding
Plans support access to federal transportation funds
TIP evaluation process considers quantitative and qualitative issues
Programmed projects support New Visions principles across all competitive fund sources
Proposed projects of a higher quality
Livable Communities Case Study
Presented By Paula Reeves, AICP
Manager, Community Design Assistance
Why Community Design?
Develop the most cost effective transportation projects

Ensure fewer scope and schedule changes
Revitalize vs. mitigate transportation impacts to communities

Identify partnerships opportunities and resources

Transportation, historic preservation, environmental, economic development, utilities, etc..

Ensure a strong link between goals and transportation investments

Outcomes vs. throughput or volume to capacity ratio
WSDOT Highways & Local Programs Division
We provide educational, technical, and financial support with federal oversight to local customers to help them achieve their transportation goals...
We are stewards of federal transportation funding
We provide technical expertise and services related to federal and state requirements.
We promote cooperative planning and partnerships.
$300 million annually includes all formula funds that go to local agencies such as: STP regional, bridge, CMAQ and congressional earmarks identified in SAFETEA-LU.
Responsible for preparing and submitting the Statewide Transportation Improvement Program (STIP) to FHWA, which includes federally funded and regionally significant WSDOT and local agency projects
Our Engineering & Technical Assistance
Bridge Technical Services
Community Design Assistance
Environmental Services
Pavement Services
Construction Services
Traffic Services
Training
Milestones in State Policy
WSDOT Livable Communities Policy adopted, 2000
CSS Executive Order passed, 2003
Gray Notebook established, 2003
Design Guidance and Training published, 2005

Understanding Flexibility in Transportation, Washington

State Funding for Pedestrian & Bicycle Safety, 2005
New Initiative: Proposed Main Street Highways Program
State Highways that provide both local access and regional mobility
AASHTO Environmental Excellence Award, 2006

Best Organizational Integration of Context Sensitive Design

State Bicycle and Pedestrian Plan adopted, 2008
State Highways as Main Streets research funded, 2009
Complete Streets Bill (HB 2911), 2009
WSDOT Resources
WSDOT's Community Design and Bicycle and Pedestrian Websites
http://www.wsdot.wa.gov/localprograms/
Washington's Safe Routes Website
http://www.wsdot.wa.gov/bike/Safe_Routes.htm
Contact WSDOT Community Design Assistance:
Paula Reeves
Manager, Community Design Assistance
Reevesp@WSDOT.WA.GOV
360-705-7258
Charlotte Claybrooke
Safe Routes to Schools Coordinator
ClaybrC@WSDOT.WA.GOV
360-705-7302
Ian Macek
Bicycle and Pedestrian Coordinator
Maceki@WSDOT.WA.GOV
360-705-7596
Ed Spilker
Scenic Byways Coordinator
Spilker@WSDOT.WA.GOV
360-705-7387
Best Practices Manual on Complete Streets
Presented by:
Barbara McCann
Executive Director
National Complete Streets Coalition
Best Practices Manual
A Joint project of the American Planning Association and the National Complete Streets Coalition
Best Practices Manual
30 case studies
Policy adoption
Points of Intervention
Making the Transition to Complete Streets
Costs
Design
Lessons learned
Complete Streets Policies
Some jurisdictions have adopted more than one policy.
Photo: Davis, CA (Dan Burden, Walkable and Livable Communities Institute, Inc.)
Complete Streets Policy Adoption
Total for 2009: 44. The acceleration in policy adoption is indicative of a nationwide movement to change the way we approach our transportation networks. People want choices, safe streets, and healthy, livable environments.
Change Plans & Process
Successful implementation reaches beyond the initial document to include changes to:

Procedures
Zoning codes
Plans
Subdivision ordinances
Standards
Manuals
Changing plans & process
New plans:
Subdivision ordinances:
Rewriting Manuals:

Roanoke, VA, Massachusetts

Changing procedures:

Virginia, Seattle, Charlotte
Be an Opportunist
Be Opportunistic:

Assess the needs of all users for every project
Take every opportunity to make small improvements

Be Incremental:

Organize a retrofit program around repaving and rehabilitation
Begin to plan ahead for larger 'fixes'
Cheyenne Blvd. Before
Photo credit: City of Colorado Springs
Excellent example of incremental and low cost approach to "completing streets" - Cheyenne Blvd.
Typical old style street
4-lane street, no center turn lane, on-street parking
Major E/W corridor from south downtown area (connects with Tejon Street road diet) to southwest neighborhoods and major recreation sites in the foothills - ~ 9,000 ADT (approx. 3 miles long)
Older residentially fronted arterial with lots of driveways and side streets - some mixed uses, mix of income
Frequent complaints about speeding, on-street parking concerns, aggressive drivers - serves transit, heavily used by bicyclists
2006 resurfacing project = opportunity to change
Cheyenne Blvd. After
Photo credit: City of Colorado Springs
Converted the street to a 3-land configuration, with bike lanes and on-street parking
Very low cost - a little more solid striping and some additional signage for bike lanes
Preserved all on-street parking - even added spaces by middle school at west end of corridor
85th percentile speeds dropped from 41 mph (posted 35) to 38 mph; no diversion of traffic to parallel corridor. Temporary increase to over 13,000 vpd was handled well when parallel corridor was closed for major utility work last year.
Supported by most neighbors and very well liked now; however, there was some initial push back (2 weeks of angry emails, calls, newspaper coverage). ADVICE: Trust your professional judgment and ride it out.
NOTE: Cheyenne Blvd is still not "complete" several sections of missing sidewalk, numerous missing transit pads but these are being targeted in near future - good example of incrementalism. Cheyenne Blvd may still be somewhat incomplete but it is much better than before.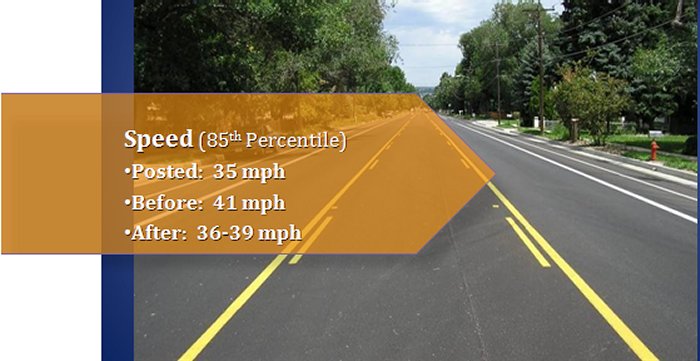 Measure Results
Measure Results
Before-after road diet studies:

New York
Seattle
Colorado Springs
Charlotte

Charlotte: two-hour congestion analysis, multi-modal LOS
New York Sustainable Streets measures
Redmond Mobility Report Card
Redmond Washington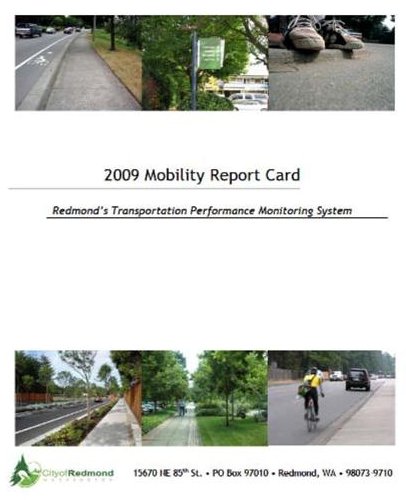 Go Figure
Numbers at your fingertips
| | | |
| --- | --- | --- |
| How Much/Many? | Of What? | Trend |
| 7,729 | Students riding the bus to school | down |
| 862 | Traffic collisions | even |
| 38 | Collisions involving pedestrians or bicyclists | even |
| 7.6% | Traffic growth for selected intersections since 1996 | up |
| 31% | AM commuters traveling by non-single occupancy vehicle (2007) | up |
Data for 2008 unless otherwise noted. Log on to http://redmond.gov/cms/one.aspx?portalId=169&pageId=26754 for more information about the above figures.
Final Lessons
Crosswalks and sidewalks near stops and stations are necessities. Every transit trip requires crossing the street. Complete streets connect transit users to their destinations.
Buses get stuck in traffic, and their progress is further slowed by the constant need to merge back into the flow of traffic after pulling over to pick up passengers. Stop-and-go bus service discourages use, increasing traffic congestion by those who choose to drive instead. While solutions exist that can help speed service, transit agencies often don't have much say in tweaking road design for bus use. A complete streets policy enables decision makers to prioritize transit in roadway improvements - making trips faster and more reliable.
Photo: (John LaPlante)
Available from:
Scenario Planning
Presented by
Fred Bowers
FHWA Office of Planning
What is Scenario Planning?
Scenario planning, is a process that forecasts the consequences of investing in different modes of transportation, development locations and funding strategies. When combined with visualization, citizens can really begin to see what the future holds. FHWA's Scenario Planning Program is completely STEP Funded
Process to define and test alternative futures and strategically consider critical decisions and their implications
Links transportation and land use planning
Facilitates stakeholder involvement
Improves decision making through visualization
Learning process/robust choices
FHWA Scenario Planning Program
Between 2004 and 2009, FHWA sponsored 16scenario planning workshops in 16states. Twoworkshops are planned in 2010.

California
Florida
Hawaii
Iowa
Illinois
Kentucky
Michigan
New York
Missouri
North Carolina
North Dakota
Pennsylvania
Rhode Island
Texas
Tennessee
Vermont

Locations of previous workshops are highlighted in yellow
Scenario planning is fully STEP funded and is very good way to visualize transforming a community to make it a more livable environment.
Scenario Planning Using Visualization
Scenario planning in public involvement allows you get the public perception for how a community might grow or change. Through the use of visualization tools, you can demonstrate to the public how you can go from a street system that looks like this -
Photo Montage for Public Involvement
To grow into a street system that looks like this.
Key long-term benefits from sustained scenario planning efforts can include:
Better management of increasingly limited resources in areas with rapid growth.
Identification of new areas of resource allocation in areas with declining or no growth.
Integration of transportation and land use planning.
Making transportation planning more concrete for the public.
Adding creativity to the planning process in conjunction with activities such as charrettes and hands-on planning games.
Example: Envision Utah
The statewide "Envision Utah" process conducted public values research

With over 200 workshops involving more than 20,000 residents to decide their own future

Since the completion of the vision several years ago, they have continued to partner with the participating communities

They continue to monitor and steer the rural and urban growth into patterns that the residents themselves desire
Next Generation Scenario Planning
Traditional scenario planning efforts focus on growth-related issues or transportation investments
Next generation scenario planning efforts focus on a broader range of issues, such as:

Uses of alternative energy
Climate change
Economic shifts
Technological innovation

Next generation scenario planning efforts also use innovative methods to communicate with the public

Source: Chicago Metropolitan Agency for Planning
Traditional land use/transportation scenario planning efforts have focused on a limited range of land use and transportation investment scenarios, with analysis and evaluation leading to a preferred scenario.
Next generation scenario planning efforts seek to capture a broader range of issues and challenges than previously considered in scenario creation and analysis, such as alternative energy, technological innovation, security, climate change, or economic shifts.
CSS.ORG
Presented by
Keith Moore
FHWA Office of Project Development and Environmental Review
Context Sensitive Solutions (CSS) and Livability
Community livability is enhanced by transportation projects that are based on a collaborative, interdisciplinary approach that involves all stakeholders.
Using CSS principles and intents can help in the delivery of Livability and Sustainability goals
CSS Research Highlights
CSS Clearinghouse

Building a Community of Practice through

CSS Webinar Series
CSS National Dialog
CSS in Designing Major Urban Thoroughfares for Walkable Communities. http://www.ite.org/css/
CSS Clearinghouse - Building a Community of Practice through - Over 1000 registered site users
Webinar Series
Newsletters - highlights recent content additions
Case Studies Extensive Outreach and Marketing - Program/Clearinghouse goal: expanded outreach - currently marketing to over 500 organizations (NGOs, MPOs, etc
Expanded site content - Over 100 content updates/additions since Feb 2009 - substantial additions to include sustainability and livability topics
New contract initiated in Jan 2009 with Indus, Project for Public Spaces, and a consortium of on-call consultants
Current level of funding $450,000 with additional $350,000 available if performance goals met - total funded effort = $800k over 4 years
WEBINAR
Flexibility in Highway design - Sep 2008 - Gary Toth (PPS) and Jeff Shaw (FHWA) nearly 400 sites participated
Sustainable Stormwater Management - Apr 2009 - Wendi Goldsmith (Bioengineering Group) and Clark Wilson (EPA) 146 sites attended
CSS Training Guide - May 2009 - Leigh Lane (Berger) and Keith Harrison (FHWA)
Complete Streets - June 2009 - Barbara McCann (Complete Streets Coalition), Michael Ronkin, and Gabe Rousseau (FHWA)
Quantification of Benefits - Sept 2009 - Nick Stamatidis (U of KY)
Others TBD
The Dialog will be spearheaded by a series of five, one-day workshops to be held in various locations across the country. Each workshop will focus on a particular aspect of CSS, and use transportation projects or programs to highlight CSS best practices and provide a springboard for discussion and interaction. The workshop topics will vary, depending on the topics of most interest to the local workshop audience and the specific best practices selected for presentation. Potential topics could include effective and meaningful community engagement; facility design or construction that harmonizes with the existing natural and community context; or the use of a collaborative, multi-disciplinary team to develop a project design or program. The workshops will be fully documented and the documentation will be made widely available. The workshops are tentatively planned to be held from July 2009 through December 2009.
Big tent approach to the Steering Committee and Dialog - wide range of traditional partners and new ones Scenic America, US EPA Headquarters, National Center for Environmental Health, Centers for Disease Control and Prevention, National Association of Regional Councils (NARC), Project for Public Spaces, Center for Neighborhood Technology, NYC DOT, American Council of Engineering Companies, Kimley-Horn and Associates, Inc., Congress for the New Urbanism, FHWA -RC, HEPN, HIPA, HSA, Arkansas ,Texas Division, North Dakota, Indiana, NCDOT Tennessee DOT, Oregon State University, Caltrans Headquarters, University of Minnesota, Center for Transportation Studies, City of Terrell, University of Connecticut, USDA Forest Service Engineering, Minnesota DOT
The goals of the dialog are to:
Introduce CSS principles and practices to a wide array of partner organizations (BIG TENT APROACH)
Identify CSS best practices and present those to transportation professionals across the nation (SC will help by Developing guidelines for submissions of best practice examples Establishing criteria for evaluating best practices candidates, and applying those criteria to best practices submissions)
Strengthen and broaden the interest in CSS (Regional, broad outreach, new partners, use of UTC partners as well)
Discover new opportunities for partnerships (BIG TENT, again)
Bring new perspectives to planning, designing, building, and maintaining transportation facilities
Foster a community of CSS practice and promote the dissemination of CSS best practice examples
Livability Resources
STEP Website
FHWA Livability Website
DOT Livability Website
Context Sensitive Solutions
Questions and Answer Session
The discussion is open to questions

Via phone
Via chat feature
For Additional Information
If you have general questions about STEP or this webinar, contact Felicia.Young@dot.gov
Livability Information Gabe.Rousseau@dot.gov