Innovations - Intelligent Compaction
PDF Version (257 kb)
Onboard technology makes compaction more accurate
The heavy rolling equipment used on job sites for compacting soil and asphalt layers often goes through several passes on the material to achieve the specified compaction level. Contractors trying to determine appropriate compaction levels for differing materials and conditions are in danger of either over-compacting out of caution or under-compacting to save time and money. A new method of using an onboard device that attaches to rollers to provide feedback to the operator and the machine itself is revolutionizing compaction methods. This technology allows for adjustments on the fly to ensure accurate and consistent compaction of soil, rock, or asphalt surfaces.
Intelligent compaction (IC) devices offer a number of advantages for highway projects:
Optimized labor deployment and construction time. Contractors can roll the right amount of material with the right amount of compactive effort on each pass to ensure long-term performance.
Reduced compaction costs and maintenance requirements. The flexibility to make fewer passes to achieve the correct compaction level minimizes fuel use and equipment wear and tear.
Ability to make midcourse corrections. Adjusting during compaction of one layer before additional layers are put over it ensures subsurface problems do not affect the entire road surface.
Ability to maintain construction records. Data from the IC, along with Global Positioning System coordinates of compaction activity, can be downloaded into construction quality databases and stored for future reference.
Although the underlying "smart" technology that powers computerized compaction differs from manufacturer to manufacturer, the fundamental concept is the same. Sophisticated sensors attached to the rollers continuously measure the level of compaction achieved during the construction process. This information is fed into a real-time feedback loop that adjusts the amplitude, frequency, and direction of the pressure applied to the surface.
IC devices can be operated in two modes, automatic or manual. In automatic mode, a preset target level of compaction is achieved based on feedback information generated during the construction process, while in manual mode the operator reviews feedback information and adjusts subsequent roller passes accordingly.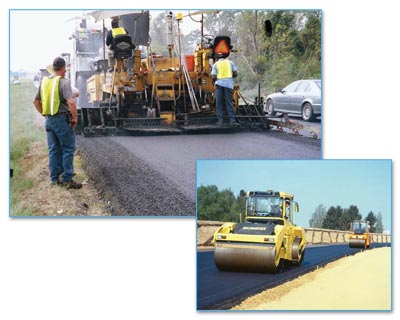 Researchers in both the IC industry and highway community are studying how best to measure the level of compaction achieved. For example, rather than measure the deflection of material under the compactive force, some engineers prefer to determine a material's stiffness or modulus of elasticity, which shows its ability to resist deformation when a given level of force is applied. There is also significant ongoing research to isolate the effects of soil moisture content and asphalt temperatures on the compaction reading. Stiffness measurements made during construction have the added benefit of predicting the performance and life expectancy of the as-constructed pavement. Highway agencies can use the information to develop contractor accountability metrics and to make informed decisions when budgeting for their future maintenance and repair needs.
IC devices, developed in Western Europe, are now an established construction technology in some parts of the world. BOMAG and Hamm in Germany, Dynapac in Sweden, Ammann in Switzerland, and Sakai in Japan manufacture IC rollers that are marketed in the United States. Some carry equipment for both soil and asphalt layers, while others apply to only one of the materials. The United States has been steadily catching up, and several highway agencies are verifying the applicability of IC technology for their specific conditions and construction requirements before fully accepting it as a proven method for systemwide implementation. Caterpillar and Ingersoll Rand, U.S. heavy equipment manufacturers, have made headway in researching IC technology and have IC devices for both soils and asphalt layers in various stages of development.
The Federal Highway Administration has released a strategic plan to implement IC technology in the United States that details the research and evaluation required before it is adopted as a standard. Meanwhile, some proactive state highway agencies–those in Colorado, Florida, Iowa, Michigan, Minnesota, Texas, and Wisconsin–are conducting demonstration projects or evaluation studies to implement IC. At the national level, a National Cooperative Highway Research Program project is underway to develop protocols and specifications for implementing IC for soil compaction. Technology transfer and training workshops are planned to help contractors and field inspectors use IC for routine construction projects.
---
For More Information
Contact
Victor (Lee) Gallivan
Pavement and Materials Engineer
Office of Infrastructure
FHWA
317-226-7493
victor.gallivan@dot.gov