In Memory of Ray A. Barnhart
Ray A. Barnhart, Federal Highway Administrator (1981-1987).
By Richard Weingroff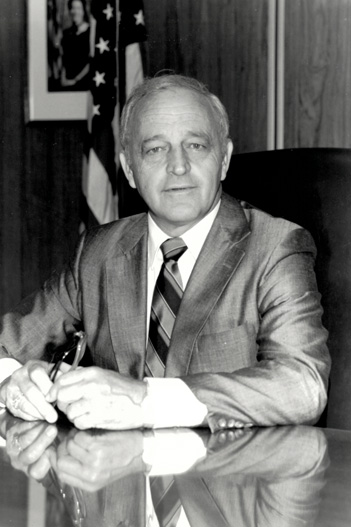 Former Federal Highway Administrator Ray A. Barnhart passed away on May 25, 2013. Appointed by President Ronald Reagan, Barnhart served from February 12, 1981, to December 31, 1987, the longest tenure of any Federal Highway Administrator.
Mr. Barnhart was born in Elgin, Illinois, on January 12, 1928. He served in the U.S. Army (1946-1947), received his Bachelor's Degree in 1950 from Marietta College in Ohio, and earned a Master's Degree a year later from the University of Houston. After several years as a Marietta College instructor, he moved to Houston in 1956 to work in underground utilities construction. In 1978, he left construction to join the Barmore Insurance Agency in Pasadena in the Houston area.
When President Reagan selected him to head the FHWA, Mr. Barnhart was one of three commissioners of the Texas Highways and Public Transportation Department, a policy-making group overseeing highway construction and public transportation assistance programs. He also was on the board of the Texas Turnpike Authority.
Mr. Barnhart became Administrator at a time when the phrase "crumbling infrastructure" had become a standard headline in newspapers and magazines. The Nation's highways and bridges were prime examples of neglect. Mr. Barnhart's greatest achievement was his leadership, with Secretary of Transportation Drew Lewis, of the drive for increased highway user fees to pay for an expanded highway repair program, with special emphasis on the Interstate System and bridges. With President Reagan's support, Mr. Barnhart helped forge a coalition in Congress and throughout the country to adopt a long-postponed increase in highway user taxes.
In the Surface Transportation Assistance Act of 1982, Congress approved a nickel-a-gallon increase in the gas tax—the first increase in 23 years—and raised other highway user fees to finance the expanded program. The legislation also directed 1 cent of the increase to a new Transit Account in the Highway Trust Fund. Within a few years, this increased revenue helped the Nation reverse the trend with highway and bridge conditions improving faster than aging facilities were declining. (For the story of this legislation, see "Palace Coup" at https://www.fhwa.dot.gov/highwayhistory/reagan_staa.cfm.)
Mr. Barnhart was involved in many other critical issues. He restructured the Agency's motor carrier safety and international highway programs, and was a leading spokesman for the importance of highway transportation to the social and economic well-being of the Nation. He streamlined project procedures and was instrumental in establishing 42 technology transfer centers in the Nation's universities. He also spearheaded a drive against fraud in the collection of highway user tax revenues that was robbing the Highway Trust Fund of billions of dollars over the years. He remained a leading voice in this cause for many years after leaving office.
Mr. Barnhart, a one-time English teacher, enjoyed writing letters on his own, usually with a blunt edge. Many made their way around the Agency via an informal underground Barnhart appreciation society. A few examples:
He informed the editor of USA Today that its article on bridge safety "was misleading, untrue, and grossly unfair!" Referring to a "colorful quotation" from a person he considered a doubtful "expert," he concluded: If, as [he] says, the FHWA has been caught with 'its pants around its ankles,' we at least still have our Jockeys on. You both, I fear, stand exposed."
He began a reply to a letter from a railway trade group, "I give up! We've done our darndest" to resolve the group's concerns, but "clearly . . . our efforts were to no avail." He concluded, "Please don't waste my time in the future unless you have something substantive to offer."
After the collapse of the Schoharie Creek Bridge in New York on April 5, 1987, Barnhart responded to an article in The Journal of Commerce criticizing changes in bridge inspection. He told the editor. "The obvious question any intelligent reader would ask is, 'What's wrong with those ivory tower bureaucrats? Are they stupid?' Inasmuch as I am the bureaucrat who initiated this change," he wrote, "It is truly disheartening to realize that so many thousands of people already disillusioned with the seemingly insensitive bureaucrats in Washington, have been further disheartened by this unfortunate distortion of what I'm convinced is prudent and proper public policy."
When FHWA denied the Michigan Department of Transportation's plan to post "smiley" signs at the end of a construction zone because the sign was not in the MUTCD, he faced a media crisis. He began a letter to an angry columnist in Lansing, "Uncle! Uncle! Uncle!" He admitted that if he had not left Texas to be Administrator, "I'd probably be in total agreement with your observations."
An editorial in The St. Petersburg Times criticized FHWA for not approving funds to add tunnels so endangered Florida panthers could pass under I-75, then under construction. Barnhart replied in November 1984, that the editorial was "shallow and tricky." He added, "Well, as Colonel Potter in M*A*S*H used to say, 'Horsehockey!'" (He eventually approved the tunnels.)
As he prepared to leave office in late 1987, he told a Transportation Research Forum that the most frustrating aspect of his nearly 7-year tenure was his inability to convince the business community to understand the importance of highways:
We have invested billions of dollars in a system that we are not now maintaining, but businessmen don't want to talk about more money for highways or building roads to meet projected needs. They take the highway system for granted, but there is no way we will be able to meet the transportation needs of the next century unless we focus public attention, and thus political action, on this issue.
On April 19, 2004, Ray Barnhart was inducted into the Texas Transportation Hall of Honor. He was honored not only for his contributions to Texas and the Nation, but for his strong leadership, easy manner, and extraordinary communication skills.
When he left office in 1987, Congress passed a resolution recognizing the Administrator for his "honest, effective, and meaningful efforts to preserve and improve the Federal-Aid Highway System." It added:
Ray Barnhart has demonstrated an unfailing professional and personal integrity; and has on most occasions been an outstanding ally and when necessary a worthy adversary but always a spokesman for what he believed best for our Nation's highway system.
True, but, as Executive Director Jeff Paniati put it in a note on Mr. Barnhart's passing, those in FHWA who knew him will "remember him for his strong leadership, his easy manner, and his extraordinary communications skills. He cared about people, and had a personal touch unique among our leaders."