Janet P. Bonnema
Women – Bad Luck?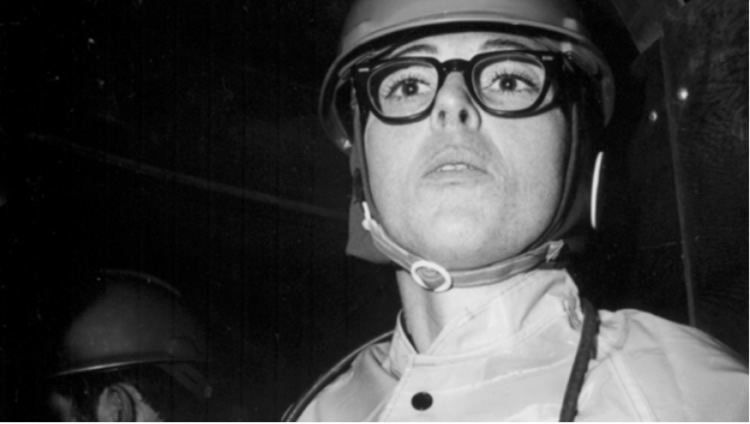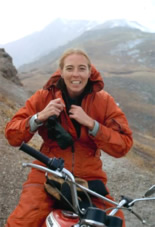 Janet Bonnema riding a motorcycle at Eisenhower Tunnel, Denver, Colorado, 1972. (Photo by Leonard McCombe/The LIFE Picture Collection via Getty Images)
In 1970s Colorado, women were taboo in mines and tunnel. As one miner put it, "It's a jinx. I've seen too many die after a woman was in the tunnel."
In November 1970, Janet P. Bonnema, 33, applied for an opening with the Colorado Highway Department (CHD). She passed the required test and received a letter offering a job to a misspelled "Mr. Jamet P. Bonnema," if "he" wanted it, on the I-70 Straight Creek Tunnel (now the Eisenhower Memorial Tunnel). When "he" turned out to be a woman, the employment officer warned her not to take the job. If she went into the tunnel, he said, "Those workers would flat walk out of that there tunnel and they'd never come back."
Nevertheless, she took the job, a special technician's position that CHD invented after the State Civil Rights Commission said she had to be hired. But she wouldn't be able to go into the tunnel. "I am not allowed to do the same work as the male engineering technicians," she told a reporter, "even though I am physically able, in better condition and have more stamina than many of the male engineering technicians."
In response to an inquiry from a woman reporter, CDH acknowledged that Bonnema was "smart as a whip" and "doing a great job up there." However, the contractor wouldn't let any women, not even female reporters, in the tunnel.
It wasn't just the taboo. A tunnel official told Life Magazine at the time that, "A tunnel is no place for a woman." Aside from not wanting women to hear the bad language the men use or see them relieving themselves wherever they were, "a woman couldn't take it physically. They don't have the stamina." Bonnema, who parachuted, climbed mountains, and rode a Honda CL-350 motorcycle, said she had been places without toilets and had heard some bad language in her travels. Stamina, for the athletic rock climber, was not an issue.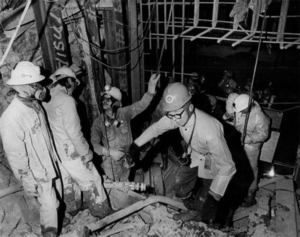 The Lady Is A Miner
- Janet Bonnema (right) makes her way through the Straight Creek Tunnel. Miss Bonnema, 33, of Georgetown, Colorado, had been hired to work in the tunnel a year and a half ago, but was sent to the division office instead of working in the tunnel. Janet filed a suit, charging sex discrimination against the Colorado Division of I Highways. Miss Bonnema was assigned as a rock mechanic, a Job which requires periodic trips into the tunnel. Shouting, "Get the women out of here," about 60 workers walked off the job.
(Photo By Duane Howell/The Denver Post via Getty Images)
In July 1972, the U.S. Department of Transportation ruled "after a year-long investigation [that] to bar a woman from the tunnel was to practice sex discrimination." When CHD refused to abide by the decision, Bonnema filed a lawsuit. After Colorado's voters approved an amendment to the State constitution guaranteeing equal rights for women (finally approved in 1973), CDH settled the lawsuit for $6,750.
Therefore, on November 9, 1972, Bonnema, in coveralls and a hard hat, made her first walk into the tunnel. She was accompanied by reporters, including a woman from The Denver Post. "Get those women out of here," a worker shouted before more than 60 men walked off the job. Bonnema paid no attention as she slogged through the mud on an orientation tour.
The tunnel, as Life pointed out, "did not cave in." Bonnema told the reporters, "They're making $8 to $10 an hour. What's the matter with them?"
One miner quit outright, providing the jinx comment quoted above as his reason. All the others returned to work the next day.
A week later, Bonnema was ready for a second entry, again wearing her coveralls and hardhat. She had to wait 4 hours in the snow while concrete was poured. "We were suited up to go into the tunnel," she told reporters, "but a guy wanted us to install an instrument on top so we went up. I'd never been allowed to do that before, either."
After she installed an inclinometer to measure layers of earth, she said. "It was a lot of fun on top and nobody walked out," adding, "I was all dressed up in a hard hat and all that. I had a good disguise." She was looking forward to her new accessibility. "I'm going around the tunnel every day now. Before, I wasn't allowed to set foot outside my office."
Her accomplishment earned her a 3-page spread in Life Magazine, ("Janet Fights the Battle of Straight Creek Tunnel," December 8, 1972), in which the journalist Jane Howard wrote, "Her small step into Straight Creek, Janet hopes, will help to hasten that giant leap for womankind in which, before too long, all females might find work in places from which they have been barred."
In 2012, Janet P. Bonnema was inducted into the Colorado Women's Hall of Fame, nominated by the Colorado DOT. Her Hall entry noted:
As an avid skier, motorcyclist, rock climber, parachutist, pilot, and world traveler, throughout her life Bonnema pursued her passions despite gender stereotypes … and traveled the world to work on projects.
Janet Bonnema died on May 9, 2008, after a long battle with cancer.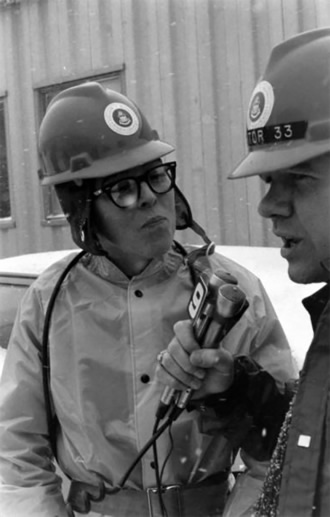 Eisenhower Tunnel: Janet Bonnema talking to a reporter at Eisenhower Tunnel, Denver, Colorado, 1972. Photo by Leonard McCombe/The LIFE Picture Collection via Getty Images)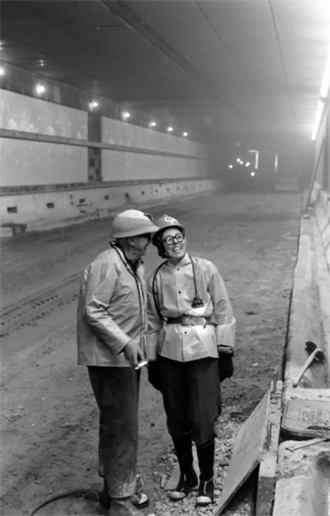 Eisenhower Tunnel: Engineer Janet Bonnema with Rueben Hopper, Colorado Highway Department district engineer, in the Eisenhower Tunnel, Denver, Colorado, 1972. (Photo by Leonard McCombe/The LIFE Picture Collection via Getty Images)