NHI Celebrates 40 Years of Service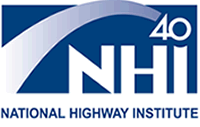 When the National Highway Institute (NHI) first opened its doors in 1970, the Nation was at the height of the "Interstate Era," the largest civil works project ever constructed in the United States. It was also a time when people were looking for new and better ways to protect the natural, social, and cultural environment through implementation of new technologies and practices. To meet these challenges, people needed a broader set of skills, and NHI was given this ambitious mission.
At first NHI was just a small operation, with a handful of employees who completed every course registration, every scheduling arrangement, and every certificate by hand. Understandably, the menu of courses was fairly narrow, covering subjects such as work zone safety, pavements, and hydraulics. But one thing that has remained constant from day one: NHI's commitment to quality. Whether developing exceptional training materials or securing topnotch instructors, quality has not diminished in 40 years and remains at the core of NHI's values.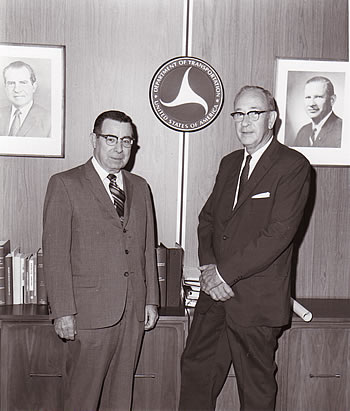 Administrator Francis C. Turner (left) poses with Emmett H. Karrer, the first Director of the National Highway Institute. (September 20, 1971).
Fast forward to 2010: NHI now offers more than 50 distance learning courses, making it feasible for transportation professionals to attend training from the comfort of their own offices, without the hassle and cost of travel. NHI's course catalog has expanded to include hundreds of trainings in 15 broad categories ranging from structures and pavements to real estate and communications. To capitalize on diverse skill sets and experiences, NHI now regularly collaborates with partners across the industry to enhance the quality and value of its courses. In addition, not only is the entire training catalog housed online, but NHI has even embraced the latest social networking applications including Facebook and LinkedIn.
One of the main contributors to NHI's success is the fact that FHWA "places a high value on learning within the context of professional and corporate development," says Joe Toole, who was the Associate Administrator of NHI from 1999 to 2008. With FHWA's support, NHI has correspondingly multiplied its ability to offer high-quality training. In the words of NHI Training Director Rick Barnaby, "NHI's mission hasn't changed; the organization has just expanded in new directions to meet new challenges and opportunities."
One of the most important ways in which NHI has evolved is through the adoption and adaptation of new technologies. In 1992, NHI introduced the new Course Management Training System (CMTS), a computer program that stores all information about NHI courses, including development milestones, number of sessions offered, attendance data, and contract funding levels. A similar program stores all participant feedback and enables NHI to easily evaluate and enhance the quality of its products and services. NHI also began an Instructor Certification Program in the late nineties, which requires potential instructors to complete NHI's instructor development program, an initiative that has raised the caliber of NHI's instructors.
The late nineties witnessed the launch of the NHI Web site, providing customers quick and easy access to the entire NHI catalog as well as an array of other training-related information. In addition, with the recent launch of the NHI Store, the transportation community can now order copies of training materials online. Up next is a new Web site design that will enhance access to various NHI training resources.
On the training delivery front, perhaps one of the most exciting developments is the availability of distance learning opportunities. In 2003, NHI launched its first Web-based training, a self-study option that enables participants to learn at their own pace wherever they can access the Internet. Soon after, NHI launched Web-conference training, which similarly provides an easily accessible, low-cost training alternative, wherein participants join live training online at a set time. More recently, NHI has begun offering blended format courses that combine elements of self-study and instructor-led components within a single course. These Web-based options give NHI the ability to reach more people, more efficiently.
NHI's commitment to embracing new technologies and resources is evidenced by the diverse skill sets of many staff members. Dozens of NHI employees are solely dedicated to implementing new technologies and ideas. For example, there is a systems team that manages NHI's Web site and online data. There is also a team dedicated to coordinating online training. Despite being playfully nicknamed "the cave" for its lack of windows, the area of the office that coordinates online training is "always buzzing with fresh ideas," Toole says.
In addition to implementing new technologies, NHI is pursuing strategic partnerships that attest to the quality of its training. In 2004, NHI was approved as an Authorized Provider by the International Association for Continuing Education and Training (IACET). In obtaining this approval, NHI has demonstrated that it complies with the ANSI/IACET 1-2007 Standard which is widely recognized as a standard of good practice. As a result of its Authorized Provider membership status, NHI is authorized to offer IACET CEUs for its programs that qualify under the ANSI/IACET 1-2007 Standard. Most of NHI's courses are now IACET certified, which "gives them validity as high-quality trainings," says NHI Instructor Liaison Carolyn Eberhard.
NHI today forges close relationships with internal FHWA groups, such as the Resource Center, as well as with external groups, including the Institute of Transportation Engineers, the American Road & Transportation Builders Association, State Departments of Transportation, and University Transportation Centers. The relationship between NHI and its partners has flourished with increased collaboration and frequent meetings. "NHI recognizes that it is part of a bigger community" and that these partners have "the same vision of delivering knowledge," Toole says. "NHI is stronger when aligned with these partners."
In fact, it was one such stakeholder meeting in 2005 that led to the development of NHI's marketing plan. With a focus group consisting of DOT representatives, FHWA employees, and others, NHI posed the question: How could NHI better serve and reach its audience? The feedback from this focus group led to NHI's marketing plan, which has helped almost double the organization's reach from 15,000 to more than 25,000 customers each year. NHI regularly works with individuals from this same focus group, as well as instructors and local coordinators, to continue to refine its marketing strategy.
NHI also recognizes the global nature of transportation today and has reached beyond the Nation's borders to develop relationships with transportation professionals around the world. NHI and FHWA's Office of International Programs have collaborated for more than 20 years to provide training resources, briefings on training processes, and even Web-based trainings to dozens of countries, including Iraq, Korea, and Kuwait. "You'll constantly see Roger Dean [the NHI International Programs Officer] walking through the office with visitors from different areas of the world," says Toole. Through these relationships, NHI has established a worldwide reputation as a leader in transportation training, a recognition which has also enhanced FHWA's connection to the world.
Although NHI has changed in numerous ways, its team has always consisted of dedicated, knowledgeable employees with a great sense of camaraderie. As Barnaby puts it: "NHI's employees have always worked hard to develop exceptional training that is not available elsewhere. They want to be here every day, and their sense of purpose has never changed." Many employees refer to the group as a "family," enjoying staff lunches and celebrations. The office also gives back to the community. The NHI team holds a yearly auction that has raised more than $2,000 each year for the Arlington-Alexandria Coalition for the Homeless. According to Eberhard, "Everyone attends and enjoys the office-wide activities. I never expected I would become so personally attached."
Another constant is NHI's strong focus on customer service. Since its doors opened in 1970, NHI has worked closely with customers to identify and build upon their needs. Barnaby notes that NHI is continually "improving based on feedback from the field" and runs by the motto, "Training for Transportation Excellence."
Having made so many important strides in the last 40 years, it is hard to say what NHI's biggest accomplishment is. Perhaps it is best to look at the change NHI has inspired within the transportation community. Joe Toole states it well: "NHI's work has resulted in changes-the way people design bridges, the way people build safety into our roads, the way they involve the public in transportation decisions, and much more. All of these advancements have improved our Nation's roadways, and NHI has played a great role in making it happen." Looking to the future, Toole added, "I am confident that NHI will continue to grow and evolve, and that the NHI of 2019 will not be the NHI of today. But I am also confident that as long as there is a need, NHI will be there, ready to meet it."
Popular NHI Courses Through the Years
Federal Aid 101 (FHWA-NHI-310109): Referred to by Training Program Manager Marty Ross as the course that explains "the heart of what FHWA does," this course puts things into context and helps FHWA employees better understand where they fit in.
Road Safety Audits (FHWA-NHI-380069): Used Nationwide by local communities and governments, this course shares strategies to identify safety issues on U.S. roadways, ultimately saving lives.
Safety Inspection of In-Service Bridges (FHWA-NHI-130055): This course sets the standard for bridge inspection and is used by a majority of the States.
In Their Own Words
NHI is . . .
"A great team that brings quality training to the national workforce." - Rick Barnaby, NHI Training Director.
"Seeking to help you succeed." - Tom Elliott, NHI Training Program Manager.
"An asset to the transportation community." - Carolyn Eberhard, NHI Instructor Liaison.
"As much about the way people think and work together as it is an organization under Federal law." - Joe Toole, former Associate Administrator for Professional and Corporate Development.
"A great place to work." - Roger Dean, International Programs Officer.