FHWA Asset Management Position Paper
Right-of-Way and Asset Management
The purpose of this paper is to define the relationship between transportation asset management and transportation system planning and to describe the current, and potential future, activities of the FHWA Federal Lands Highway office that support the implementation of asset management. The paper is one of a set of seven papers exploring the relationship of asset management to each of FHWA's major program areas including planning, right-of-way, environment, infrastructure, safety, operations, and Federal lands.
Section 1.0 provides a general overview of asset management relevant to all program areas. Section 2.0 defines the relationship between Federal lands and asset management. Section 3.0 describes current, and potential future, activities of the Federal Lands Highway office that support asset management.
1.0 Overview of Transportation Asset Management
1.1 Definition of Asset Management
Transportation asset management is a set of guiding principles and best practice methods for making informed transportation resource allocation decisions, and improving accountability for these decisions. The term "resource allocation" covers not only allocation of money to program areas, projects, and activities but also covers deployment of other resources that add value (staff, equipment, materials, information, real estate, etc.). While several of these principles and practices were initially developed and applied within the domain of infrastructure preservation, most established definitions of asset management are considerably broader. The Asset Management Guide,[1] recently adopted by AASHTO defines asset management as:
"... a strategic approach to managing transportation infrastructure. It focuses on...business processes for resource allocation and utilization with the objective of better decision-making based upon quality information and well-defined objectives."
As Mary Peters, FHWA Administrator has frequently put it:
"If I have one additional dollar to spend on the transportation system, what is the most effective way to spend it?"
The essence of asset management is answering that question.
Asset management is concerned with the entire life cycle of transportation decisions, including planning, programming, construction, maintenance, and operations. It emphasizes integration across these functions, reinforcing the fact that actions taken across this life cycle are interrelated. It also recognizes that investments in transportation assets must be made considering a broad set of objectives, including physical preservation, congestion relief, safety, security, economic productivity, and environmental stewardship.
1.2 Asset Management Principles
The core principles of asset management are:
Policy-Driven - Resource allocation decisions are based on a well-defined and explicitly stated set of policy goals and objectives.These objectives reflect desired system condition, level of service,and safety provided to customers, and typically are tied to economic, community and environmental goals as well;
Performance-Based - Policy objectives are translated into system performance measures that are used for both day-to-day and strategic management;
Analysis of Options and Tradeoffs - Decisions on how to allocate resources within and across different types of investments (e.g., preventive maintenance, rehabilitation, pavements, bridges, capacity expansion, operations, different modal mixes, safety, etc.) are based on an analysis of how different allocations will impact achievement of relevant policy objectives. Alternative methods for achieving a desired set of objectives are examined and evaluated. These options are not constrained by established organizational unit boundaries - for example solving a congestion problem could involve a capacity expansion or an operational improvement (e.g., signal coordination). The best method is selected considering the cost (both initial and long-term) and likely impacts on established performance measures. The limitations posed by realistic funding constraints must be reflected in the range of options and tradeoffs considered;
Decisions Based on Quality Information - The merits of different options with respect to an agency's policy goals are evaluated using credible and current data. These data may apply to specific functions (e.g., pavement and bridge management, traffic monitoring) or reflect a more integrated, corporate view.[2] Where appropriate, decision support tools are used to provide easy access to needed information, to assist with performance tracking and predictions, and to perform specialized analysis (e.g., optimization, real-time simulation, scenario analysis, life-cycle cost analysis, benefit/cost analysis); and
Monitoring to Provide Clear Accountability and Feedback - Performance results are monitored and reported for both impacts and effectiveness. Feedback on actual performance may influence agency goals and objectives, as well as resource allocation and utilization decisions.
These principles are not unfamiliar, nor are they radical. Most transportation practitioners would agree that investment decisions should be based on weighing costs against likely outcomes, that a variety of options should be considered and evaluated, and that quality information is needed for decision-making. Many agencies are now pursuing performance-based approaches to planning and programming, monitoring system performance, and developing more integrated data and analysis tools to evaluate tradeoffs among capital expansion, operations, and preservation activities. Most agencies recognize that application of asset management principles is critical in times of constrained resources, when all investment and budget decisions are subject to increased public scrutiny.
1.3 Asset Management Practice
Figure 1 illustrates the strategic resource allocation process that embodies the asset management principles presented above.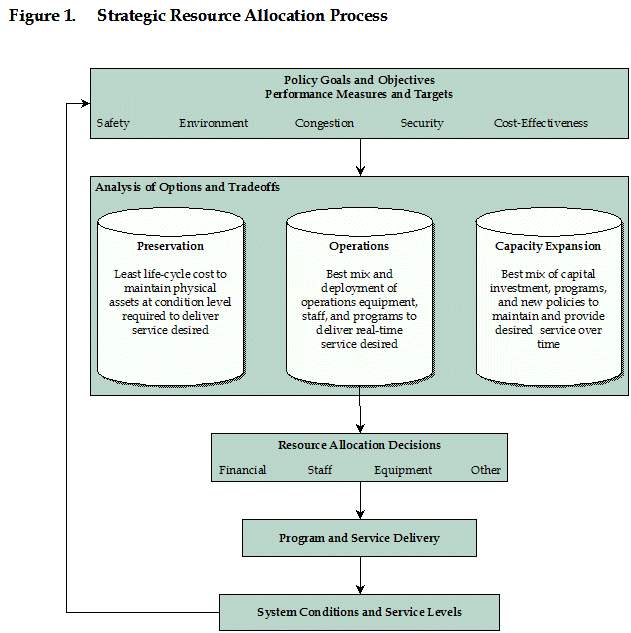 The diagram includes the following elements:
Policy Goals and Objectives, supported by performance measures are established through the policy and system planning process and used to guide the overall resource allocation process.
Analysis of Options and Tradeoffs includes examination of options within each investment area, as well as tradeoffs across different investment areas. The definition of investment areas is flexible and can be tailored to how an individual agency does business. For example, an agency may have a separate safety investment area and also incorporate consideration of safety within system preservation, operations, and capacity expansion expenditures. Each option and tradeoff is evaluated with respect to established agency goals and performance objectives.
Resource Allocation Decisions are based on the results of tradeoff analyses These decisions involve allocations of financial, staff, equipment, and other resources to the different investment areas and/or to different strategies, programs, projects, or asset classes within an individual investment area.
Program and Service Delivery is accomplished in the most cost-effective manner which again involves consideration of different delivery options (e.g., use of contractors, interagency agreements), as well as a delivery tracking process involving recording of actions taken, costs, effectiveness, and lessons learned to guide future activity.
System Conditions and Service Levels are tracked to see the extent to which established performance objectives are being addressed. This information is used to refine policy goals and priorities (e.g., put more emphasis on safety in response to an increase in crash rates).
1.4 Transportation Investment Categories
In Figure 1, the box labeled "Analysis of Options and Tradeoffs" shows three types of investment categories - preservation, operations, and capacity expansion. These are defined as follows:
Preservation encompasses work to extend the life of existing facilities (and associated hardware and equipment), or to repair damage that impedes mobility or safety. The purpose of system preservation is to retain the existing value of an asset and its ability to perform as designed. System preservation counters the wear and tear of physical infrastructure that occurs over time due to traffic loading, climate, crashes, and aging. It is accomplished through both capital projects and maintenance actions.
Operations focuses on the real-time service and operational efficiency provided by the transportation system for both people and freight movement on a day-to-day basis. Examples of operations actions include real-time traffic surveillance, monitoring, control, and response; intelligent transportation systems (ITS); signal phasing and real-time signal controllers at intersections; HOV lane monitoring and control; ramp metering; weigh-in-motion; road weather management; and traveler information systems. Although operations focuses on system management, the infrastructure needed to provide this capability may be substantial (e.g., traffic control centers; ITS hardware; environmental sensors and fire control systems in tunnels). Thus, an operations strategy requires capital and operating budget as well as substantial staff resources.
Capacity expansion focuses on the actions needed to expand the service provided by the existing system for both people and freight. Capacity expansion can be achieved either by adding physical capacity to an existing asset, or acquiring/constructing a new facility.
These three categories are defined in order to show that:
Asset management is not just about preservation of highway network assets; it is about making investment decisions that address a wide range of policy goals.
The three categories provide a simple, useful way for decision-makers to align program investment categories and priorities with key policy objectives. For example, many agencies establish a "preservation first" policy or favor maximizing efficiency of operations prior to investing in new capacity.
The categories may present alternative ways of meeting a policy goal. For example, it may be appropriate to consider operational improvements to address a congestion problem as an alternative to adding a new lane.
Decisions about the resources allocated to each category cannot be made independently. Meeting many policy goals (e.g., safety) may require a mix of investments across these categories. Similarly, an increase in capacity expansion investments may require increased operations and preservation expenditures at some point in time.
As noted above, tradeoff analysis may be done across investment categories as well as within them. An agency might wish to define investment areas coincident with the three categories discussed above (preservation, operations, capacity), or they may define a different set of categories. For example, a safety program could be defined as an investment category, with subareas for operational activities (e.g., signs, markings, signalization, channelization, etc.), preservation (replacement of guardrails), and capacity (project design features supporting safety, e.g., wide shoulders). This would provide the framework for understanding the best mix of complementary actions within the safety area as well as tradeoffs between safety and other objectives.
1.5 Asset Management and the Transportation Planning Process
A common reaction to the broad description of asset management is "how is this different from the overall planning and programming process in an agency?" The response is that asset management is not a new kind of business process that replaces planning and programming. Rather, it should be viewed as a set of best practices to be employed within the established planning and programming framework. Existing regulations pertaining to the planning process, together with statutes related to specific funding programs and their allocation criteria, and the body of environmental regulations affecting transportation planning - provide the context within which asset management practice occurs. In terms of Figure 1, transportation regulations and statutes impact establishment of policy objectives, the manner in which options are generated and evaluated, and they also provide certain constraints on resource allocation (based on Federal and state funding eligibility restrictions). Many of the core principles of asset management are embodied in the existing planning regulations (e.g., consideration of alternatives). Examining the planning process using the lens of asset management provides an opportunity to explore ways to continue to strengthen the mission of transportation planning - for example:
How to improve connections between long-range planning and resource allocation;
How to strengthen agency and public consideration of preservation and operations investments within the long-range planning process;
How to better integrate environmental considerations throughout the transportation planning and decision-making process - across capacity, operational and preservation investments; and
How to provide a common information resource base to serve multiple activities across the transportation asset life cycle - long-range planning, corridor studies, safety studies, environmental assessments, multi-year capital programming, project development, preventive maintenance and system operations.
While asset management is closely associated with planning and programming activities, asset management best practices are also integral to design, construction, routine and preventive maintenance and operations activities. For example:
Application of life-cycle cost analysis in the facility design process;
Analysis of alternative construction materials and methods;
Tradeoffs across different maintenance activities based on level of service and extended facility life provided to customers;
Developing an appropriate mix of operations expenditures on technology upgrades, hardware/infrastructure maintenance and replacement, and skilled personnel;
Evaluation of delivery options (e.g., design-build, use of private contractors for maintenance and operations, inter-agency agreements, etc.).
1.6 Key Opportunities
Despite the support for taking an asset management approach, many agencies face very real organizational, institutional, and technical challenges to making further progress in asset management. Each one of these challenges represents a potential opportunity for FHWA to work with its partners to encourage broader implementation of asset management principles. For example:
Top management needs to set an organization-wide direction and framework for decision-making and to ensure that all parts of the organization are working together in a coordinated fashion. Maintaining continuity in leadership direction and understanding of key asset management principles can be particularly challenging with frequent turnover in agency executives;
Clear roles for each organizational unit must be established to solve common problems or meet common objectives. Differences in perspectives and approaches, lack of established procedures, or turf battles must be reconciled;
Established resource allocation methods, often constrained by externally imposed restrictions, historical allocations or formulas, or delicate and difficult political negotiations may restrict the range of options and tradeoffs that can be considered;
Staff resource constraints together with a constant "fire-fighting" mode of operation also may restrict the amount of time and effort that can be spent on analyzing options;
Developing a comprehensive set of reliable methods, data and tools to evaluate performance tradeoffs among the full set of investment options will take a sustained, multi-year effort;
Establishing a causal link between an investment or action and a performance indicator of interest, due to the presence of external factors influencing performance (e.g., gas prices, vehicle fleet changes, growth patterns, etc.) may require additional research in some cases;
Coordination among multiple agencies to achieve established objectives in areas such as operations and safety adds complexity to the decision-making process and program implementation efforts; and
External and internal agency culture based on "bottom-up" decision-making, with a focus on specific projects rather than on broader system performance and outcomes.
While it is relatively straightforward to implement asset management within a well-defined area of the agency (a pavement management unit, for example), the issues identified above illustrate why it is much more challenging to implement it more fully within an agency, or across multiple agencies.
However, the need to allocate scarce resources as effectively as possible and demonstrate results and performance to the customers of the transportation system provides strong motivation and support for overcoming these challenges. A comprehensive, performance-based approach to transportation investment decisions will be essential to meeting the increasingly complex set of transportation needs of the 21st century.
2.0 Federal Lands Highway and Transportation Asset Management
The Federal Lands Highway Program (FLHP) was created by the Surface Transportation Assistance Act of 1982 to provide a coordinated program of public roads and intermodal facilities serving Federal and tribal lands. This program services recreational travel and tourism, protects and enhances natural resources, provides sustained economic development in rural areas, and provides needed transportation for Native Americans. The Federal Lands Highway office at FHWA works with numerous Federal partners including: the National Park Service, U.S. Forest Service, Bureau of Indian Affairs, Department of Defense, and Bureau of Land Management. In 1999, a Refuge Roads program serving the U.S. Fish and Wildlife Service was initiated.
Federal Lands Highway serves over 384 park units, 175 national forests and grasslands, some 564 Federally recognized Native American tribes, close to 10,000 bridges, and nearly 98,000 road miles. Additionally, FLH co-manages the Defense Access Road Program with the Military Surface Deployment and Distribution Command and coordinates the design, construction and maintenance of access roads to military reservations and sites.
Federal Lands Highway is actively involved in planning activities with all its Federal partners including current and long range strategic planning, project planning, and technical assistance. Additionally, FLH acts as a liaison between its land management agency partners and state departments of transportation (DOTs), Metropolitan Planning Organizations (MPOs), rural planning organizations, and local gateway communities. As a result, there are significant organizational complexities to consider for transportation planning and program development within Federal Lands.
Section 2.1 describes the types of activities conducted by Federal Lands Highway, emphasizing the areas where asset management principles are likely to have the most impact. Section 2.2 relates Federal Lands Highway's mission and activities to the three major transportation investment categories previously defined. Finally, Section 2.3 will describe how each of the key asset management principles can be applied to FLH.
2.1 Overview of Federal Lands Highway Activities
Over thirty percent of the United States consists of Federally or tribally owned land, including the National Parks, National Forests and Grasslands, National Wildlife Refuges, and Indian reservations. More than 900 million people visit these areas each year. To fulfill the Federal Government's responsibility to provide transportation within and serving these Federally owned lands, Federal Lands Highway is charged with administering the funding to maintain and improve access to and within these areas.
In addition to administering funding for the Federal Lands Highway Program, FLH also provides comprehensive transportation planning and highway engineering services for its partners, including plan preparation, contracts, and project supervision. Headquartered in Washington, D.C., Federal Lands Highway (FLH) has three divisions in Vancouver, Washington (Western FLH Division), Lakewood, Colorado (Central FLH Division), and Sterling, Virginia (Eastern FLH Division). The FLH divisions provide program planning, design, and construction project and program services to its partners, similar to the functions performed by the FHWA Division Offices for the Federal-aid program. Specific activities carried out by FLH include:
Providing funding for public roads, transit, and other modes providing access to or within Federal and tribal lands that are not a state or local government responsibility. In providing transportation access for Federal and tribal lands, the Transportation Equity Act for the 21st Century (TEA-21) defined five programs as funding categories:

Indian Reservation Roads (IRR) funding can be used by the Bureau of Indian Affairs (BIA) and tribal governments for transportation facilities (roads, transit, bicycle/pedestrian, etc.) providing access to or within tribal lands. The IRR system consists of approximately 25,000 miles owned by the BIA and tribal governments, and approximately 31,000 miles owned by State or local governments. Authorized annual funding in TEA-21 was $275 million, with $13 million as a set-aside for IRR bridges.
Forest Highways (FH) funding can be used for transportation facilities (roads, transit, bicycle/pedestrian, etc.) to provide access to National Forests and Grasslands. The internal National Forest roads and bridges are the responsibility of the U.S. Forest Service, and are not eligible under the Federal Lands Highway Program. The Forest Highways system consists of approximately 29,200 miles owned primarily by State and local governments. Authorized annual funding in TEA-21 was $162.4 million.
Park Roads and Parkways (PRP) funding can be used for transportation facilities (roads, transit, bicycle/pedestrian, etc.) providing access to or within the National Park System. The PRP system consists of nearly 8,500 miles owned by the National Park Service. Authorized annual funding in TEA-21 was $165 million.
Refuge Roads (RR) funding can be used for transportation facilities (roads, transit, bicycle/pedestrian, etc.) providing access to or within the National Wildlife Refuge System. The RR system consists of approximately 4,800 miles owned by the U.S. Fish and Wildlife Service. Authorized annual funding in TEA-21 was $165 million.
Public Lands Highway Discretionary (PLHD) funding can be used for select transportation projects providing access to or within Federal and tribal lands. No legislative formula was established for allocating funds. Funds are allocated by the Federal Highway Administrator, who selects projects based on need, but also gives preference to projects that are significantly impacted by Federal land and resource management activities, or are proposed by States which have three percent or more of the total Federal lands in the nation. Authorized annual funding in TEA-21 was $83.6 million. In FY 2002, the Congress designated a total of $127.5 million in PLHD funds for 69 specific projects.

Providing emergency financial assistance for transportation facilities providing access to or within Federal and tribal lands. Under the Emergency Relief for Federally Owned Roads (ERFO) program, Federal Lands Highway administers funds to repair and reconstruct eligible transportation facilities damaged by a natural disaster or other catastrophic failure. The intent is to supplement resources provided by other Federal agencies to help pay for unusually heavy expenses caused by extraordinary events.
Providing funding for Defense Access Roads (DAR). Funds for access to military bases are provided by Congress after requests are made through the Military Surface Deployment and Distribution Command (SDDC). The funds are transferred to Federal Lands Highway and allocated to the proper agency.
Providing funding for technology development through the Coordinated Federal Lands Highway Technology Implementation Program (CTIP). The CTIP is a cooperative technology development program between Federal Lands Highway and its partner Federal land management agencies, including the U.S. Forest Service, the Bureau of Indian Affairs, the National Park Service, and the U.S. Fish & Wildlife Service. Examples of funded projects have included a software update for field personnel to evaluate fish migration through culverts, and an evaluation of the durability, effectiveness, and maintenance cost-savings for avalanche resistant guard-walls. The partners who participate in management of the CTIP program, but do not vote on policy issues and proposals, include the Military Surface Deployment and Distribution Command, the U.S. Army Corps of Engineers, and the Bureau of Land Management.
Providing comprehensive program and project services to partners. The Federal Lands Highway headquarters and divisions offer a range of program and project services to its partners, including:

Transportation planning;
Highway and bridge designs, plans, specifications, and estimates;
Contract procurement;
Construction management;
Road/bridge inventories, inspections, and condition ratings;
New technology support; and
Training of engineers, planners, environmental specialists, project managers, and others.
While asset management principles potentially could be integrated into all of the above FLH activities, they are likely to have the most impact when implemented at the partner Federal land management agencies in program development and project prioritization. The land management agencies and Federal Lands Highway work together in transportation planning, programming, and project selection, the results of which are approved and funded by FLH.
2.2 Relationship to Transportation Investment Areas
In terms of the strategic resource allocation process described in Section 1.3, the Federal Lands Highway offices, as administrators of a Federal-aid program, focus on resource allocation decisions, program and service delivery, and system conditions for its partners. FLH's partners share responsibility for long-range transportation planning and the analysis of options and tradeoffs in developing programs and generating a prioritized project list submitted to FLH for approval. FLH is involved to varying degrees with each of the partners, depending on the specific inter-agency agreements. Recognizing that FLH generally provides stewardship and oversight for transportation on Federal lands, but share responsibility for program development, FLH is already encouraging its partners to implement asset management principles in their planning and programming processes.
Preservation
For preservation projects, the eligibility for each FLH funding area differs slightly, but in general FLH administers funds for the maintenance and repair of roads, bridges, transit, pedestrian, and bicycle facilities serving Federal and tribal lands, including preservation actions to improve safety. For Refuge Roads, funds can also be used for the maintenance of vehicular parking areas and roadside rest areas. Project candidates are developed and submitted to FLH by the partner Federal land management agencies.
Quality information on the importance of life-cycle costs in preserving facility investments is crucial to adopting a programmatic approach to maintenance and preservation actions. Adopting an asset management approach that balances preservation with operations and capacity expansion would enable partners to recognize how regular and scheduled maintenance actions can extend the service life of a facility and save resources in the long term. Implementation of management systems and analysis tools through existing regulations will also allow partners to understand the tradeoffs and allow them to meet commonly agreed-upon facility and service targets though a programmatically balanced approach.
Operations
Compared to preservation and capacity expansion, FLH conducts relatively fewer activities in the area of operations, though FLH funds can generally be used for planning studies on operational issues (for example, the U.S. Forest Service and National Park Service studies on alternative transportation systems and transit). There are traffic management measures in place at spot locations. In addition, the Western FLH Division is working with the National Park Service to develop a congestion level of service measure for use in implementation of a congestion management system.
As increasing pressures are placed on the nation's public places, especially the national parks, and resources continue to be focused on maximizing the use of existing infrastructure, the area of operations will be an increasingly important future area of coordination and funding need.
Capacity Expansion
FLH's mission is to provide access to and within Federal and tribal lands. Key components in achieving this is to expand capacity by constructing new roadways, bridges and transit services, widening existing roadways and bridges, and expanding transit service to areas that are not adequately served by transportation facilities. FLH funds can also generally be used to expand the capacity of pedestrian and bicycle facilities. An asset management approach allows the partners to evaluate the relative long-term facility and service impacts of investing in capacity expansion and to develop programs that balance those system expansion investments against activities that preserve infrastructure, make better use of the existing transportation assets, or provide intermodal transportation options.
2.3 Application of Asset Management Principles to Federal Lands Highway
This section describes how each of the asset management principles outlined in Section 1.2 can be applied to setting transportation priorities for Federal and tribal lands. The relationship with FLH's partner land management agencies will also be discussed, since the partners share responsibility for program development and project selection. This sharing of responsibilities creates challenges for FLH in encouraging a consistent asset management approach among its partners, but also allows FLH to revisit the current program development process and determine opportunities for a more focused investment approach.
Policy-Driven
In its strategic planning process, FLH has adopted the FHWA Vital Few goals of safety, environmental stewardship and streamlining, and congestion mitigation. To support the achievement of these goals, the FLH 2003-2007 Business Plan identifies four business improvement initiatives to:
Improve the safety of transportation on Federal and tribal lands;
Streamline the environmental process;
Work with Federal Land Management Agencies to ensure that transportation planning is an integral part of their planning processes; and to
Improve the accountability of all parties involved in project management.
To implement these initiatives, the specific performance goals are to:
Increase satisfaction of FLH partners and customers;
Increase job satisfaction of FLH employees;
Minimize project delivery costs;
Maximize amount of capital improvement with public funds;
Improve stability of the multi-year program;
Improve delivery of FLH environmental compliance services to partners, regulatory agencies and interest groups; and
Deploy technologies to improve processes and results within FLH and with FLH partners.
Performance-Based
Consistent with asset management principles, FLH has identified specific performance measures for each policy objective in order to monitor goal achievement over time and to communicate the impacts and implications of different plan alternatives. Performance measures also provide a mechanism during resource allocation for setting system condition and service targets and for balancing tradeoffs between program categories. The notion that at its essence asset management is really "total performance management" derives from the critical role that performance measurement plays in implementing the concepts of asset management. Performance-based planning and programming are essential components of asset management and rely on specification of performance measures that reflect key policy goals.
FLH has specified six key performance measures, along with baselines and targets, that are directly tied to its goals in its FY 2003-2007 business plan. These performance measures are:
Project development customer satisfaction;
Completed project customer satisfaction;
Program administration customer satisfaction;
FLH employee survey results;
Program delivery costs; and
Percent of funds obligated.
Federal Lands Highway also monitors the condition of roads and bridges for the Park Roads and Parkways, Forest Highways, Refuge Roads, and Indian Reservation Roads. These condition assessments are used for program decision-making and for reports to Congress.
Analysis of Options and Tradeoffs
The essence of good resource allocation is the analysis of options and tradeoffs. At the strategic resource allocation level, this analysis needs to consider prioritizing and balancing tradeoffs across all major investment categories including preservation, operations, and capacity expansion, while balancing transportation needs with the natural and cultural resource values of the agencies. Under the current processes, this analysis is conducted in partnership with the National Park Service, U.S. Forest Service, U.S. Fish and Wildlife, and the Bureau of Indian Affairs on behalf of Indian tribal governments.
FLH has encouraged these agencies to think more broadly and long-term about transportation issues. Efforts in recent years have focused on improving partner transportation planning capacity to include thinking about long-term needs, recognizing relationships with host or gateway communities, looking at alternative modes for transportation solutions, and using asset management systems for transportation assets as well as other facilities and equipment.
Typical transportation tradeoffs considered by partner land management agencies might include:
Balancing preservation, operations, and capacity expansion expenditures and programs for achieving appropriate system performance among all objectives;
Decisions between modal and intermodal options, where appropriate;
Tradeoffs among pavement and bridge projects to achieve a desired level of service over time (Indian Reservation Roads are currently the only program with a set-aside for bridges - for all other programs, bridge improvements are included with the associated road improvements);
Balancing funding among different geographic areas, within the constraints of predefined legislative allocations; and
Balancing access and mobility objectives with environmental and cultural protection.
The National Park Service has made significant progress in understanding the tradeoffs between preservation, operations, and capacity expansion expenditures, as well as considering modal and intermodal tradeoffs. Because transportation needs must be balanced with natural resource conservation, in many cases it is highly undesirable to widen roads or build additional parking lots in the national parks. As a result, the NPS routinely considers Intelligent Transportation Systems (ITS) solutions and transit options during program development and project prioritization, using the Choosing by Advantages process[3].
In 1998, the NPS developed the Alternative Transportation Program (ATP) to coordinate policy guidance and planning activities regarding intermodal transportation solutions for the national parks. The ATP enables the NPS to balance intermodal options with traditional road improvements. These intermodal options include bicycle, bus, boat, ferry, train, and trolley service. Since its inception, nearly $40 million has been allocated to develop and implement alternative transportation systems at national parks, thereby improving the visitor experience while protecting natural and cultural resources. There are currently around one hundred national parks in the United States providing some form of alternative transportation system.
Building on the example of the NPS, the other land management agency partners are making significant progress in considering multimodal solutions in their transportation planning. Over the past three years, Federal Lands Highway and the Federal Transit Administration have jointly evaluated alternative transportation needs on Federal lands. In 2001, the agencies submitted a report to Congress, as required by TEA-21, identifying significant transit needs at sites managed by the National Park Service, the Bureau of Land Management, and the U.S. Fish and Wildlife Service. Of the 207 sites evaluated, total 20-year needs of $1.7 billion were identified at 118 of 169 NPS sites, 6 of 15 BLM sites, and 13 of 23 FWS sites. In 2004, the agencies completed a supplement to the previous study that identified $698 million in alternative transportation needs at 30 U.S. Forest Service sites. As the planning, programming, and implementation of alternative transportation projects continues, the analysis of intermodal options and tradeoffs central to good asset management practice will become increasingly important to meet transportation needs on Federal lands.
Decisions Based on Quality Information
A key element in supporting the analysis of options and tradeoffs described above is the collection, management, and integration of quality information and data into the long term asset management process. The types of transportation data relevant to FLH activities include:
Condition data for transportation facilities, including pavement, bridge, and transit infrastructure;
Inventory data;
Safety data on crashes, injuries, and fatalities; and
Traffic data.
For the National Park Service, FLH collects inventory and condition data through the NPS Road Inventory Program (RIP) and Bridge Inspection Program (BIP). FLH also recently completed the first condition assessment of roads and bridges on the Refuge Road system for the U.S. Fish and Wildlife Service. For most of the Forest Highways, the Eastern FLH and Central FLH divisions conduct the inventory and condition assessments for pavement and bridges. The Western FLH division relies largely on data collection by the States, supplemented when necessary by manual data collection. Because Forest Highways are mostly State highways, there may be opportunities for Federal Lands Highway to coordinate data sharing with the States and to improve the data collection process.
Inventory and condition data for Indian Reservation Roads is collected by the Bureau of Indian Affairs, and FLH and the BIA are working together to improve data collection in support of asset management systems. A joint Steering Committee has been established to determine the process for developing implementation plans for nationwide pavement, bridge, and safety management systems. In addition, the BIA is undertaking an effort to augment and improve the data collected under the Bureau's Road and Bridge Inventories, since the data is critical in determining the funding allocation to the tribes.
The Central FLH division is working to develop pavement and bridge management systems for the Refuge Road system. The Eastern FLH division is working with the National Park Service to develop a pavement management system integrated with the existing NPS facility management system. The Eastern FLH division also maintains the bridge inventory database, using the Pontis bridge management system, on behalf of over a dozen Federal agencies including the National Park Service.
Safety and traffic data are both limited and may not be consistently collected and reported from partner to partner. The present FHWA initiative with all states to develop focused safety plans to reduce fatal accidents nationwide, and which emphasizes better and consistent data collection processes, presents an opportunity to improve this area. The Central FLH division has also been working with the partner agencies to develop safety management systems.
Monitoring to Provide Clear Accountability and Feedback
Monitoring and reporting on system performance and conditions over time is essential for implementing transportation asset management. For basic preservation, operations, and capacity expansion decisions, condition data can be used to assess facility condition, predict long-term preservation needs, and estimate maintenance and repair schedules. Safety data can be used to identify and correct high accident locations, and traffic data can be used to predict long-term capacity needs. System performance data for transit services will become increasingly important as the partner land management agencies invest resources in alternative transportation systems. For Federal Lands Highway, as administrators of a Federal-aid program, performance monitoring also provides verification that allocated funds are being spent appropriately.
Federal Lands Highway also tracks comprehensive performance measures that are tied to its business plan goals and objectives. These yearly reports provide decision-makers with an understanding of whether current investment strategies are achieving the long-term goals and performance targets identified in the business plan.
In addition to objective "operational" data on system condition and performance, Federal Lands Highway has also conducted surveys to assess public "customer" perception of transportation serving Federal and tribal lands. In 2001, FLH published results from the "Federal Lands Highway Public Survey" that assessed customer satisfaction with:
Access to destination
Road surface conditions
Safety of driving conditions
Visual appeal
Preservation of natural resources
Traffic flow
Bridge conditions
Direction and information signs
Shuttle bus system (where applicable)
Results from this survey were crucial in providing public feedback on FLH and partner investment strategies and in guiding future goal-setting and program development activities.
3.0 Federal Lands Highway- Current and Future Activities in Support of Asset Management
The purpose of this section is to describe current activities of Federal Lands Highway that are supportive of asset management, and identify potential additional opportunities for the future.
3.1 Current and Planned Activities
Federal Lands Highway is already conducting or planning several activities that reflect the asset management principles discussed throughout this paper. The following sections highlight the key asset management activities in the areas of policy, technical assistance, research and technology, and coordination.
Policy and Regulatory
A range of efforts are being undertaken by FLH to provide policy and regulatory guidance for asset management and general transportation planning, including:
FLH provides policy guidance for its partners in conducting transportation planning processes consistent with Federal regulations, particularly concerning the Transportation Improvement Program, public involvement process, and coordination with State DOTs, Metropolitan Planning Organizations (MPOs), and other partners. FLH facilitates coordination between these partners and participates in all aspects of program development and project selection, including guidance on alternatives analysis, environmental coordination, public participation, and coordination with the TIP/STIP.
FLH provided final rules in February 2004 for its partners (National Park Service, U.S. Forest Service, U.S. Fish and Wildlife, and the Bureau of Indian Affairs) to develop and implement safety, bridge, pavement, and congestion management systems (23 CFR 970-973). These management systems will collect, organize, and analyze data in order to understand current conditions and make better investment decisions at a program level. Management systems provide a strategic approach to transportation planning, program development, and project prioritization and selection. FLH will be working with the divisions and partners to develop implementation plans for these systems or continue activities already underway. For example, work is already underway for pavement and bridge management systems for the National Park Service and the U.S. Fish and Wildlife Service, safety management systems for the National Park Service, U.S. Fish and Wildlife Service, and U.S. Forest Service, and a congestion performance measure for the National Park Service.
FLH is heavily involved with the National Park Service and the U.S. Forest Service on nationwide implementation of regional and systemwide strategic long-term transportation planning. As a result of FLH's efforts, several of the parks are beginning to implement regional planning activities with their neighbors. Because many national parks are bounded by Forest Service lands, this planning effort highlights an opportunity for a cross-agency asset management system to be strengthened and used by different partners. The National Park Service is currently developing a service-wide long-range strategic plan to guide transportation planning at the regional and park unit levels. The U.S. Forest Service emphasizes community partnerships in its transportation planning guidebook developed in partnership with FLH, "Innovative Approaches to Transportation"[4].
FLH has worked with the U.S. Fish and Wildlife Service to develop a draft 20-year transportation plan that incorporates the core principles of asset management including long-range goals and the importance of quality condition data. The plan also defines the importance of transportation asset management as part of the agency's comprehensive asset management plans, and identifies the need for project selection criteria.
In 1999, FLH published "Transportation Planning Procedures and Guidelines" for the Indian Reservation Roads program[5]. These guidelines are available to assist Indian tribes and the Bureau of Indian Affairs in performance-based transportation planning. Comprehensive guidance on long-range transportation planning, funding, transportation improvement programs, and roles and responsibilities are documented. These guidelines are also used by FHWA as part of the State's regular planning certification process review as required by Federal law.
Technical Assistance and Information Dissemination
A number of activities are conducted by FLH to provide technical assistance and information directly related to asset management, including:
FLH collects and maintains the pavement and bridge inventory and condition data for the National Park Service, U.S. Fish and Wildlife Service, and most Forest Highways (Western FLH relies on data collection by the States). FLH uses the ERES system for pavement management and the Pontis system for bridge management, which are databases and tools that could be used for modeling and tradeoff analysis by the partners. The National Park Service also has its own facility management system which could be integrated with ERES and Pontis.
FLH has a database for safety and recently reinstituted the collection of crash data. One challenge is that historically, each of the partners has collected crash data differently, and there are problems with consistent location referencing and with lack of reporting. FLH is encouraging the National Park Service and U.S. Fish and Wildlife Service to report crashes comprehensively using standard faxed forms provided by FLH. However, state and local governments do not uniformly collect or report safety data for the Forest Highways. For Indian Reservation Roads, certain tribes may have safety data, but there is no comprehensive nationwide system.
Research & Technology
In the area of research and technology, FLH is conducting research and working with its partners to develop the technology necessary to support a more integrated transportation planning process. FLH is helping its partners develop processes that better reflect the asset management approach to transportation planning. The recently issued management system rules will likely require research into data integration and systems development.
Asset management-related research conducted by the Turner-Fairbank Highway Research Center could potentially be applied to Federal lands transportation in addition to the traditional Federal-aid highway program.
Coordination
Coordination with the Federal land management agencies is critical to the success of the Federal Lands Highway program. FLH has a unique partnership arrangement with each of the agencies and fulfills multiple roles that involve program planning, administration, and project delivery. These multiple roles require a high degree of coordination that involve almost constant communication to deliver a high quality program. For example, FLH has tri-party partnerships with the U.S. Forest Service and State DOTs in 41 states to program and implement projects. Other land management agencies develop programs in coordination with FLH. For example, the U.S. Fish and Wildlife Service and FLH have jointly developed a comprehensive multi-year construction plan to address road, parking lot, and bridge deficiencies.
Transportation planning for the Indian Reservation Roads presents an opportunity and a challenge for FLH to coordinate with the Bureau of Indian Affairs, local tribal governments, State DOTs, the Federal Transit Administration, and numerous other partners. These coordination activities are critical in developing transportation plans and programs that address tribal transportation needs. While the Bureau of Indian Affairs has primary responsibility for program development and project selection, FLH plays a key role in reviewing plans, approving programs, and providing technical assistance and training.
FLH participates regularly in nationwide and regional program coordination meetings of the Bureau of Indian Affairs, U.S. Forest Service, U.S. Fish and Wildlife Service, and the National Park Service. At a minimum, these meetings are held twice a year, and most often occur more frequently. From time to time, FLH participates in more specialized meetings with the partners focused on enhancing a particular area of program delivery such as transportation planning, contract management, management systems, or alternative modes of transportation.
In recent years, FLH has participated in transportation planning conferences sponsored by the U.S. Forest Service and the National Park Service. For the Bureau of Indian Affairs, FLH provides financial, technical, and program support for seven Tribal Technical Assistance Program (TTAP) centers throughout the country that provide education and training to tribal communities regarding transportation.
FLH also coordinates internally within the U.S. DOT as needed. There has been interaction with the Federal Transit Administration on alternative transportation systems, and also with FHWA's Office of Planning and Office of Safety.
3.2 Potential Future Activities
Building on the activities that are already underway, FLH can take a number of steps to further promote asset management. In the short-term, some of these activities include:
Assisting FLH partners with implementing the new management systems rules and providing assistance in using the systems for program development and project prioritization. As part of this process, FLH may need to modify and enhance some existing tools for modeling transportation system impacts and performance of investment decisions for tradeoff analysis activities. An important part of the implementation will be a discussion of data requirements and identification of agency roles and responsibilities. The National Park Service, for example, already has a facility management system that could be integrated with FLH's pavement and bridge management systems. Other partners, however, may want FLH to maintain the data instead of managing it themselves. This may be more appropriate for the relatively decentralized partners like the tribal governments for Indian Reservation Roads and the state and local governments for Forest Highways.
Continuing FLH efforts to improve inventory and condition data collection for all transportation facilities covered by the Federal Lands Highway Program, particularly for facilities not owned by the Federal government. Although Federal Lands Highway already collects, or has access to, some inventory and condition data on pavement and bridges for Indian Reservation Roads and Forest Highways, the implementation of the management system rules will improve this data collection process. The goal is to complete a full assessment within the next five years. As transit and other modal options become more widely used within Federal and tribal lands, FLH will also need to develop methods for storing inventory and condition data for other modes, as well as developing tools for data analysis and modeling.
Coordinating with the FHWA Office of Asset Management for support in developing and implementing policies and processes that reflect the asset management approach. Use of the NHI training course on Asset Management to reach out to Federal Lands Highway divisions and partners is another method to encourage the use of asset management concepts. The annual Department of Interior Facilities and Asset Management Conference might be an opportunity to offer training courses or other workshops on various aspects of asset management. An asset management liaison or staff position in Federal Lands Highway headquarters may also be an appropriate approach to promoting best practice.
In the longer-term, some potential activities include:
Strengthening program reviews and performance monitoring to establish feedback on program development and project prioritization. FLH has made good progress with program review and data collection for the National Park Service and the U.S. Fish and Wildlife Service, but might investigate how to better monitor system performance on the Indian Reservation Roads and Forest Highways. As an additional method of monitoring performance, FLH might consider updating and conducting the "Federal Lands Highway Public Survey" at regular intervals (annual or biannual) to determine how customers perceive transportation as a result of investment strategies and priorities.
Publicizing more widely the tri-party partnerships FLH has in 41 states would market what has often been cited as Federal Lands Highway's best example of outstanding partnerships. Through these partnerships that address interjurisdictional issues, FLH can improve information sharing and coordination among all stakeholders, and extend this concept to the other Federal land management agencies. These partnerships provide an excellent opportunity to work with state DOTs and division personnel to address needed coordination issues.
Developing a program to encourage greater adoption of asset management concepts for tribal lands. Planning for these facilities can be challenging since there are numerous partners. A Tribal Technical Assistance Program (TTAP) training course on asset management could be an opportunity to assist tribes and the BIA in performance-based planning. Another strategy for encouraging good asset management practice for these facilities might be to communicate benefits through best practice case studies. For example, a tribe in Wisconsin has created an innovative safety management system in collaboration with the Wisconsin Department of Transportation.
Publishing materials that highlight Federal Lands Highway's work in asset management; for example, a video on asset management best practices among the Bureau of Indian Affairs, Bureau of Land Management, U.S. Forest Service, U.S. Fish and Wildlife Service, National Park Service, and tribal governments that can be distributed to various partners.
---
[1] Transportation Asset Management Guide, prepared for the National Cooperative Highway Research Program (NCHRP) Project 20-24(11) by Cambridge Systematics, Inc. with Parsons Brinckerhoff Quade & Douglas, Inc., Roy Jorgensen Associates, Inc. and Paul D. Thompson, November 2002, AASHTO Publication RP-TAMG-1.
[2] The FHWA plays a key role in standardizing the content and format of data that are mandated by federal law: e.g., the National Bridge Inventory (NBI) data that are reported by state DOTs.
[3] Additional detail on the National Park Service transportation planning process is available at: http://www.nps.gov/transportation/alt/guidebook/transplan.pdf (.pdf, 3.5 mb)
[4] This document is accessible at: http://www.fs.fed.us/eng/pubs/pdf/01771806.pdf (.pdf, 2 mb)
[5] This document is accessible at: https://www.fhwa.dot.gov/flh/reports/indian/intro.htm