FHWA Asset Management Position Paper
Infrastructure and Asset Management
The purpose of this paper is to define the relationship between transportation asset management and transportation system planning and to describe the current, and potential future, activities of the FHWA Office of Infrastructure that support the implementation of asset management. The paper is one of a set of seven papers exploring the relationship of asset management to each of FHWA's major program areas including planning, right-of-way, environment, infrastructure, safety, operations, and Federal lands.
Section 1.0 provides a general overview of asset management relevant to all program areas. Section 2.0 defines the relationship between planning and asset management. Section 3.0 describes current, and potential future, activities of the Office of Infrastructure that support asset management.
1.0 Overview of Transportation Asset Management
1.1 Definition of Asset Management
Transportation asset management is a set of guiding principles and best practice methods for making informed transportation resource allocation decisions, and improving accountability for these decisions. The term "resource allocation" covers not only allocation of money to program areas, projects, and activities but also covers deployment of other resources that add value (staff, equipment, materials, information, real estate, etc.). While several of these principles and practices were initially developed and applied within the domain of infrastructure preservation, most established definitions of asset management are considerably broader. The Asset Management Guide, [1] recently adopted by AASHTO defines asset management as:
"... a strategic approach to managing transportation infrastructure. It focuses on...business processes for resource allocation and utilization with the objective of better decision-making based upon quality information and well-defined objectives."
As Mary Peters, FHWA Administrator has frequently put it:
"If I have one additional dollar to spend on the transportation system, what is the most effective way to spend it?"
The essence of asset management is answering that question.
Asset management is concerned with the entire life cycle of transportation decisions, including planning, programming, construction, maintenance, and operations. It emphasizes integration across these functions, reinforcing the fact that actions taken across this life cycle are interrelated. It also recognizes that investments in transportation assets must be made considering a broad set of objectives, including physical preservation, congestion relief, safety, security, economic productivity, and environmental stewardship.
1.2 Asset Management Principles
The core principles of asset management are:
Policy-Driven - Resource allocation decisions are based on a well-defined and explicitly stated set of policy goals and objectives.These objectives reflect desired system condition, level of service,and safety provided to customers, and typically are tied to economic, community and environmental goals as well;
Performance-Based - Policy objectives are translated into system performance measures that are used for both day-to-day and strategic management;
Analysis of Options and Tradeoffs - Decisions on how to allocate resources within and across different types of investments (e.g., preventive maintenance, rehabilitation, pavements, bridges, capacity expansion, operations, different modal mixes, safety, etc.) are based on an analysis of how different allocations will impact achievement of relevant policy objectives. Alternative methods for achieving a desired set of objectives are examined and evaluated. These options are not constrained by established organizational unit boundaries - for example solving a congestion problem could involve a capacity expansion or an operational improvement (e.g., signal coordination). The best method is selected considering the cost (both initial and long-term) and likely impacts on established performance measures. The limitations posed by realistic funding constraints must be reflected in the range of options and tradeoffs considered;
Decisions Based on Quality Information - The merits of different options with respect to an agency's policy goals are evaluated using credible and current data. These data may apply to specific functions (e.g., pavement and bridge management, traffic monitoring) or reflect a more integrated, corporate view.[2] Where appropriate, decision support tools are used to provide easy access to needed information, to assist with performance tracking and predictions, and to perform specialized analysis (e.g., optimization, real-time simulation, scenario analysis, life-cycle cost analysis, benefit/cost analysis); and
Monitoring to Provide Clear Accountability and Feedback - Performance results are monitored and reported for both impacts and effectiveness. Feedback on actual performance may influence agency goals and objectives, as well as resource allocation and utilization decisions.
These principles are not unfamiliar, nor are they radical. Most transportation practitioners would agree that investment decisions should be based on weighing costs against likely outcomes, that a variety of options should be considered and evaluated, and that quality information is needed for decision-making. Many agencies are now pursuing performance-based approaches to planning and programming, monitoring system performance, and developing more integrated data and analysis tools to evaluate tradeoffs among capital expansion, operations, and preservation activities. Most agencies recognize that application of asset management principles is critical in times of constrained resources, when all investment and budget decisions are subject to increased public scrutiny.
1.3 Asset Management Practice
Figure 1 illustrates the strategic resource allocation process that embodies the asset management principles presented above.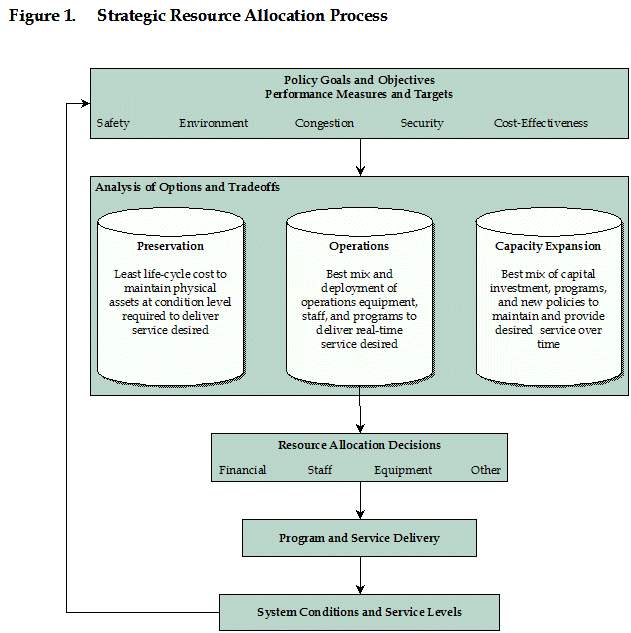 The diagram includes the following elements:
Policy Goals and Objectives, supported by performance measures are established through the policy and system planning process and used to guide the overall resource allocation process.
Analysis of Options and Tradeoffs includes examination of options within each investment area, as well as tradeoffs across different investment areas. The definition of investment areas is flexible and can be tailored to how an individual agency does business. For example, an agency may have a separate safety investment area and also incorporate consideration of safety within system preservation, operations, and capacity expansion expenditures. Each option and tradeoff is evaluated with respect to established agency goals and performance objectives.
Resource Allocation Decisions are based on the results of tradeoff analyses These decisions involve allocations of financial, staff, equipment, and other resources to the different investment areas and/or to different strategies, programs, projects, or asset classes within an individual investment area.
Program and Service Delivery is accomplished in the most cost-effective manner which again involves consideration of different delivery options (e.g., use of contractors, interagency agreements), as well as a delivery tracking process involving recording of actions taken, costs, effectiveness, and lessons learned to guide future activity.
System Conditions and Service Levels are tracked to see the extent to which established performance objectives are being addressed. This information is used to refine policy goals and priorities (e.g., put more emphasis on safety in response to an increase in crash rates).
1.4 Transportation Investment Categories
In Figure 1, the box labeled "Analysis of Options and Tradeoffs" shows three types of investment categories - preservation, operations, and capacity expansion. These are defined as follows:
Preservation encompasses work to extend the life of existing facilities (and associated hardware and equipment), or to repair damage that impedes mobility or safety. The purpose of system preservation is to retain the existing value of an asset and its ability to perform as designed. System preservation counters the wear and tear of physical infrastructure that occurs over time due to traffic loading, climate, crashes, and aging. It is accomplished through both capital projects and maintenance actions.
Operations focuses on the real-time service and operational efficiency provided by the transportation system for both people and freight movement on a day-to-day basis. Examples of operations actions include real-time traffic surveillance, monitoring, control, and response; intelligent transportation systems (ITS); signal phasing and real-time signal controllers at intersections; HOV lane monitoring and control; ramp metering; weigh-in-motion; road weather management; and traveler information systems. Although operations focuses on system management, the infrastructure needed to provide this capability may be substantial (e.g., traffic control centers; ITS hardware; environmental sensors and fire control systems in tunnels). Thus, an operations strategy requires capital and operating budget as well as substantial staff resources.
Capacity expansion focuses on the actions needed to expand the service provided by the existing system for both people and freight. Capacity expansion can be achieved either by adding physical capacity to an existing asset, or acquiring/constructing a new facility.
These three categories are defined in order to show that:
Asset management is not just about preservation of highway network assets; it is about making investment decisions that address a wide range of policy goals.
The three categories provide a simple, useful way for decision-makers to align program investment categories and priorities with key policy objectives. For example, many agencies establish a "preservation first" policy or favor maximizing efficiency of operations prior to investing in new capacity.
The categories may present alternative ways of meeting a policy goal. For example, it may be appropriate to consider operational improvements to address a congestion problem as an alternative to adding a new lane.
Decisions about the resources allocated to each category cannot be made independently. Meeting many policy goals (e.g., safety) may require a mix of investments across these categories. Similarly, an increase in capacity expansion investments may require increased operations and preservation expenditures at some point in time.
As noted above, tradeoff analysis may be done across investment categories as well as within them. An agency might wish to define investment areas coincident with the three categories discussed above (preservation, operations, capacity), or they may define a different set of categories. For example, a safety program could be defined as an investment category, with subareas for operational activities (e.g., signs, markings, signalization, channelization, etc.), preservation (replacement of guardrails), and capacity (project design features supporting safety, e.g., wide shoulders). This would provide the framework for understanding the best mix of complementary actions within the safety area as well as tradeoffs between safety and other objectives.
1.5 Asset Management and the Transportation Planning Process
A common reaction to the broad description of asset management is "how is this different from the overall planning and programming process in an agency?" The response is that asset management is not a new kind of business process that replaces planning and programming. Rather, it should be viewed as a set of best practices to be employed within the established planning and programming framework. Existing regulations pertaining to the planning process, together with statutes related to specific funding programs and their allocation criteria, and the body of environmental regulations affecting transportation planning - provide the context within which asset management practice occurs. In terms of Figure 1, transportation regulations and statutes impact establishment of policy objectives, the manner in which options are generated and evaluated, and they also provide certain constraints on resource allocation (based on Federal and state funding eligibility restrictions). Many of the core principles of asset management are embodied in the existing planning regulations (e.g., consideration of alternatives). Examining the planning process using the lens of asset management provides an opportunity to explore ways to continue to strengthen the mission of transportation planning - for example:
How to improve connections between long-range planning and resource allocation;
How to strengthen agency and public consideration of preservation and operations investments within the long-range planning process;
How to better integrate environmental considerations throughout the transportation planning and decision-making process - across capacity, operational and preservation investments; and
How to provide a common information resource base to serve multiple activities across the transportation asset life cycle - long-range planning, corridor studies, safety studies, environmental assessments, multi-year capital programming, project development, preventive maintenance and system operations.
While asset management is closely associated with planning and programming activities, asset management best practices are also integral to design, construction, routine and preventive maintenance and operations activities. For example:
Application of life-cycle cost analysis in the facility design process;
Analysis of alternative construction materials and methods;
Tradeoffs across different maintenance activities based on level of service and extended facility life provided to customers;
Developing an appropriate mix of operations expenditures on technology upgrades, hardware/infrastructure maintenance and replacement, and skilled personnel;
Evaluation of delivery options (e.g., design-build, use of private contractors for maintenance and operations, inter-agency agreements, etc.).
1.6 Key Opportunities
Despite the support for taking an asset management approach, many agencies face very real organizational, institutional, and technical challenges to making further progress in asset management. Each one of these challenges represents a potential opportunity for FHWA to work with its partners to encourage broader implementation of asset management principles. For example:
Top management needs to set an organization-wide direction and framework for decision-making and to ensure that all parts of the organization are working together in a coordinated fashion. Maintaining continuity in leadership direction and understanding of key asset management principles can be particularly challenging with frequent turnover in agency executives;
Clear roles for each organizational unit must be established to solve common problems or meet common objectives. Differences in perspectives and approaches, lack of established procedures, or turf battles must be reconciled;
Established resource allocation methods, often constrained by externally imposed restrictions, historical allocations or formulas, or delicate and difficult political negotiations may restrict the range of options and tradeoffs that can be considered;
Staff resource constraints together with a constant "fire-fighting" mode of operation also may restrict the amount of time and effort that can be spent on analyzing options;
Developing a comprehensive set of reliable methods, data and tools to evaluate performance tradeoffs among the full set of investment options will take a sustained, multi-year effort;
Establishing a causal link between an investment or action and a performance indicator of interest, due to the presence of external factors influencing performance (e.g., gas prices, vehicle fleet changes, growth patterns, etc.) may require additional research in some cases;
Coordination among multiple agencies to achieve established objectives in areas such as operations and safety adds complexity to the decision-making process and program implementation efforts; and
External and internal agency culture based on "bottom-up" decision-making, with a focus on specific projects rather than on broader system performance and outcomes.
While it is relatively straightforward to implement asset management within a well-defined area of the agency (a pavement management unit, for example), the issues identified above illustrate why it is much more challenging to implement it more fully within an agency, or across multiple agencies.
However, the need to allocate scarce resources as effectively as possible and demonstrate results and performance to the customers of the transportation system provides strong motivation and support for overcoming these challenges. A comprehensive, performance-based approach to transportation investment decisions will be essential to meeting the increasingly complex set of transportation needs of the 21st century.
2.0 Infrastructure and Transportation Asset Management
This section looks at the relationship between asset management and highway infrastructure. It is written from the perspective of an operating agency (e.g., a state DOT).
2.1 Overview of Highway Network Infrastructure
Highway infrastructure encompasses the physical assets that form a road network. While there are many features in a highway system, pavements and structures are the most important from a program funding perspective, and are the most critical in delivering transportation performance. Many agencies regard the knowledge and understanding of pavements and structures, and the decisions they must make regarding this infrastructure, as central to their asset management program. Other features (such as signs and signals) are also included in infrastructure and will be mentioned below where relevant.
The activities, supporting information, and decisions related to infrastructure are pervasive throughout a transportation organization. They range from technical matters such as establishment of standards, materials specification and selection, and engineering design, to managerial concerns about performance and effective maintenance, to issues of funding, resource allocation, and strategic planning. Using the principles of transportation asset management, these important topics are viewed together, rather than separately. The following sections build a framework of asset management within which actions addressing highway infrastructure can be understood, integrated, and improved.
The sections below develop the asset management approach from three perspectives that build on the asset management concepts and principles in Section 1:
Infrastructure activities related to each of the transportation investment areas of system preservation, operations, and capacity expansion;
Infrastructure considerations throughout the transportation facility life-cycle; and
A summary of key asset management principles as they apply to infrastructure.
2.2 Relationship to Transportation Investment Areas
Infrastructure investments are an important component in transportation agency programs. Each of the major investment areas of system preservation, operations, and capacity expansion presents decision-makers with numerous options, and requires quality information with which to evaluate the options.
System Preservation
Pavements and structures (primarily bridges and tunnels) are valuable assets that must be preserved to maintain their integrity, provide safe, economical, and efficient serviceability to motorists, and meet design expectations cost-effectively. Agencies typically address system preservation needs across several areas and organizational units.
Engineering and Technical
Engineering design and materials specifications that are put in place during new construction affect infrastructure performance and future system preservation needs. Performance impacts include structural behavior and service life; serviceability to road users in terms of a safe, comfortable, and efficient ride; and reliability of performance throughout the network.
Preservation treatments reduce future problems or correct existing ones, helping to extend life and performance cost-effectively, while being compatible with materials in the existing structure. Key decisions involve what treatments to perform, when to perform them optimally, and where to perform them in the network. These decisions must take into account technical, economic, and financial constraints.
The technology of the preservation treatments themselves is an important consideration. Materials used in pavements and structures must perform over many years under the demands of traffic loads, weather, seasonal changes, and variable ground conditions. The ability to achieve acceptable quality of treatment throughout an extensive network must be maintained even when performed under widely varying conditions. Ensuring materials quality and correct technique during placement depend on proper specification, testing, and training, backed by research programs to keep up to date on the latest methods and products.
Life-Cycle Analyses, Tradeoffs, and Supporting Analytic Tools
The analysis of system preservation options is conducted within an economic framework, using life-cycle cost techniques. A life-cycle approach provides objective comparisons of different preservation actions and approaches that may have different service life extensions, costs, and performance benefits to road users, including reductions in vehicle operating costs and travel time costs. An economic life-cycle analysis can demonstrate the benefits of a preventive maintenance approach, the consequences of a deferred maintenance approach, and the results of capital-maintenance tradeoffs.
Agency managers have choices in the types of treatments they can apply (e.g., relatively minor treatments conducted through maintenance programs, or major repairs or rehabilitation that are done as capital construction projects), as well as the strategies within which these treatments will be applied. For example, a preventive maintenance strategy may emphasize actions taken before significant distress occurs, while a more reactive strategy may emphasize preservation treatments in response to observed deterioration in condition or performance. Life-cycle cost analyses can also be used to analyze the potential benefits and costs of new materials, and to assess the additional system preservation-related costs of changes in vehicle sizes and weights.
Agencies have embodied life-cycle analyses in management systems for decision support. Individual systems have been developed for pavements and bridges (and very recently by FHWA and FTA for tunnels) to account for the specific engineering details, rates of deterioration, appropriate treatments, and costs associated with each of these types of infrastructure. With recent advances that have been pursued by state DOTs, these management systems enable agencies to conduct several analyses important to asset management, including needs identification and prioritization, capital-maintenance tradeoffs, optimization of investment programs subject to budget constraints, and what-if analyses of the tradeoffs between budget level and performance.
Management systems can provide a benchmark for performance monitoring, and house the information on system inventory and periodic condition inspections performed for pavements and structures. Systems have been developed for both capital preservation and routine maintenance (using a level-of-service approach.) Agencies are now devoting significant efforts to understanding how the data and analytic capabilities of these and other systems need to be integrated to provide stronger asset management support (e.g., in the analysis of cross-program tradeoffs) and better information to agency executives and stakeholders.
Organizational Capabilities and Procedures
System preservation services are delivered through an agency's construction and maintenance organization, either by agency employees or through outsourcing to public-sector or private-sector contractors. Important delivery support is provided by agency units ranging from the materials and testing laboratory to the information technology, planning, or other staff that support geographic information systems (GIS).
Since preservation is performed on actively operational facilities, the issues of work zone layout, operation, and safety are critical. Training is also important in infrastructure preservation, to help employees understand and apply correct techniques, and to inform them about potentially hazardous materials.
Operations
Infrastructure affects operations through the serviceability it provides to motorists in terms of an unimpeded, smooth, safe ride.
Quality of the pavement surface and of bridge decks are key factors in providing an acceptable level of mobility and safety. Clean and well-placed signs, functional and well-timed signals, and safety devices in good repair (e.g., guardrails and crash attenuators) are other examples of the role that infrastructure plays in promoting highway network operations.
In recent years there has been an increasing trend by agencies to install specialized infrastructure to improve system operations on highways. Variable message signs, road weather information systems, advanced traveler information systems, and urban traffic control centers (with linkages to speed monitoring loops and road surveillance cameras) are examples. These and similar technologies benefit both the road user and the transportation agency. For motorists, they provide optimized system efficiency, increased safety, and a source of information for traveler advisories. For the transportation agency, they "provide real-time surveillance of the road network, allowing rapid response to emergencies and traffic incidents."[3]
High-technology transportation infrastructure entails not only capital construction, but also maintenance to keep it in working order and to sustain high system reliability needed for operational effectiveness. "Managing these technology-based assets requires skilled technicians and a proper preventive maintenance program to assure maximum operability and optimum cost effectiveness."[4] Developing and sustaining these skills within the maintenance organization will require agencies to consider how they deliver maintenance services for these assets, and to provide complementary investments in maintenance employee training or to outsource these services to skilled contractors.
A key operational aspect of infrastructure is its contribution to safety. Safety is built into infrastructure through roadway and structures design, installation of safety features and appurtenances, and continual proper maintenance.
Security involves protecting the integrity of transportation systems, services, and users from unconventional attacks. Regrettably, State DOTs are experiencing a sharply increased need to incorporate security in their resource allocation decisions. Managing security is an evolving challenge, however, as potential threats are newly identified. While certain principles of asset management relate to security as well (e.g., the need for good information, such as knowledge of the structural and materials characteristics of existing assets), the inherently unconventional nature of the possible threats requires a broader view across a range of possibilities that are not traditionally addressed by asset management data and procedures. FHWA, AASHTO, and other agencies are now working with state DOTs and other operating agencies to identify assets and techniques that need to be incorporated within a comprehensive approach to security.
In addition to these direct effects, infrastructure also has an indirect effect on operations. The importance of work zones to infrastructure preservation was described in the preceding section. Work zones occupy a portion of the roadway or bridge surface, creating a new source of recurring congestion and potential crashes. Agencies have experimented with several approaches to reducing this congestion and maintaining safety, particularly on heavily-traveled urban highways:

Performing work off-peak, at night or on weekends;
Constructing bypass lanes within the right-of-way to route traffic around the work site;
Rerouting traffic to detours on other roads in the network to bypass a work site; and
Closing lengths of the facility completely for a defined period of time to complete a comprehensive set of repairs and maintenance tasks concurrently and without interruption.
Capacity Expansion
Capacity expansion creates new infrastructure to serve changing demands for personal and commercial travel. It affords an opportunity for agencies to build new facilities that reflect the latest design concepts, materials, and products to benefit their customers. Many of the ideas on the role of materials technology, economic analysis, employee training, and the use of information technology that were discussed in the section on System Preservation apply here as well, but in the context of new construction rather than rehabilitation or repair.
Capacity expansion projects are expensive; obtaining reliable cost estimates that accurately account for engineering and site requirements, environmental mitigation, and ancillary features is a challenge. Controlling these costs as the project evolves from concept through design to implementation requires good management and well understood internal procedures and criteria.
Analytic tools for sketch planning and preliminary feasibility studies could help to develop more reliable cost estimates at early stages of a project. These estimates would help agencies focus more effectively on viable project approaches, and could be continually updated and refined based on the experience of completed projects. The difficulty in developing these systems is the high variability observed in both construction and maintenance costs, and the complexities in attributing these variations to clearly defined causes in each project.
Capacity expansion creates a set of alternatives that should be subject to tradeoff analyses with system preservation and operations improvements on existing infrastructure. Once again, management systems and good data on the relative performance and cost of investment options are needed for these analyses. Tools to structure these analyses more effectively are now being developed in NCHRP Project 20-57. Performance monitoring and feedback are particularly important to verify the performance of the infrastructure design and construction and to gauge the benefits of the investment to road users.
2.3 Infrastructure Considerations in the Transportation Facility Life Cycle
Given the close association of infrastructure with both major capital construction projects and with highway maintenance and operations, considerations of infrastructure and asset management can occur throughout the facility life-cycle as described below.
Long-Range System Planning
Long-range system planning is the logical stage at which to evaluate strategic options and tradeoffs among possible investments. Long-range planning considers the need for new infrastructure, often by mode, and in comparison with improving existing infrastructure through operations improvements. Issues that arise in planning for infrastructure include the following:
While some agencies have a strong relationship between planning and later stages of project development and resource allocation, in other agencies this linkage could be strengthened.
There is a disparity in the availability of management systems appropriate for use at the planning stage. Sketch planning tools such as the ITS Deployment and Analysis System (IDAS) are appropriate, but are focused on a particular asset class. Systems for pavements, bridges, and maintenance are also available, as discussed below. Systems or tools for other assets may be lacking at the planning stage, as are systems to better understand the environmental impacts of proposed investments.
While long-range plans stress modal, capacity expansion, and operations-related opportunities for investment, they are less consistent on including long-term information on system preservation. A stronger presentation of the typically substantial investments in preserving system assets would provide a clearer picture of the total demands on an agency's forecasted revenues, and make the case for the geographic equity inherent in the distribution of system preservation dollars throughout a state.
Existing management systems for pavements, bridges, and maintenance are efficient enough to be used in planning. The fact that agencies often use only a percentage of available features and options, however, inhibits their greater use in planning for tradeoff analyses of long-term performance versus potential funding and budget levels. The analysis of "what-if" scenarios, which many modern systems already support, would be especially valuable at the planning stage.
Agencies are recognizing and increasingly dealing with integration of information from their management systems to provide a more comprehensive report of current conditions, projected needs, and investment options to executives and managers, and to strengthen the linkages among planning, project development, resource allocation, and project implementation.
Project Development
Project development takes the transportation investment strategies that have been outlined in planning to formulate project options in more detail.
It is at this stage that options among materials, construction and maintenance methods, work zone and site logistics, project timing and sequencing, and other aspects of project work are considered.
Preliminary design and environmental reviews begin in this stage, and each may shape the project outlines and preferred approaches. Site visits and field tests are conducted as needed, and staff in specialized disciplines in the central office and districts become involved to evaluate options and recommend the preferred construction or maintenance method.
An issue of concern is the development of accurate cost estimates that remain stable throughout project development, budget approval, and design, to the point of bid advertisement. Accurate, stable estimates are in part a matter of accounting for the variations in project characteristics, regional economics, and the current bidding climate; and in part a matter of good management of the project development process. In either case, accurate estimates are important to good asset management. Accurate costs contribute to accurate estimates of a project's merit, expressed through a benefit-cost calculation. They also reduce the need for later program adjustments to compensate for unexpectedly higher project costs.
The means of project or service delivery may also be considered at this step, particularly for major projects, or deferred to later time.
Depending on agency practice, these findings are compiled into a project submittal or nomination. In states that have refined this process to a high degree, the nomination includes the proposed scope of the project, rationale or justification, estimated cost, schedule, and projected benefit and other impacts.
Project Programming/Resource Allocation
Agencies have different approaches to capital project programming and resource allocation. These approaches vary as a function of agency policies and priorities, analytic capabilities, and the degree of formality with which projects are defined and described. Differences also occur in the manner by which candidate projects are managed to control "scope creep" and associated increases in cost and schedule.
Ideally, the resource allocation process distributes the available funding among programs and projects that have been prioritized as the best use of the available investment dollars. Best practice calls for a benefit-cost analysis of each candidate project within a life-cycle framework, but agencies differ in their capabilities and inclinations to use this approach.
Modern management systems, particularly those used for system preservation, are usually based on a life-cycle cost concept, coupled with a mathematical optimization to propose the best investment plan subject to budget constraints. Agencies differ, however, in the degree to which these systems drive prioritization as opposed to other ranking methods, whether objective or subjective. Other considerations such as the need for geographic equity in allocating resources also are accounted for. The practical result is a compromise among asset management best practice, agency existing practice, and political reality.
The project development and programming and resource allocation stages may also be the points at which an agency considers its investment philosophy toward system preservation. While analytic studies show that a preventive approach is preferred economically and technically, it is more difficult to sell politically (because of the appearance that facilities in "good" condition are being maintained at the expense of those that may already have deteriorated). There is also a transition period and cost that must be encountered before the preventive approach reaches its more efficient "steady state." Agencies that wish to pursue a preventive approach to system preservation are discussing ways in which the strategy can be promoted and better understood by policy makers.
Capital Project Delivery
Conventional infrastructure projects are delivered for the most part through traditional design-bid-build (DBB). Agencies are experimenting with more innovative methods, such as design-build (DB) and design-build-operate-maintain (DBOM), particularly in cases where the project schedule is necessarily short, agencies do not have adequate staff to design and manage projects by traditional methods, or public revenues are not sufficient to build the project and privatization is needed. While asset management principles do not favor any particular method of delivery, they do encourage looking at all available and feasible methods of delivery.
The delivery method and the type of project will influence how projects evolve from the approved program. Projects are typically divided into at least three phases: right-of-way acquisition, preliminary engineering, and actual construction. Critical decisions are made particularly in the preliminary engineering phase of capacity expansion projects and very large or complex preservation projects. These decisions shape the project and can affect its scope and cost significantly.
Agencies differ on the degree of control that is exercised between the originally estimated scope and cost that are included in the approved program budget, and the project scope and cost that are estimated for bid purposes as the result of the preliminary engineering phase. This lack of continuity between the resource allocation and the program delivery stages has been recognized by several agencies, but addressing it is complicated by the many ways in which projects evolve from initial conception to final implementation.
Once the delivery method is selected and implemented, project delivery becomes a matter of good design and construction practice, effective project administration and management including the use of trained inspectors, proper testing procedures, and management tools to ensure compliance with schedule and budget, and identification of problems early enough to manage them well.
A concern during delivery is unplanned increases in scope, cost, and schedule, and the impact that these changes may have on other projects in the program. Agencies that have been most effective in dealing with these issues have implemented management systems that track actual versus planned progress at a program as well as a project level, and a well-defined hierarchy of management responsibility for reviewing and approving changes in scope, cost, and schedule above certain thresholds. These mechanisms promote good asset management by demonstrating accountability for project commitments and by avoiding adjustments to the program that compensate for unexpectedly higher project costs, thereby enhancing the credibility of both the agency and the program.
Each project and program develops a set of cost and construction performance data that can inform future programs. Many agencies track bid data and prepare summaries of winning low bid costs and cost ranges by bid item. Given the variability in construction costs by region and over time, these data help to prepare realistic bid estimates on future jobs, identify the risk inherent in estimates, and understand trends in costs of key items.
Operations & Maintenance
Agency responsibilities following completion of construction continue with operating the facility and maintaining the infrastructure to preserve it and enhance the safety, convenience, and comfort of motorists. Several aspects of maintenance and operations have already been discussed. Using asset management as a way to step back from the life-cycle process provides an opportunity to see additional ways in which this stage could reinforce future work in other stages - for example:
Monitoring the data from maintenance and operations could suggest ways to improve project design and construction.
Defining performance measures relating to structural health monitoring would help integrate the effects of routine maintenance with those of capital preservation projects to encourage capital-maintenance tradeoffs and comparative evaluations of different preservation options. Measurement techniques such as non-destructive testing (NDT) and instrumentation of key infrastructure components (e.g., sensors embedded in pavement layers or on bridge members) can quantify these performance measures.
Similarly, operations performance measures could be related to measures used for capital expansion projects to develop an integrated approach to gauging mobility, accessibility, and modal performance, while once more encouraging tradeoffs among alternate approaches to system improvement.
2.4 Application of Asset Management Principles to Infrastructure
The examples by investment area and life-cycle process above give an idea of how asset management can improve management of infrastructure. This section reinforces key asset management principles and strengthens the examples of their application to infrastructure.
Policy-Driven
Goals and objectives are established by policy makers, and reinforced by targets set by the agency. Ideally these policies cover the important public expectations of the transportation program, including both the priorities and anticipated budget to be addressed in resource allocation, and the targets to be met in program and service delivery. Policies should be realistic in light of current and future funding, guide the development and implementation of plans and programs, and be related to performance measures and targets that will be used by the agency to track progress. Examples of policy objectives related to infrastructure could include the following:
Improve the percentage of network pavements with rideability rated "Very Good to Excellent";
Improve the bridge deck area in good to excellent condition systemwide;
Reduce the number or percentage of high-accident locations due to infrastructure condition;
Reduce the frequency of crashes due to infrastructure condition; and
Improve system reliability.
Performance-Based
Performance monitoring and tracking are central to an asset management approach. Specific performance measures need to be identified for each policy goal and objective that relates to infrastructure performance, together with targets and projected time frames for attaining these targets. It is important that targets also be realistic in light of projected funding and the likely allocation of resources among infrastructure and other programs -- expectations will be managed, the agency's credibility will be strengthened, and agency staff will understand better what is actually expected of them. No doubt there will be conflicts among competing objectives, and the agency may not be able to afford the infrastructure expenditures that would be expected in an ideal asset management setting. Analyzing these possibilities early in the process can help gauge the magnitude of impacts, and suggest strategies for dealing with them either in resource allocation (e.g., emphasizing relatively economical maintenance in lieu of capital preservation) or program delivery (e.g., alternate methods of delivery).
A range of performance measures applies to infrastructure. Many such measures are discussed in other papers in this series, and are not repeated here.[5] Measures that are not covered in depth in other papers include those for system preservation. System preservation measures are of several types - each has a use in understanding and managing system performance -- so agencies often define a set of measures comprising more than one type. Individual measures are defined for each asset class, but otherwise their computation and use are similar across all asset classes. Examples of the types of system preservation measures are as follows:
Measures of specific distress, damage, or deterioration: e.g., amount of cracking, deformation, and surface deficiencies in pavements and bridge decks; area of deterioration in bridge decks and structural elements.
Measures of serviceability or performance, defined from a road user's perspective: e.g., Roughness Index, Present Serviceability Rating, Rideability.
Indexes of condition, serviceability, or performance: e.g., Pavement Condition Index (PCI), Present Serviceability Index (PSI), bridge Health Index.
Analysis of Options and Tradeoffs
Tradeoff analyses encourage agencies to consider options in addressing a need or problem. Several examples have already been given at different stages of the life-cycle process; they are summarized here to illustrate that the review of options and the consideration of tradeoffs is an ongoing effort.
Planning: strategic choices between capital preservation and maintenance, or between capacity expansion and operations.
Project Development, Programming, and Resource Allocation: investigations of different materials, construction methods, and maintenance approaches; consideration of the approach to be used in system preservation (preventive vs. reactive); tradeoff analyses among system preservation, operations, and system expansion; inclusion of security considerations as part of overall asset management.
Project and Service Delivery: different mechanisms for delivery: e.g., accelerated bridge deployment, accelerated construction program; diligent management of program progress, and adjustments where needed to accommodate unplanned changes.
Decisions Based on Quality Information
Quality information has been emphasized throughout this discussion. Complete, current, timely, and accurate data on the infrastructure inventory and its condition and performance are basic to good management in any agency function or stage of business process. Periodic inspection programs and solid management systems and analytic tools are critical elements in ensuring that field data are translated into useful information. The availability of good information presumes the ability to understand it and to act on it. Agency groups dealing with infrastructure have therefore historically placed emphasis on employee (and, if needed, contractor) training in a number of relevant topics: e.g., current design procedures, innovative materials, materials testing procedures, environmental protection, handling of hazardous substances, maintenance performance (agency maintenance academies), and so forth.
Monitoring to Provide Clear Accountability and Feedback
Performance monitoring and feedback are critical to improving existing processes and to keeping up to date with actual infrastructure performance in the field. Performance measures and tracking are needed in both the program planning/resource allocation stages and in delivery of projects and services.
3.0 FHWA Office of Infrastructure - Current and Future Activities Related to Asset Management
This section describes current activities of the FHWA Office of Infrastructure and the Office of Research, Development and Technology that relate to Asset Management, and identifies potential additional opportunities for the future.
The Office of Infrastructure encompasses five offices, each with responsibilities for particular types of infrastructure or aspects of infrastructure management. These offices and their respective missions are:
The Office of Program Administration enhances program delivery through improved understanding of the Federal-aid program, improved highway design, and more effective stewardship and oversight.
The Office of Bridge Technology improves the condition of the Nation's bridges and structures through innovations in technology.
The Office of Pavement Technology advances policies and technologies that provide safe, cost-effective, long-lasting pavements that meet customer needs and can be effectively maintained.
The Office of Asset Management provides national leadership, guidance and support in asset management implementation by developing and advancing methodologies for making comprehensive and cost-effective infrastructure investment decisions.
The Highways for LIFE office promotes a smarter, more efficient and effective method of highway construction to improve the performance of highways and bridges and reduce their maintenance, repair, and rehabilitation costs.
3.1 Current and Planned Activities
The following descriptions present a composite of the efforts of these individual offices in key areas of guidance and assistance.
Policy and Regulatory
The Office of Infrastructure develops and evaluates legislative proposals related to highway, pavement, and bridge programs and engineering and asset management issues in cooperation with other FHWA Headquarters offices and field offices. It also develops policy and program direction including appropriate regulations to implement and interpret transportation legislation. Specifically, this work includes establishing uniform requirements and eligibility policies for the apportionment, allocation, and use of Federal-aid highway and bridge funds, and the selection of projects for discretionary funding. In the area of Asset Management, the Office develops policies and provides guidance related to the application of value engineering, life-cycle cost analysis and investment analysis to Federal-aid highway projects and programs, and eligibility on the various Federal-aid categories of funds (e.g., maintenance, rehabilitation, construction, inspection).
Technical Assistance and Information Dissemination
A broad range of technical assistance and information is provided by the Office of Infrastructure through its constituent offices. In cooperation with other headquarters offices and the field offices, the Office of Infrastructure provides and maintains ongoing communication with FHWA customers (e.g., state DOTs, through FHWA division offices) and industry partners to disseminate information, implement its programs, and deploy new technologies to advance the state of the practice in infrastructure management. The Office also develops and delivers educational and informational materials and training courses on various topics pertaining to infrastructure planning, economic analysis, design, construction, inspection/data collection, and maintenance and operations, among others. Some of the asset management-related products and activities that have been produced or are now being developed include:
Primers, case studies and synthesis reports on asset management, GASB Statement 34, data integration, economic analysis and life-cycle cost analysis.
Support of the Transportation Asset Management Guide, the companion NHI course on transportation asset management, and the AASHTO Asset Management website.
Informational materials and training courses (in collaboration with the National Highway Institute, or NHI) on pavement design and management, bridge management, maintenance management, roadway hardware management, construction, system preservation, quality management, data collection and integration, work zone management, and engineering economic analysis and life-cycle costing.
Approaches to improve pavement surface characteristics (e.g., friction, smoothness, noise) through better techniques, test procedures, analytic tools, and establishment or updating of standards.
Support of the Highway Economic Requirements System and a version of HERS intended for use by state DOTs (HERS/ST).
The FHWA conducts and supports a substantial program of infrastructure research and technology development and deployment, both through its Infrastructure Office and through the Office of Infrastructure Research, Development and Technology at the Turner-Fairbank Highway Research Center (TFHRC).
Research & Technology
Infrastructure research emphasizes development of better information, professional knowledge and skills, new technology, and deployment of solutions into practice.
For example, the Strategic Pavement Program Roadmap has the following research and technology focus areas:
Improved pavement designs, models, and materials (e.g., contributions to, and review of, the 2002 AASHTO pavement design guide; support of Superpave implementation; investigations of new materials and techniques such as warm-mix asphalt and concrete repair techniques; and continuing support of improved pavement performance through the Long-Term Pavement Performance (LTPP) Program involving data collection, analysis, products, reporting/dissemination, and establishment of regional centers and support contracts).
Implementation of quality assurance systems (e.g., improved test procedures, development and implementation of advanced quality systems, performance-related specifications).
Pavement surface characteristics for user satisfaction (e.g., smooth ride, enhanced friction, quiet ride).
Technical-capability building (e.g., knowledge-based systems, training).
Environmental stewardship (e.g., pavement recycling, noise reduction).
The Bridge Technology Program has the following research and technology focus areas for bridges and tunnels:
Improved structural performance and life (e.g., advanced design and construction practices such as Load Resistance Factor Design (LRFD), design for improved inspectability, maintainability, and future enhancements, and use of high-performance materials; improved quality control; and standards and specifications development, demonstration projects, education, and training in these areas).
Construction and rehabilitation methods that reduce congestion and improve safety (e.g., work identification based on accurate condition assessment, use of accelerated construction techniques and advanced, long-life materials, and use of prefabricated or modular components).
Provision of structures that provide a high level of safety and service under all conditions (e.g., mitigation of hazards to structures, optimization of service life and safety through better system preservation).
Context-sensitive solutions to minimize adverse environmental impacts (e.g., greater flexibility in designing and building structures that meet different demands).
Formation of a Engineering Assessment Team for Bridge Security and Vulnerability to provide technical advice, field reviews, and training to help infrastructure owners deal with security threats.
The Office of Asset Management has several research and technology initiatives recently completed, underway or planned, including:
Research to develop a tunnel management system, in collaboration with the Federal Transit Administration (FTA).
With the Office of Policy, development and incorporation of analysis procedures to predict remaining service life (RSL) of pavements for HERS-ST
With the Office of Operations, evaluation of innovative work zone management techniques including mobile barrier systems, dust and noise control and night lighting.
With the TFHRC Infrastructure Office, development of a relational database model and GIS interface for HERS-ST that includes bridge, pavement and other transportation assets.
With the Office of Safety and TFHRC Safety Group, evaluation of existing systems for managing roadway hardware.
With the Division Offices, evaluating the rolling wheel deflectometer (RWD) technology for measuring structural characteristics of pavements.
Coordination
The Office of Infrastructure engages in several coordination activities that help "get the word out" on new developments in infrastructure:
Workshops and conferences in applicable areas such as advanced materials and methods, often jointly sponsored with organizations such as Transportation Research Board (TRB), AASHTO, state DOTs, and industry groups;
Development of guidelines, standards, and specifications;
Joint research efforts with other FHWA offices as identified above;
Joint sponsorship with AASHTO in developing the Asset Management Guide and supporting national conferences and workshops;
Collaboration with U.S. Army Corps of Engineers in sponsoring and conducting workshops on Bridge and Tunnel Security Vulnerability for federal and state agency staff;
Coordination with other groups within and external to the FHWA that are dealing with asset management-related issues in planning, design, construction, maintenance, and operations.
3.2 Potential Future Activities
Technical Assistance and Information Dissemination
The descriptions in Sections 1 and 2 suggest a number of potential areas where the Office of Infrastructure can provide additional information and technical assistance to state DOTs and other partner agencies:
While agencies now use management systems as part of their overall "asset management" approach (e.g., in maintaining asset inventories and records of condition over time, and generating candidate projects), there are recurring examples where these systems are not used to support actual asset management decision-making: e.g., in prioritizing projects, conducting tradeoff analyses of performance versus investment levels, and recommending a program budget. FHWA can assist agencies in addressing the technical and organizational issues involved in asset management decision-making, through training, information dissemination, and workshops.
Limited tradeoff analyses are now done because of the lack of analytic tools, lack of understanding of how to apply existing systems and data to support these analyses, and the fact that the importance of tradeoffs for good asset management has only recently begun to be understood. The future completion of NCHRP Project 20-57 (Analytic Tools to Support Asset Management) takes initial steps to address these impediments. Training, information, and workshops that FHWA could sponsor will help address the organizational issues involved, and can reinforce agencies' use of performance measures and economic analyses.
Information on conducting tradeoffs among system preservation, operations, and improvement programs can complement the preceding point, and provide agencies with examples of how new analytic tools can be applied in decision-making. A case study approach involving several DOTs could provide a good model for developing guidelines and examples that have been applied in different agency and program contexts.
Additional examples applying user costs could promote more widespread use of this concept to investment decisions, and reinforce FHWA's emphasis on economic analysis and life-cycle costing. Information on how to estimate these costs using models of vehicle operating costs, travel-time costs, and costs related to safety and environment, and continued promotion of analyses that apply user costs, would strengthen agencies' capabilities to apply user costs in a number of asset management situations.
Continued help on infrastructure preservation and preventive maintenance strategies is also needed. New analytic tools - e.g., to identify "break points" where maintenance and minor repairs are no longer justified technically or economically, and more substantial preservation treatments are needed - would be particularly helpful.
The growing use of Intelligent Transportation Systems (ITS), Road Weather Information Systems (RWIS), and similar systems for operations will create future needs for preserving these assets and sustaining a high degree of system reliability. Technical information on asset life, recommended techniques and timing of maintenance, and unit costs of system maintenance, repairs, and replacement will help structure a life-cycle approach to the preservation of these high-tech items. It will also provide a platform for coordination between the Office of Infrastructure and the Office of Operations.
Analyses of capacity expansion projects would benefit from analytic tools to estimate infrastructure requirements and costs, particularly in early project stages where agencies analyzing alternatives need reliable cost estimates to make valid choices. The Office of Infrastructure's experience with pavement, bridge, maintenance, and tunnel management systems and data could be applied to work with other FHWA offices in developing these tools. A range of system preservation, operations, and capacity expansion tools would strengthen asset management tradeoff analyses.
The case study approach has been used by the Office of Infrastructure to explain and illustrate specific topics of asset management through their implementation by specific state DOTs. For example, the series to date discusses life-cycle cost analysis as conducted by Pennsylvania DOT, economics in asset management as practiced by New York State DOT, and data integration as experienced in Michigan DOT. This material provides practical guidelines for other operating agencies, and has proven to be very useful for educational purposes as well. The easy-to-read booklets provide a model that can be used to illustrate other aspects of asset management, including subjects documented in this series of white papers (e.g., planning, safety, environmental management, right-of-way management, etc.). See also the related discussion in the section on Coordination below.
Research & Technology
A comprehensive and ambitious vision of research and technology has been outlined by the FHWA.[6] This vision continues to focus on the four critical strategic elements of information (to support better decision-making), people (training and professional development), technology (better materials, tools, and techniques), and deployment (putting innovations into practice). Greater emphasis is placed on stakeholders in working with FHWA toward a successful research program, particularly in supporting a more strategic program, helping to set the focus, direction, and priorities of the program, identifying opportunities and champions for research efforts, and evaluating the quality and value of the research. Examples (a partial list) of recommended research topics include:
Improved uses of existing management systems for engineering analysis and development of new tools for economic analysis to support transportation asset management.
Development of new concepts of bridges that provide greater durability and flexibility of use at significantly lower life-cycle costs.
Ensuring the safety, reliability, and security of the Nation's bridges.
Enhanced user satisfaction with highway travel as affected by pavements, with emphasis on reduced congestion due to work zones, improved ride through reduced surface roughness both when new and in service, and reduced pavement-tire noise.
Emphasis on better stewardship and management of infrastructure, and developing information and tools needed to support good stewardship.
The implementation of asset management as a general, comprehensive approach to infrastructure management is still in its early stages within operating agencies. Documentation of the benefits of this approach, and guidelines on specific implementation techniques, will help other agencies in their asset management efforts and provide useful case studies.
Additionally, research topics may be needed to address several items discussed in the section on technical assistance: i.e., the development of analytic tools for preventive maintenance strategies and for cost estimation for capacity expansion projects, and technical information on the life-cycle of high-tech assets used to manage facility operations.
Coordination
The Office of Infrastructure's continuing expertise in system preservation, coupled with broadened coordination with other FHWA offices on aspects of asset management related more closely with operations and capacity expansion, will build a unified and coherent source of information for state DOTs, other transportation agencies, and academic institutions and training organizations. For example, the case study approach that has been used successfully by the Office of Infrastructure to document applications of economics to asset management, life-cycle cost analysis, and data integration can be extended to other areas of asset management analysis and decision-making.
Strengthened approaches to asset management through the development of new analytic tools and associated technical information can result from broader coordination with other FHWA offices in, for example, safety, operations, environment, and planning, and with agencies that are interested in analytic methods for transportation infrastructure. Regardless of which office oversees tool development, the effort would benefit from Infrastructure's long and successful history in melding technical knowledge; focused research; useful analytic approaches; development, support, and application of management systems; data collection methods; deployment strategies; and training and skills development
---
[1] Transportation Asset Management Guide, prepared for the National Cooperative Highway Research Program (NCHRP) Project 20-24(11) by Cambridge Systematics, Inc. with Parsons Brinckerhoff Quade & Douglas, Inc., Roy Jorgensen Associates, Inc. and Paul D. Thompson, November 2002, AASHTO Publication RP-TAMG-1.
[2] The FHWA plays a key role in standardizing the content and format of data that are mandated by federal law: e.g., the National Bridge Inventory (NBI) data that are reported by state DOTs.
[3] R.B. Hamilton and W.A. Hyman, Transportation in the New Millennium - Looking Forward: A Perspective on Maintenance and Operations, TRB Committee A3C01 (now AHD10), 1999.
[4] Ibid.
[5] See, for example, the papers relating Asset Management to Planning, Environment, Operations, and Safety.
[6] Infrastructure Research and Technology Stakeholder Workshop Summary Report: Workshop Proceedings, FHWA-RD-03-071, Chicago, September 2003.