Transportation Asset Management Case Studies
Bridge Management Experiences of California, Florida, and South Dakota
Florida
Florida is divided into seven geographic districts and one Turnpike district, as shown in figure 5. Each district is responsible for element-level inspections of Florida's 11,100 bridges (6,300 State highway bridges and 4,800 local bridges). To maintain, manage, and evaluate the needs of the State's bridge inventory, five personnel in the State Maintenance Office and two programming personnel coordinate with the districts, the Work Program Office, and the offices of Planning and Engineering Support Services.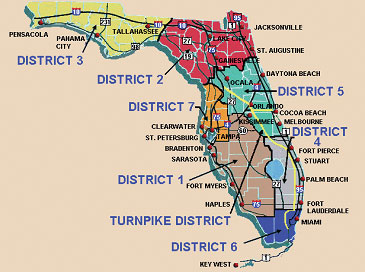 Figure 5. Florida district map.
Bridge Inspection Program
Inspectors working for the Florida Department of Transportation (FDOT) are required to be State-licensed professional engineers or certified bridge inspectors who have completed the National Highway Institute course in bridge inspection and meet FDOT's experience requirements. Through the Bridge Inspection Program, engineers identify needs and make recommendations, which are recorded in the Pontis® Bridge Management System.
The software can be customized to allow State DOTs to design a system that gives individuals access to Web tools for bridge inspections.
Inspections are done by FDOT engineers or with the help of consultants and are entered in Pontis® through Web access into a centralized Oracle database. Pontis® also allows the option of working from a database such as Sybase® ASA Adaptive Server Anywhere. To simplify the management of FDOT's resources and make them more cost effective to operate, FDOT has adopted the third-party software Citrix® MetaFrame Access Suite to integrate with Pontis®. Citrix® Metaframe provides a single point of access from any location, for any number of people, using many devices, over any connection. The software can be customized to allow State DOTs to design a system that gives individuals access to Web tools for bridge inspections. The benefits of Citrix® MetaFrame are as follows:
Centrally consolidated applications, reducing costs and complexity
Increased productivity
Diminished business/technical disruptions
"Observation dashboard" showing where, how, when, and by whom systems are accessed
Software as a utility and access control
Security that ensures only the intended users have access to the appropriate resources
Office-like environment, ensuring no compromise in quality, regardless of location
Users connect and compute over any network
User movement from device to device, wire to wireless, office to office, site to site
FDOT's "Bridge Inspectors Field Guide of Structural Elements" is a modified version of the "AASHTO Guide for Commonly Recognized (CoRe) Structural Elements." CoRe elements and non-CoRe elements are grouped into a logical numbering sequence mimicking the AASHTO guide as follows:
1-99 deck elements
100-199 superstructure elements
200-299 substructure elements
300-399 miscellaneous elements and smart flags
400-499 FDOT miscellaneous elements (e.g., high-mast light poles and sign structures)
500-599 movable bridge elements
Feasible Action Review Committee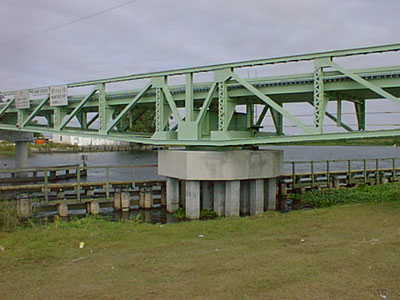 Lake Ockeechobee Rim Canal Swing Bridge in Palm Beach County, FL
A Feasible Action Review Committee (FARC) in each district office is responsible for reviewing and prioritizing the needs identified by the inspectors. FARC uses the Project-Level Analysis Tool (PLAT), an integrated software customized for FDOT. PLAT (figure 6) is a decisions support system tool that makes routine policy, programming, and budgeting decisions regarding preservation and improvement of the State's bridges. The bar graph display is dynamic. As the user moves the mouse over the graph, it changes to show how conditions adjust by year. Engineers are able to visualize deterioration rates for different elements on the bridge (figure 7), to predict economies of scale, and to scope several scenarios.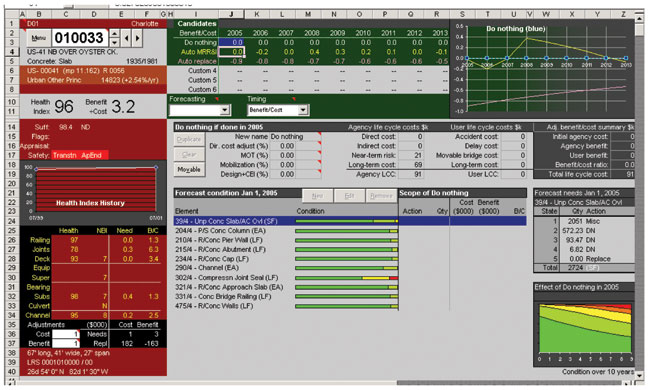 Figure 6. Project-level analysis tool.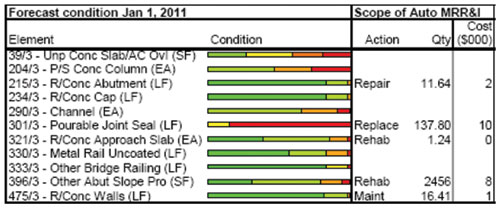 Figure 7. Predicted condition and candidate action.
Specific new PLAT models developed for FDOT are:
Accident risk and user cost due to roadway width and alignment deficiencies
User cost of load capacity, vertical clearance restrictions, and movable bridge openings
Project-level prediction models for bridge element conditions and costs
These new PLAT models are displayed graphically in a spreadsheet format as an aid in decision making.
Engineers use PLAT to determine the economic health of a structure, and they use it as a design tool for candidate projects to program into the management process. When the engineer modifies a candidate by changing the element action selections, quantities, or various cost factors, PLAT responds, immediately updating its predictive results. This new project-level decision support framework complements and builds on the existing network-level analysis in Pontis®. Florida is one of the few States integrating Pontis® to do network-level analysis applications.* FDOT's development program classifies the inspectors' needs and recommendations into three categories:
Routine maintenance
Periodic maintenance and repair
Replacements
Once the inspectors' recommendations are sorted into the three categories above, the next step is to create work orders in Pontis® and upload them to FDOT's customized mainframe Maintenance Management System (MMS) (figures 8 and 9). Work orders are given priority ratings from 1 to 4, priority 1 being an emergency situation requiring work to be completed within 60 days; priority 2, an urgent situation with a 180-day limitation; priority 3, routine work to be done within 1 year; and priority 4, no immediate deadline but information is provided. One of FDOT's performance measures is to monitor delinquency of work orders. All work orders are scheduled and performed by the districts or by an independent asset management contractor.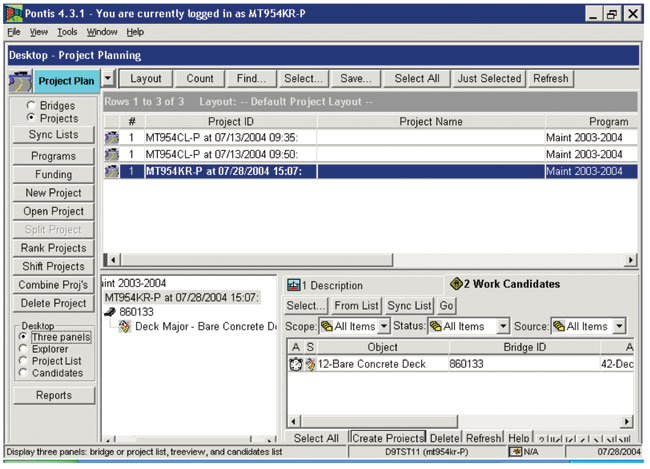 Figure 8. Work order in Pontis®.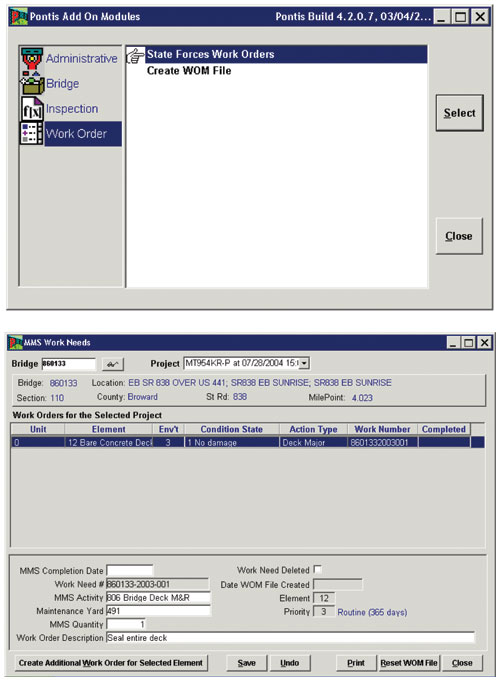 Figure 9. Work order in Maintenance Management System.
State Bridge Replacement Program
The State Bridge Replacement Program addresses bridges on State highways, local roads, Federal-aid highways, and non-Federal-aid systems as well as construction of any new replacement bridges for pre-existing deficient structures. The Bridge Replacement Program objectives established by FDOT are consistent with Florida Statutes and place primary emphasis on structurally deficient or weight-restricted bridges on State highways. The FDOT State Maintenance Office develops this list annually to review the inventory for posted bridges that need replacement, thus accomplishing one of its performance measures. Pontis® generates a Deficient Bridge List (figure 10) using the following qualifying definitions (customized from FHWA's definitions of deficient bridges) to identify bridges:
Strength Replacement bridges are either (1) structurally deficient or (2) posted for weight restrictions. These bridges are programmed for construction within 6 years of deficiency identification.
Economy Replacement bridges require structural repair but are more cost effective to replace. These bridges are programmed within 9 years of deficiency identification.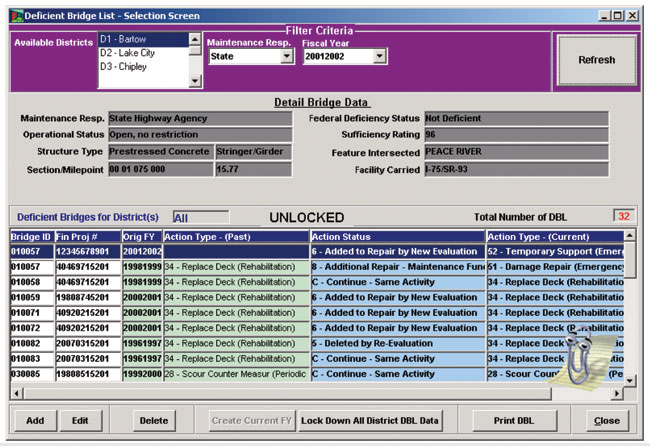 Figure 10. Deficient Bridge List customized applet in Pontis®.
State Bridge Repair Program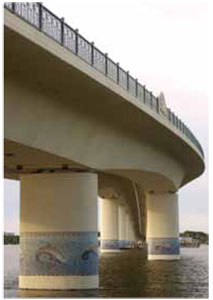 Broadway Bridge on US 92 over the Intracoastal Waterway,
Daytona Beach, FL
The State Bridge Repair Program addresses routine maintenance, periodic maintenance, and specified rehabilitation activities on bridge structures for which FDOT has maintenance responsibilities. Each district receives funding based on its portion of the total State bridge inventory. Funds are allocated based on number of movable bridges and fender systems, tonnage of structural steel for painting, and the district's total quantity of deck area for bridges with an overall structural appraisal rating of "fair" or "poor." These funds are programmed and managed by each district. The Turnpike District is responsible for repair of bridges on the Turnpike Enterprise system and bridge projects funded by Turnpike funds. Pontis® is able to assimilate bridges under all the different programs and show how they fit into the various funding categories.
As in the State Bridge Replacement Program, the State Bridge Repair Program identifies bridges programmed for replacement from the annual Deficient Bridge List (figure 10), identified by one of the following definitions:
Rehabilitation includes strengthening a bridge to increase its load carrying capacity, deck replacement, deck rehabilitation, or superstructure rehabilitation.
Periodic Maintenance includes movable rebuild, deck major repair, superstructure major repair, paint system replacement, deck joint replacement, deck overlay, scour countermeasures, or fender repair/replacement.
Routine Maintenance includes deck joint, deck, railing, superstructure, substructure, and channel maintenance and repair.
States can customize their own definitions to fit their needs, as Florida has done.
Movable Bridge Program
Florida is the only State at this time that manages its movable bridges through Pontis®. FDOT's inventory of 98 movable bridges includes 3 lift type, 94 bascule type, and 1 swing type bridge. Florida customized Pontis® to coincide with the elements, units, and condition states of movable bridges in the FDOT "Bridge Inspectors Field Guide of Structural Elements," as follows:
Drive system
Gears
Shaft bearings and couplings
Brakes
Hydraulic power units
Piping and cylinders
Control and interlock system
Transformers/thyristors
Submarine cables
Programmable logic controllers and control consoles
Miscellaneous and traffic control elements
Navigational light system
Operator facilities
Resistance and warning gates
Traffic signals
Conclusion
Florida is successfully achieving its performance goals by using the Pontis® Bridge Management System to store inspection information and generate work orders and priority ratings through MMS software. In addition, FDOT has customized Pontis® by adding the following modules to manage and report a variety of information from the FDOT database:
An administrative module permits control of access to the bridge management system in Oracle and sets rights of users.
A bridge module allows monitoring of the Deficient Bridge List, load rating information, scour, and channel profiles with plotting capabilities.
A reports module enables customized inspection information, work orders, and management reports (figure 11).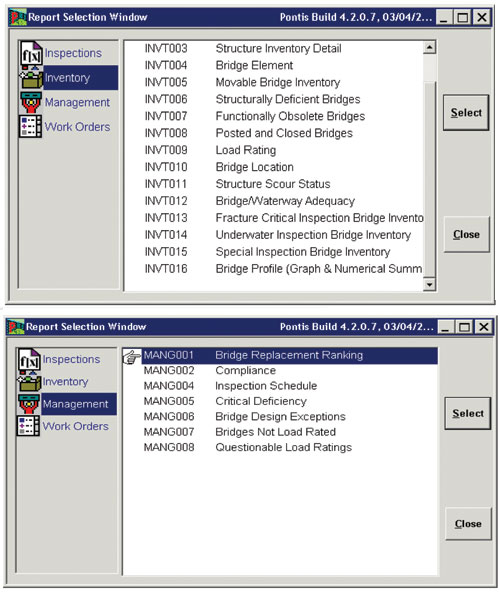 Figure 11. Customized reports.
*Network-level analysis refers to a group of bridges (all bridges in a State, district, or county) and does not distinguish among individual bridges.