Transportation Asset Management Case Studies
HERS-ST: The Indiana Experience
4. Where Is Indiana Today?
Figure 6: Working on the I-70 Hyper Fix Project (I-65 / I-70) in Indianapolis.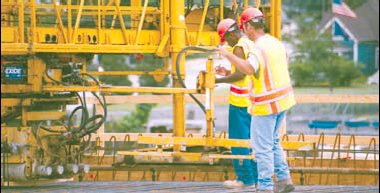 Photo courtesy of Heather Miller.
INDOT still uses its customized version of the software, HERS-IN, but is moving toward use of the standard HERS-ST software. The agency has been totally re-engineered, creating a dedicated staff of technicians who will be trained in the use of HERS-ST.
Overall, Indiana has made great strides in developing its asset management program since the inception of HERS-IN in 1998. The following are some of the highlights:
Fiscally-Constrained Long-Range Transportation Plan (LRTP). The plan provides a footprint for highway capacity improvements and the distribution of Federal and State funds over the next 25 years.
Route Concept Reports. These urban Interstate reports help determine when major reconstruction projects will be needed and how adding travel lanes will reduce disruptions to motorists. Route concept reports build upon the HERS-IN analysis by providing additional details such as route characteristics, data from original construction and subsequent projects, additional pavement history data, socio-economic data, field check findings, a listing of existing projects/scheduled improvements, and estimated project costs.
Planning Studies. INDOT is conducting a series of planning studies that have system-wide impacts to various highway facilities. They include an access management study and a statewide interchange planning study.
The biggest accomplishment, though, says Roy Nunnally, manager of the Modeling and Forecasting Section, is finalization of the 10-year production/construction plan known as Major Moves. Introduced in May 2006, this subset of the INDOT LRTP is the first completely funded 10-year plan in INDOT's history.
The Major Moves plan was developed using INDOT's May 2005 initiative for prioritizing highway construction projects. The rating system is based on 11 critical criteria, including a project's potential for contributing to economic growth. HERS-IN was utilized to rank the Major Moves projects.
Major Moves Criteria for Highway Projects
Cost Effectiveness Index
Corridor Completion
Road Classification
Mobility
Intergovernmental Agreements
Safety Criteria
Economic Development Criteria
Customer Input Criteria
External Funding of Projects (Earmarks)
Bypass Project Selection Criteria
Urban Revitalization
Figure 7: Slogan Sign.