Transportation Asset Management Case Studies
HERS-ST: The Indiana Experience
5. What Has Indiana Learned?
INDOT has garnered a few simple but vital lessons with regard to HERS and asset management.
First, as indicated earlier, a State needs to utilize a series of planning tools to provide a thorough systems-level analysis. No tool can do it alone.
Second, a key component of the planning process is gathering input from district, metropolitan planning organization (MPO) and regional planning organization (RPO) staff. While one of the benefits of HERS-ST is that it provides a recommended timeframe for a project based on the benefit-cost analysis, local insight has proven crucial to moving a project forward. "We need that 'ground truth' kind of feedback," says Smith.
Finally, INDOT has learned that, even though the agency has been using a customized version of HERS, its relationship with FHWA is symbiotic. Specifically, INDOT had been using what it calls the intermediate-year feature, which allows the State to add "what if" scenarios for new corridors. It spoke with FHWA about adding that feature to HERS-ST, and FHWA made the change. "We had a need that the software did not address, and FHWA responded," Smith states. The new version of HERS-ST, 4.0, contains that feature.
Figure 8: 2030 HERS-ST-IN Analysis by Improvement Period for Indianapolis Planning Area.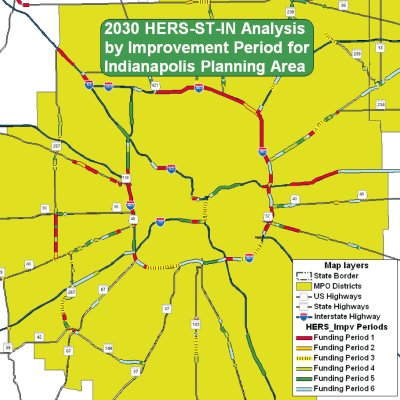 Snapshot courtesy of INDOT's Planning Division.