Transportation Asset Management Case Studies
HERS-ST: The New Mexico Experience
Workshop Details
Introduction
Figure 1: A steep grade and beautiful fall colors at Hyde Park Road just north of Santa Fe.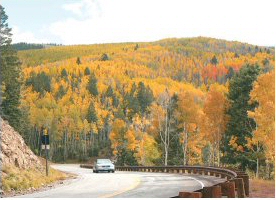 Note from the Director
With factors such as an aging national infrastructure, increasing congestion and limited funds weighing heavily on transportation agencies, State departments of transportation (DOTs) are looking for innovative ways to manage their transportation dollars.
One tool that is providing great benefits is Transportation Asset Management (TAM), a strategic approach that strives to provide the best return for each dollar invested by maximizing system performance, improving customer satisfaction and minimizing life-cycle costs.
TAM endeavors vary from State to State and include efforts in the areas of data integration, economics in asset management, the utilization of Highway Economic Requirements System - State Version (HERS-ST), life-cycle cost analysis (LCCA), preservation, and pavement and bridge management, among others.
Because each State's experience is unique - and because FHWA believes that transportation agencies work more efficiently when information on one another's successes is shared - the Office of Asset Management is continuing its series of TAM case study reports begun in 2002.
On behalf of the Office of Asset Management, I am pleased to add this case study on HERS-ST to the series. I believe that each of the five case studies generated this year (one on LCCA, two on HERS-ST and two on comprehensive TAM efforts) will help transportation agencies meet the increasingly complex challenges facing them today.
David R. Geiger
Director, Office of Asset Management
October 2006
Note to the Reader
The TAM case study series is the result of partnering between State departments of transportation and the Federal Highway Administration's (FHWA's) Office of Asset Management. FHWA provides the forum, and the States furnish the details of their experiences with asset management.
For each case study, FHWA representatives interview State transportation staff and compile the information, and the State approves the resulting material. Thus, the case study reports rely on the agencies' own assessment of their experience. Readers should note that the reported results may not be reproducible in other organizations.
Figure 2: Work on Chimayo Cut.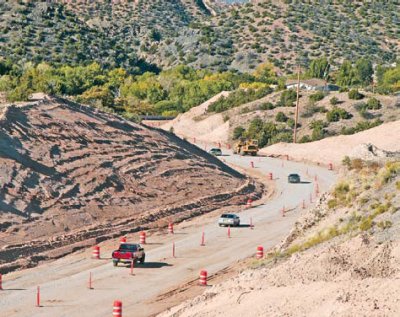 Executive Summary
New Mexico is the country's fifth largest State, ranks 36th in the country in terms of population and is home to rugged terrain, 75 percent of which is at an elevation of 4,000 feet or higher. Steep grades, changing weather and a lack of paved roads (26 of the State's 33 counties do not own a paved road) only serve to complicate the transportation matrix. Thus, it comes as no surprise that developing and managing New Mexico's transportation assets is a paramount challenge.
And the New Mexico Department of Transportation (NMDOT) has risen to the challenge. The agency delved into asset management by developing its own long-range planning software in the late 1990s. When database changes forced a change, the State joined the HERS-ST national pilot program in February 2001.
New Mexico did not take its participation in the pilot program lightly; rather, the agency committed the necessary resources to make the most of the HERS-ST program. New Mexico staff attended the national kickoff; tested the HERS-ST pilot software; provided feedback to the Office of Asset Management; and joined the developers' group that helps prioritize software changes.
Like many DOTs, New Mexico utilizes HERS-ST to develop its list of needs for the DOT's long-range plan. However, New Mexico has taken the application one step farther by developing a series of customized reports and by using HERS-ST to conduct benefit-cost analyses on potential projects for the New Mexico State Legislature. The State sees the software as completely customizable and is looking to conduct specialized sensitivity analyses and prepare HERS-ST-generated systems condition summaries in the near future.
Agency Facts
Figure 3: New Mexico's Rail Runner crossing a trestle bridge.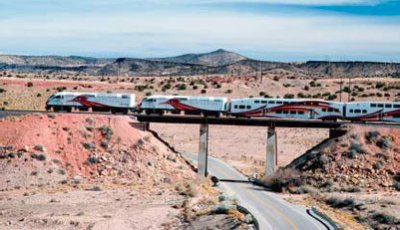 Created by the State Legislature in 1909, New Mexico's Highway and Transportation Department became the New Mexico Department of Transportation in 2003. The New Mexico State Transportation Commission oversees the establishment of DOT policy, while the cabinet secretary handles day-to-day operations. Coordination with the State's four metropolitan planning organizations (MPOs) and seven regional planning organizations (RPOs) comprises a major part of the department's planning efforts.
The DOT is made up of six districts; owns 3,000 on-system and 714 off-system bridges; is responsible for 27,920 of the State's 61,384 centerline miles; and has an annual budget of approximately $700 million. About 76 percent of the DOT's 2,400 employees work out of the DOT's six districts at 81 patrol yards. DOT headquarters are located in Santa Fe.
The DOT's vision is to be an "international leader" and "inventors and providers of a transportation system that serves everyone." The agency employs seven guiding principles to further that vision. They include adherence to a multimodal transportation system; partnership with tribal governments; partnership with local governments; creation of an environmentally responsible transportation system; provision of safe and secure transportation; the efficient use of public resources; and support of the economic vitality of the State and the Nation.
New Mexico Governor Bill Richardson has played a prominent role in promoting the DOT's vision of providing a transportation system that serves everyone. In November 2003, he signed House Bill 15, which will fund 1) approximately $1.6 billion in road improvements, and 2) the development of a commuter rail service that will serve thousands of citizens and visitors. The initiative, known as Governor Richardson's Investment Program (GRIP), is slated to provide $10.6 billion in direct benefits to highway users, in maintenance savings and in the future value of infrastructure. NMDOT assisted with the GRIP planning process by running HERS-ST benefit-cost analyses for each potential project.