Transportation Asset Management Case Studies
The Arizona Experience
How is ADOT Getting There?
Overall Approach
The challenges faced during ADOT's data integration efforts have come equally from three areas: technical, cultural, and business process. Simply pulling data from many sources into one repository does not work-quality issues must be addressed and data disconnects must be fixed at the source. To address these root problems, ADOT's overall approach to data integration contains elements in each of three areas.
Users will be able to obtain information from the data warehouse using an online interface or geographic information system tools.
Technical. ADOT's vision of data integration is a one-stop shop that makes reliable information available to all data customers, internal and external. The agency believes that the data warehouse concept represents the fastest and cheapest way to achieve this vision, as opposed to rewriting existing management systems. In its system development, ADOT is focusing on incremental steps that show results and benefits quickly and often.
Cultural. By adopting the principles of information resource management, ADOT is working to establish an agency-wide data culture. This cultural view is that data are valuable and that strategic resources need to be managed in the same fashion as human resources and capital assets. It stresses that data needs must be driven by business process needs. Clear ownership of data items must be assigned, and owners must be fully accountable for meeting data standards. Adequate financial and human resources must be allocated for data collection and management. In this context, the ADOT Information Data Warehouse (AIDW) is viewed as one tool under the information resource management umbrella.

Business process. Data disconnects are symptoms of business processes that are less than optimal. Streamlined business processes uplift an organization's performance and result in good information flow. In pursuit of this goal, ADOT is completing a six-month business process improvement project. The project objective is to map the existing business processes from planning to maintenance. The project will address project scoping, priority programming, five-year plan update, design and pre-construction, construction, maintenance, program budgeting, project accounting, and contract accounting. For each process, ADOT is developing a process description, a linear flowchart, a cross-functional chart, and an information-use matrix. The matrix, which will map information use across business processes, will serve as the basis for data enhancements.
The success of ADOT's data integration efforts will be measured by the ability of IT resources to support improved business practices. As illustrated below, ADOT has formally established the relationship between business process and IT improvements at both the strategic and tactical levels.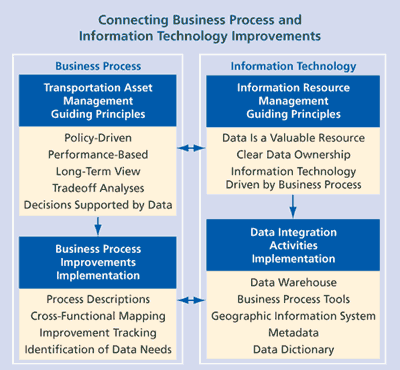 Technical Approach
ADOT will continue to collect, store, and manage core data sets with various management systems and databases throughout the agency. These systems will continue to be the official sources of agency data, and system administrators will continue to be the data "owners." Periodically data from the systems will be extracted, referenced using a common geographic referencing system, and stored in a series of operational data stores. Data stores are databases that contain processed data that can be fed back to other management systems or to a series of data marts. Data marts are subsets of the database. They differ from data stores in that they are structured for queries, what-if analysis, and analytical processing. Data marts also share the same architecture so that users can "drill across" them and access and analyze data from multiple marts (see sidebar below).
Taken as a whole, the data marts represent the core of the ADOT Information Data Warehouse (AIDW). The AIDW will be an online analytical processing system that serves as a read-only repository of information. The system will use a Windows 2000 Server and SQL Server 2000. Microsoft's Analysis Services and Data Transformation Services (both of which are components of SQL Server 2000) will provide online analytical processing capabilities.
Initially users will have access to the AIDW through ADOT's intranet. ESRI's ArcIMS and ArcSDE (Spatial Database Engine) software will provide an agency-wide geographic information systems (GIS) solution for performing queries and viewing results without requiring users to store large shape files locally.
ADOT is also developing a series of business intelligence tools to enable users with little or no technical training to readily access integrated data. Users will be able to query data with an online interface or GIS with point-and-click and drag-and-drop query capabilities. Users will be able to retrieve summary data or drill across the data marts to get information on projects, traffic, accidents, features, maintenance history, and other items at any given milepost.
Linear Referencing System
In July 2000, ADOT adopted its Transportation Planning Division's Arizona Transportation Information System as the standard centerline mapping system. This system uses a spatially referenced data layer containing information on 80 percent of all public roads in Arizona. It also uses a location referencing system that enables any data with a latitude and longitude or route and milepost component to be easily mapped. Significant work is still needed to ensure that location is validated for every record in each database. ADOT's data warehouse will use this standard referencing system as the basis for integrating data from various sources.