Transportation Asset Management Case Studies
HERS-ST: The Oregon Experience
Setting the Stage
What Did Oregon Have?
The Intermodal Surface Transportation Efficiency Act (ISTEA) of 1991 set forth Federal transportation policy, funding levels, and guidelines for State and metropolitan transportation planning. Among other provisions, ISTEA required each State to prepare a long-range, statewide multimodal transportation plan and to produce a short-term, statewide transportation improvement program (STIP) consistent with the plan.
In response to ISTEA, ODOT adopted a new approach to transportation planning. The ODOT process begins with the Oregon Transportation Plan (OTP). The OTP establishes the philosophy, vision, and broad policies that guide the overall planning process. The OTP calls for the "planning, development, and management of a statewide, integrated transportation network that is safe, provides efficient access, and enhances Oregon's economy and livability." The OTP is intended to assist in making the difficult funding choices that Oregon will address in the future.
Consistent with the OTP, Oregon's integrated planning process (see figure below) includes statewide modal plans, corridor plans, and various city/county transportation system plans (TSPs). The modal plans focus on statewide needs and policies for each transportation mode; corridor plans address all modes for specific geographic corridor locations in Oregon; and the TSPs concentrate on the State's cities and their surrounding areas. Together, the modal, corridor, and transportation system plans provide the basis for prioritizing improvements and selecting those that will be included in the STIP.
The STIP provides a four-year capital improvement program, including project funding and scheduling information. Since 1991, ODOT has used sophisticated analytical models, including pavement and bridge management systems, to support development of their STIP. From the onset, a critical component of this effort was the USDOT's Highway Performance Monitoring System Analytical Process (HPMS AP), an investment/performance model designed to assess the physical condition, safety, service, and efficiency of highway system operations given alternative funding levels, policies, or program structures.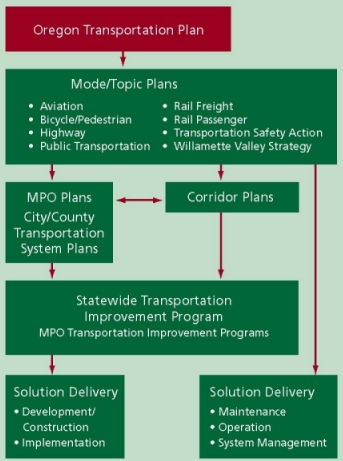 What Did Oregon Want?
In 1997, ODOT initiated work to revise its 1991 Oregon Highway Plan, which is one of a number of modal plans that provide direction and input to the STIP. The Highway Plan provides long-range policies and investment strategies given current funding levels and explains how potential future revenues could be productively invested.
With the guidance established in the OTP-that transportation investments should enhance Oregon's economy and livability-ODOT recognized that the Highway Plan needed to reflect all of the benefits and costs resulting from potential investments, not just agency costs and benefits. In addition, ODOT saw that as transportation needs grow and funding becomes more constrained, the ability to evaluate potential improvements according to economic criteria will become more important.
The engineering-oriented HPMS AP had a long history of successful use by ODOT analysts. It was a robust analytical system that could systematically analyze the impact of planned investment levels and document the results of higher levels on system performance. There was, however, a growing recognition that it lacked an important economic dimension necessary to address user costs and benefits more fully. Years earlier, FHWA had come to the same conclusion and, in response to this concern, developed the Highway Economic Requirements System (HERS). In 1995, FHWA used HERS to produce the national investment requirement estimates included in the "Status of the Nation's Surface Transportation System: Conditions and Performance Report to Congress."
HERS and HPMS AP are similar computer models. Both simulate highway system deterioration and selectively choose investments for implementation to correct current and projected deficiencies. Their simulations are based on analyst-specified constraints such as funding levels. Both models report system condition and performance levels resulting from the analysis of a given scenario. They both use engineering standards to identify roadway deficiencies and consider capital improvement projects intended to correct pavement and capacity deficiencies. The models differ in that HPMS AP identifies needed improvements based primarily on engineering standards, while HERS uses not only engineering standards, but also economic criteria to select the optimal mix of improvements for system implementation. In summary, the major difference between the two models is that HPMS AP looks at the impact that highway users have on the condition and performance of the highway system, while HERS focuses on the impact that the condition and performance of the highway system will have on highway users.