Transportation Asset Management Case Studies
Data Integration: The Pennsylvania Experience
BMS Interfaces With Other Management Systems: description
Back to "Enterprise Linear Referencing System"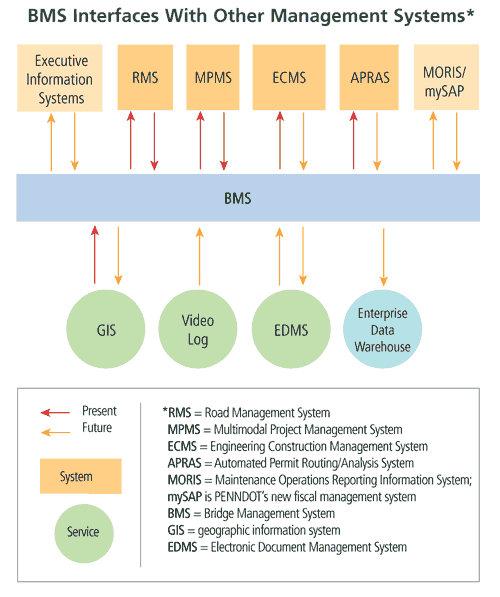 The illustration shows how the Bridge Management System (BMS) interfaces now and will interface in the future with six other management systems and four data services.
Systems that now have a two-way data exchange with BMS are Road Management and Multimodal Project Management. The Engineering Construction Management System and Automated Permit Routing/Analysis System receive data from BMS now and will exchange data with the BMS in the future. Executive Information Systems and MORIS/mySAP, Penndot's new fiscal management system, are not yet interfaced but will have two-way information flow in the future.
On the services side, only the Geographic Information System (GIS) is currently interfaced, with information flowing to the BMS now and a two-way exchange planned. Other future interfaces are the Video Log (input to BMS), the Electronic Document Management System (two-way exchange), and the Enterprise Data Warehouse (to receive data from the BMS).