An Imaginary Tour of Pennsylvania Avenue
Pennsylvania Avenue Past Prologue Statue
At 7th Street, you come to the National Archives building. That is where our Declaration of Independence, Constitution, and Bill of Rights are on display, the cornerstone documents of the United States. The National Archives building rests on the spot where Tiber Creek used to flood Pennsylvania Avenue in the early 1800's. This is where Dr. Gunton's young druggist lost a shoe in the ooze in 1807. The pavement is solid today, and there's no chance you'll lose your shoe.
Two statues stand outside the National Archives on Pennsylvania Avenue. One is called "Study the Past" and the other explains why: "What is Past is Prologue."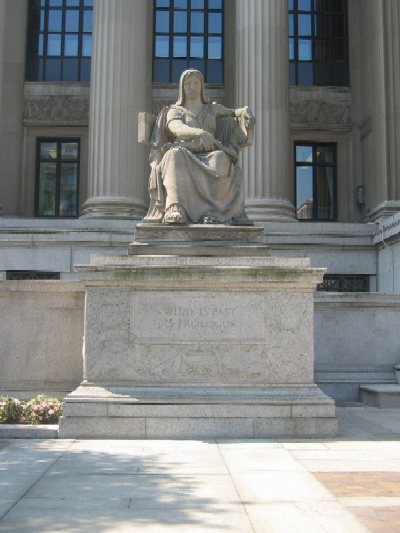 This statue, depicting "What is Past is Prologue," sits on Pennsylvania Avenue at the National Archives Building.
Previous | Photo Gallery | Full Text | Next