An Imaginary Tour of Pennsylvania Avenue
Pennsylvania Avenue Old Post Office Building
Shops and offices line the north side of Pennsylvania Avenue, but you cross the street to the south side to look at the row of street vendors. You can't resist anymore. You dig into your pocket and pull out some of the strange-looking American money to buy a Washington T-shirt for yourself, a Washington coffee mug for your teacher, and some Washington postcards to send to your friends. The vendors have set up shop in front of the Internal Revenue Service building. This is the agency that collects our taxes.
When you get to the next block, you pass a Victorian bandstand. Several people are eating lunch in the bandstand. No sign of a band. So you go into the Old Post Office. This old building was going to be torn down, but instead it has been converted into a little shopping mall with an eatery.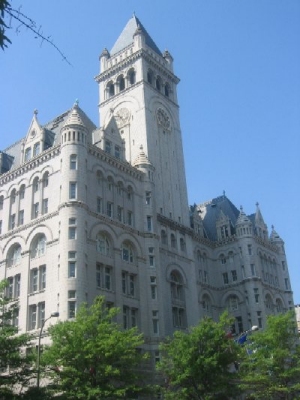 The historic Old Post Office Building on Pennsylvania Avenue at 12th Street was near destruction when preservationists succeeded in saving it. Today, it is an office building with a food and tourist court on the lower level. The Victorian bandstand that once stood alongside the building is no longer there.
Previous | Photo Gallery | Full Text | Next