FHWA Training Programs: Through the Years
By Chad Thompson
FHWA has trained entry-level employees through a centrally administered, multi-year training program since what seems like the dawn of time (actually 1905). However, the modern engineer-training program began at the end of World War II in 1946. While we were all rightfully caught up in last year's celebration of the Interstate's 50th Anniversary, we forgot the cake and commemorative pins for our training program's 60th birthday! Based on historical documents, we have now trained well over 2,000 employees for public service through some training programs.
Early Years
In 1905, Director Logan Waller Page, the first Director of the Office of Public Roads (OPR), received approval from the Department of Agriculture for a highway engineer-training program. OPR appointed to the program a limited number of civil engineering graduates only after passing a competitive exam-with a starting salary of $600 per year. At the end of the program, students were eligible for a rather hefty increase to $900 per year and assumed the position of "Junior Highway Engineer." These engineers actually played a key role as the backbone of the Bureau of Public Roads (BPR) and many developed the policies and procedures for administering what would become the modern Federal-aid program.
OPR and BPR recruited and trained highway engineers between 1905 and 1946, with the exception of the years during the Great Depression and World Wars I and II. After 1921, students were recruited during their junior years of college and worked on production cost studies. These cost studies assisted the highway industry in analyzing time use and operational efficiencies of equipment used for construction and maintenance. If their work was deemed acceptable, they were appointed to junior engineers after graduation and received two to three years of additional training.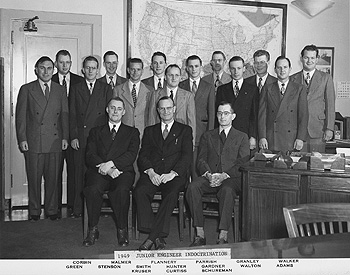 Training years: The 1949 Junior Engineer Indoctrination. This is the oldest of approximately 120 training class photos that can be found on FHWA's StaffNet site.
In 1946, a new organization was set up within the BPR—the Training Branch—which was responsible for three-year training program of engineers. The Agency moved trainees around different geographical locations within the United States. According to our records, John Fowler (1948) had the distinction of being the first graduate of the engineer training program. In the beginning, the program was graduating engineers at the rate of 15 to 20 per year. That curriculum typically focused on construction and research. Trainees performed assignments at Direct Federal and Federal-Aid offices as well as the Washington office. Research training was conducted at both the Gravely Point (National Airport) Lab and the Fairbank Highway Research Station.
The Federal-Aid Highway Act of 1956 brought about a greater emphasis on Federal-aid. Subsequent to the Act, the 1950s and 1960s brought a dramatic growth in our Highway Engineer Training Program (HETP). At its height in 1958, there were 170 slide rule-toting engineers. We continued to graduate more than 60 engineers throughout the 1960s and 1970s. An 18-month training program began in 1961 for approximately 10 candidates per year who had received their master's degrees. This program was devoted to developing specialists in research, hydraulics, structures, and planning.
Other priorities necessitated a reduction during the 1980s. In fact, no trainees were recruited in 1982. However, a decision was made to reinstitute the program following passage of the Highway Improvement Act of 1982. Graduates averaged 20 to 30 people per year. In the early 1990s, the program graduated over 50 individuals yearly; most of them having no idea of how to use a slide rule but quite proficient in the use of a Texas Instruments calculator. As you can see from the graph below, the number of graduating trainees has never stayed constant.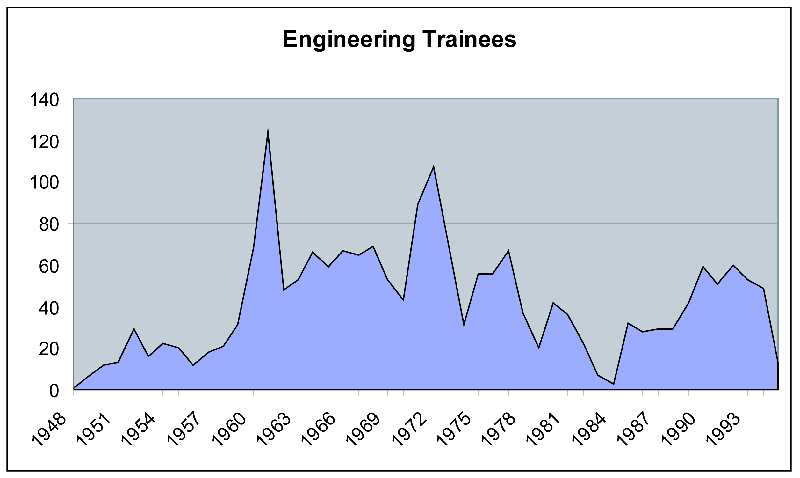 This graph shows the variability of engineering trainees through the years.
Not Just Engineers
Due to the evolving role of the Agency, there was a clear need through the years for other qualified trainees beyond engineers. The Right-Of-Way (ROW) Training Program began in 1964 with one graduate, Ron Larson. It grew to 12 graduates in 1969. Having increased our Agency's expertise, the ROW program tapered off to a few graduates per year. In a feeling of déjà vu, FHWA recognized a need to increase the staff knowledge for audits and thus began the Auditor Training Program in 1962. The late 1960s and early 1970s also saw a rise in the need for these trainees. Other disciplines trained through the years include planning, administrative, environment, and civil rights.
The purpose of the HETP and other programs was to create professionals at the "apprentice" level. FHWA often placed HETP grads in field offices at the GS-11 "assistant" levels. Graduates worked for a few years under close guidance of a GS-12 journey-level professional before being promoted to a position at that level. The early 1990s brought about reductions in available Full-Time Equivalent (FTE) positions for field offices and all but eliminated these "assistant" positions. This forced graduates to assume more responsibility upon placement in their final offices.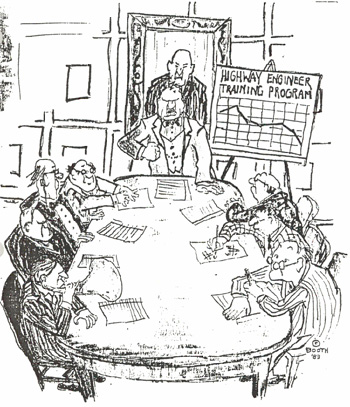 "What do they mean our training program is outdated? We all went through it!"
In 1998, the Career Training Programs Assessment Team met and proposed a redesign of the then current Career Training Program. The recommendations led to development of the current training program, the Professional Development Program (PDP).
Kodak Moments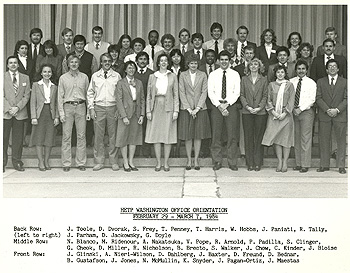 Orginal photo caption reads:
HETP Washington Office Orientation,
February 29 - March 7, 1984.
Back Row (left to right): J. Toole, D. Dvorak, S. Frey, T. Penney, T. Harris, W. Hobbs, J. Paniati, R. Tally, J. Parham, D. Jackowsky, G. Doyle.
Middle Row (left to right): N. Blanco, M. Ridenhour, A. Nakatsuka, V. Pope, R. Arnold, P. Padilla, S. Clinger, G. Cheok, D. Miller, R. Nicholson, B. Brecto, S. Walker, J. Chow, C. Kinder, J. Blose.
Front Row (left to right): J. Glinski, A. Nieri-Wilson, D. Dahlberg, J. Baxter, D. Freund, D. Bednar, B. Gustafson, J. Jones, N. McMullin, K. Snyder, J. Pagan-Ortiz, and J. Maestas.

Information obtained from: The Highway Engineer Training Program: Its History and Development, FHWA, Office of Personnel and Training, April 5, 1982.
Memo, "Implementation of the Professional Development Program," January 11, 1999.