Validation of Index Based Cost Estimation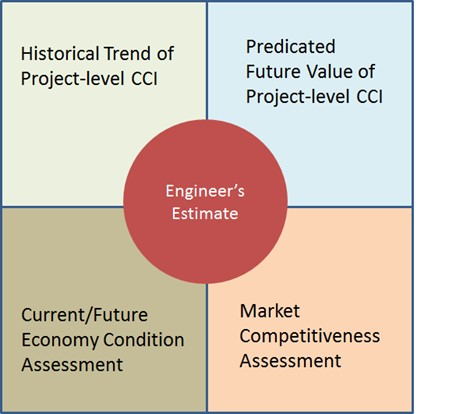 Need: The traditional cost estimating method typically uses 3-6 months of bid tab data, averages the bid amount, and applies that average as the estimated unit cost for the new project being estimated. This cost estimation is fairly accurate when costs are relatively stable. However, we now live in a worldwide economy where local, national, and worldwide events affect the costs of materials and services at any one-time.
Technology: Highway owners are enhancing the accuracy of their estimates to maximize the amount of work being performed. An alternative to the existing approach uses regional and national indices that reflect the real cost of materials and services at any one-time. A new index based cost estimation process applies these indices to the estimation process to produce an estimated cost that is reflective of the current cost for materials and services.
Activities Funded: Colorado DOT, Montana DOT, and Washington Department of Transportation conducted case studies using the new index based cost estimation tool with a side-by-side comparison of their traditional estimation process and actual build costs.
Contact:
Richard Duval
FHWA Program Lead Asphalt Materials
Richard.Duval@dot.gov
202-515-1030