Sequential Dynamic Curved Warning System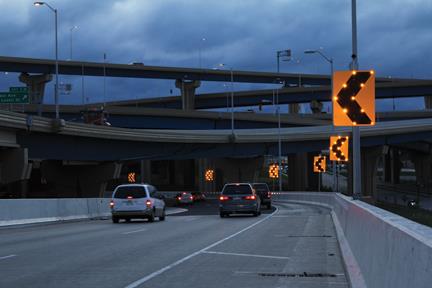 Need: Horizontal curves make up a small percentage of total roadway miles, yet they account for one-quarter of all highway fatalities. The majority of curve related crashes are attributed to speeding and driver error and involve lane or roadway departures. While there are a number of traditional low-cost countermeasures to help keep vehicles on the road and in their lane, a stronger message is needed at some curves.
Funded Activities: The project evaluated the effectiveness of Sequential Dynamic Curve Warning System in reducing vehicle speeds and the frequency and severity of speed related crashes on horizontal curves on rural roadways. Twelve treatment sites and 24 control sites were selected in 5 states. Data was collected before and immediately after the installation, as well as after 12, 18 and 24 months.
A follow-on study was conducted by FHWA Office of Safety to develop Crash Reduction Factors. The evaluation added more sites where the Sequential Dynamic Curved Warning System had installed, for a total of 18 treated curves. Using an Empirical Bays methodology to compare crash data before and after the installations with crash data for similar sites that were not treated, it was found that the system results in statistically significant crash reductions of 44% for non-intersection crashes and 60% for injury crashes.
Further information: https://www.fhwa.dot.gov/hfl/partnerships/safety.cfm
Contact:
Dr. Omar Smadi (Speed Study)
Center for Transportation Research and Education
smadi@iastate.edu
515-294-7110
Dr. Shauna Hallmark (Safety Analysis)
Center for Transportation Research and Education
shallmar@iastate.edu
515-294-5249
---
All-Weather Pavement Marking System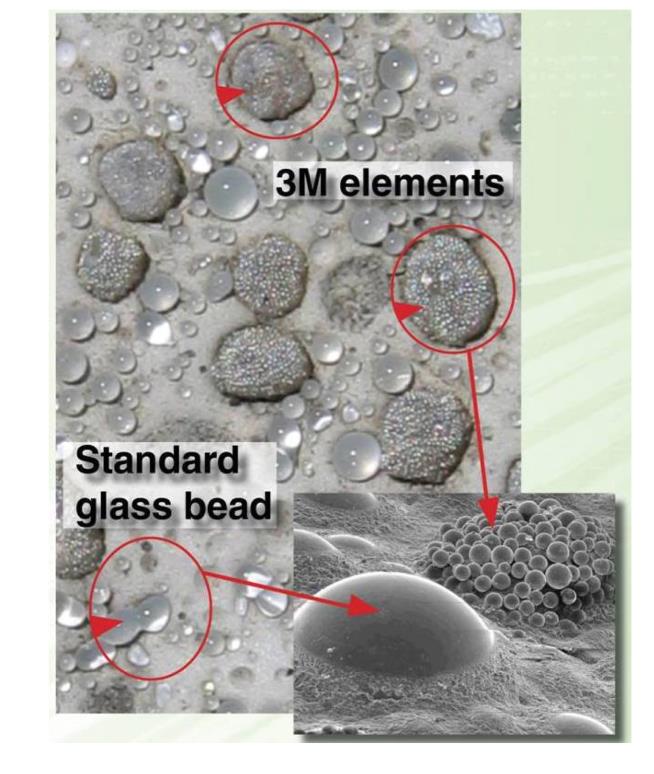 Need: Wet road conditions make it difficult for drivers to see conventional pavement markings. This is especially hazardous in work zones, where lane shifts and unusual traffic patterns are common. Retroreflectivity of conventional pavement markings diminishes significantly under wet weather conditions at night, which severely reduces their visibility. There is a need for pavement markings that sustain visibility under all weather conditions, customized for work zone applications and requirements.
Technology: Unique optical elements made of a ceramic core surrounded by very high-refractive index beads provide retroreflectivity under wet conditions, both during and after rain events. These optical elements are applied together with typical glass beads onto paint using conventional application methods. The technology is commercially available as 3M Connected Roads All Weather Elements.
Activities Funded: 3M refined and evaluated a paint and drop-on element-based customized for workzone applications. The Texas Transportation Institute conducted an extensive human factors study in a rain range. Field evaluations comparing the all-weather pavement marking materials with standard marking materials were conducted with respect to retroreflectivity, vehicle travel speed, rate of lane encroachments, and linear displacement in work zones in North Carolina and Ohio.
Further Information: https://www.fhwa.dot.gov/hfl/partnerships/safetytech.cfm
Contact:
Matt Wilding
651-737-1524
mwilding@mmm.com
---
Automated Roadway Pavement Marking Placement System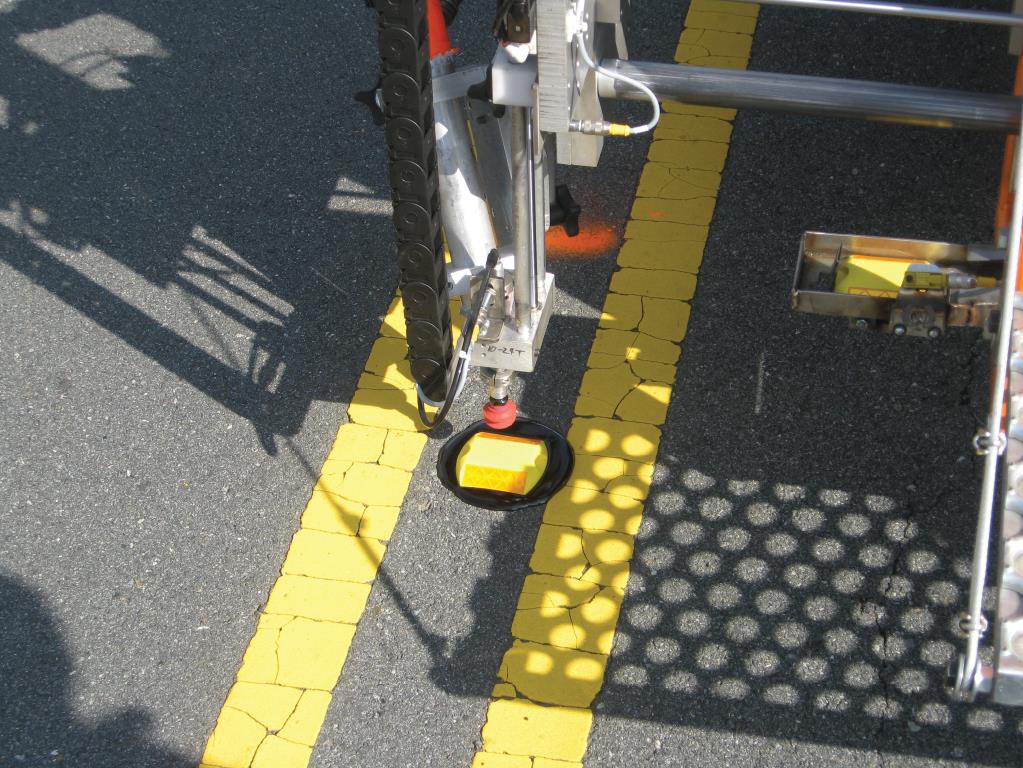 Need: Manual installation of raised roadway pavement markers is time-consuming and one of the most dangerous activities in the industry. Traffic delays and vehicle crashes at work zones have resulted in significant economic consequences. Automating the process can reduce congestion by requiring less stoppage on roadways and achieve cost savings from reduced labor and accelerated installation time.
Technology: An automated roadway pavement marker placement system which automates the installation of raised pavement markers on roadways. Field tests demonstrated that the system reduced labor hours, installation time and risk of worker injury. Field tests also showed that the number of markers placed equals or is better than the manual placement method.
Activities funded: Stay Alert Safety Services refined the four sub-systems of the automated roadway pavement marker placement system which automates the installation of raised pavement markers on roadways and conducted field evaluations.
Further information: https://www.fhwa.dot.gov/hfl/partnerships/safetytech.cfm
Contact:
Jim Babcock
JBabcock@stayalertsafety.com
(336) 993-2828
---
Leetron Advanced Mobile Retroreflectivity Measurement of Pavement Markings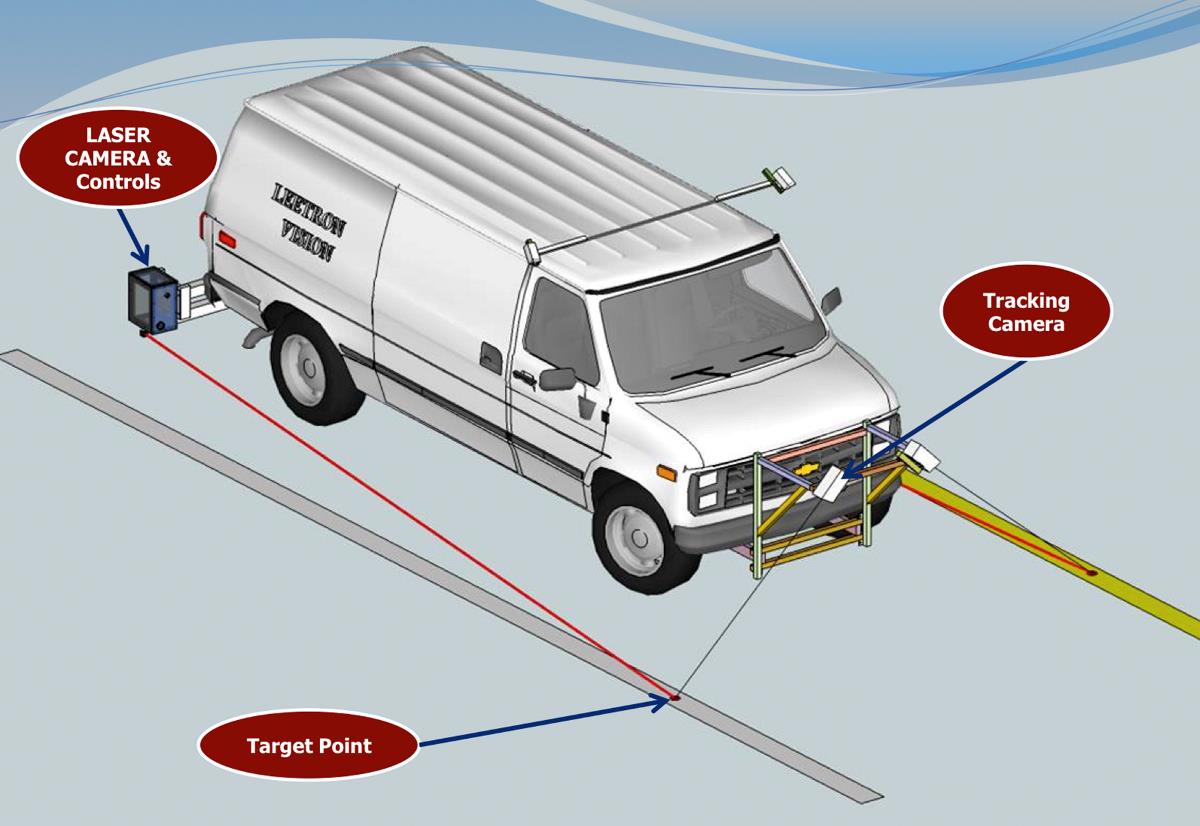 Need: About ½ of all traffic fatalities occur at night even though only about ¼ of travel occurs after dark. Retroreflective pavement markings help drivers see the road ahead at night and must be maintained to be effective. Transportation agencies need a safe, reliable and efficient way of collecting retroreflectivity data for their pavement markings.
Technology: A real time tracking system to counter motions and environmental effects on mobile data collection. Measurements are taken at an extremely fast rate of 4500 times a second. With stable electronics and optical components combined with an environment controls enclosure, the system is highly stable and can be operated by one person. The measurement capability is doubled by having the two systems measuring both, the driver and passenger side markings, simultaneously.
Activities funded: Leetron Vision refined the prototype unit. It was evaluated by the Texas A&M Transportation Institute and field tested with the New Hampshire and Florida Departments of Transportation.
Further Information: https://www.fhwa.dot.gov/hfl/partnerships/safetytech.cfm
Contact:
Terry Lee
leetronvision@gmail.com
603-369-2785