A Message from the Director
EDC is a State–based model that identifies and rapidly deploys proven, yet underutilized innovations to shorten the project delivery process, enhance roadway safety, reduce traffic congestion, and improve environmental sustainability. EDC is your On–Ramp to Innovation!
Innovation Champions from around the country are being invited to come together this fall at five Regional Summits to learn about deploying the fifth round of the EDC (EDC–5).
The objectives of the Regional Summits are to: facilitate dialogue, encourage creative thinking, and celebrate a shared vision for new opportunities. These Summits are an integral component of the EDC model, bringing together transportation leaders and front-line professionals responsible for the development and delivery of highway projects. The Summits provide transportation professionals the opportunity to learn about the 10 innovations promoted through EDC–5, exchange ideas with their State, Local, and Industry counterparts, and provide feedback to FHWA on the support and resources needed to adopt the innovations.
We appreciate your interest in the EDC innovations! Please view the EDC-5 Orientation Webinars.
EDC-5 Regional Summit Locations – Fall 2018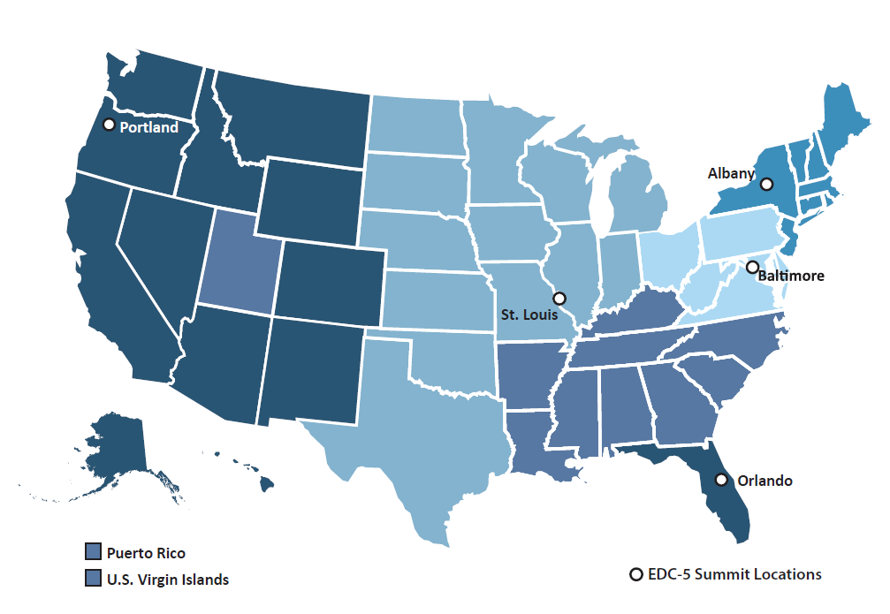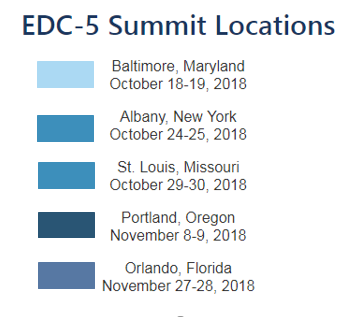 Page last modified on September 27, 2018