Jauary 2, 2015
Innovation Implementation: New Year, New Innovations
The third round of Every Day Counts starts now.
During 2015 and 2016, the Federal Highway Administration will work with transportation agencies and their partners to deploy the 11 EDC-3 innovations and make them mainstream practices. The innovations range from efficient electronic tools and easy-to-build bridges to time-saving planning techniques and congestion-cutting work zones.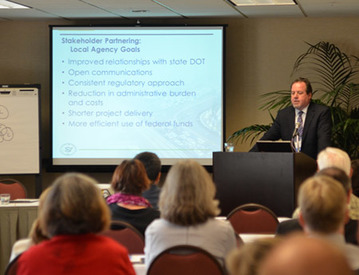 Like those in the first two rounds of the EDC initiative, the EDC-3 innovations are designed to shorten the transportation project delivery process, enhance safety, reduce congestion and improve environmental sustainability. "Efficiency through technology and collaboration" is the theme for this round.
"The EDC-3 innovations are aimed at taking advantage of technology and electronic tools as well as improving the collaborative processes necessary to develop and deliver projects," FHWA Associate Administrator Jeff Lindley said.
Lindley spoke at the fall summit series FHWA held to introduce EDC-3 to transportation stakeholders. The summits began the process for agencies to consider the innovations, choose those that fit their needs and find opportunities to use them over the next two years.
District DOT Explores Bridge Innovation
After learning about the technology at an EDC-3 summit, the District Department of Transportation in Washington, D.C., invited FHWA to present a December 18 workshop on ultra-high performance concrete connections for prefabricated bridge elements. Use of UHPC between prefabricated concrete components creates a simple, strong and durable connection. The DC DOT is considering a connection detail that uses UHPC technology on its project to replace the 16th Street Bridge over Military Road.
New Mexico Interchange Opens to Traffic
Local, state and federal officials gathered for a December 15 ribbon-cutting ceremony at the new Paseo del Norte/I-95 interchange in Albuquerque, New Mexico. The reconstructed interchange opened to traffic the next day. The $93 million project, which took 15 months to build, used the design-build delivery method, accelerated bridge construction and geosynthetic reinforced soil integrated bridge system technology. The project was designed to relieve congestion and enhance safety at one of the busiest intersections in the state. A key feature is a flyover ramp connecting commuters from northbound I-25 to westbound Paseo del Norte.
Washington Builds First Bicycle Roundabout
The Chehalis-Western Trail "Bridging the Gap" project in Olympia, Washington, demonstrates that roundabouts aren't just for cars. The $4.5 million project includes the state's first-ever bicycle roundabout, built to enhance safety at the intersection of the Chehalis-Western and Woodland Trails. The project provides for a bridge across Pacific Avenue to close the last gap of the Chehalis-Western Trail from south of Yelm Highway north to Woodard Bay. The Thurston Regional Planning Council opened the third and final leg of the project in December.