January 10, 2014
Innovation of the Month: Design-Build
Through Every Day Counts, the Federal Highway Administration is promoting design-build contracting as a way to shrink the time it takes to deliver bridge and highway projects to the public and reduce construction-related risks.
In this project delivery method, the design and construction phases of a project are combined into one contract, usually awarded on a low-bid or best-value basis. A highway agency identifies what it wants built, accepts proposals and selects a design-build team to assume the risks and responsibilities for both the design and construction phases.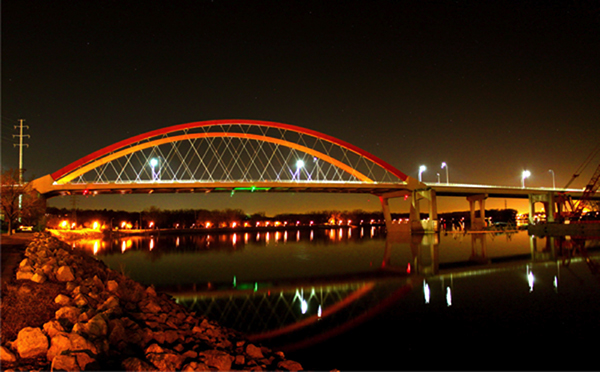 The design-build approach differs from the traditional design-bid-build process. In the traditional approach, a highway agency undertakes two different contracting efforts in sequence to procure design services on a negotiated-price basis and construction services on a lowest-responsible-bid-price basis.
An advantage of the design-build method over design-bid-build is the option of concurrent design and construction processes, which can be helpful on large infrastructure projects or when fast-track implementation is a priority. It eliminates the delay of a bidding phase between the design and construction phases. And construction preparations such as mass grading can begin while the design is being finalized.
The Minnesota Department of Transportation used design-build for the new Hastings Bridge on U.S. 61 over the Mississippi River. The time-lapse video below shows the installation of the bridge's arch span.
Ohio Exceeds First Responder Training Goal
The Ohio Department of Transportation and the Ohio State Highway Patrol exceeded their goal of training 7,200 first responders in the second Strategic Highway Research Program National Traffic Incident Management Responder Training Program by the end of 2013. The number of first responders trained reached 7,309 by mid-December, and the number continues to grow as new training sessions take place throughout the state. Ohio plans to build on its success with a goal of training 20,000 first responders by the end of 2014.
Explore Innovation at TRB
The Center for Accelerating Innovation display at the Transportation Research Board Annual Meeting January 12-16 in Washington, D.C., will show how FHWA and stakeholders are working together to build highways better, faster and more safely. Experts will be on hand to share information on resources to learn more about the innovative technologies and practices FHWA is promoting through the Every Day Counts initiative.
The Center for Accelerating Innovation's "Leadership and Innovation" session from 1:30 to 3:15 p.m. on January 13 will feature remarks from FHWA Administrator Victor Mendez, Utah Department of Transportation Executive Director Carlos Braceras, Pennsylvania Transportation Secretary Barry Schoch and Nokia Vice President Ogi Redzik. A session on "Legacy and Future of Project Demonstration Showcases" from 2 to 4:30 p.m. on January 15 will look at the past, present and future of demonstration projects, which enable transportation professionals to see innovative construction approaches in action. Check the conference program for locations.
Upcoming Events
Transportation Research Board Annual Meeting, January 12-16, 2014, Washington, D.C.
Request for 2014 focus technology nominations, AASHTO Technology Implementation Group, January 15, 2014, deadline. Guidance and nomination forms here.
Slide-In Bridge Construction From the Engineer-Designer Perspective, Every Day Counts and Colorado Department of Transportation webinar, January 28, 2014, noon ET.
Symposium on Alternative Intersection and Interchange Design, July 20-23, 2014, Salt Lake City, Utah. Get details.
About EDC
Every Day Counts, a state-based initiative of the Federal Highway Administration's Center for Accelerating Innovation, works with state, local and private sector partners to encourage the adoption of proven technologies and innovations to shorten and enhance project delivery.