January 16, 2015
Innovation Implementation: New Year, New Innovations
As state highway agencies and their partners learn about the 11 innovations in the third round of the Every Day Counts initiative,they are evaluating which would best meet each state's unique needs and requirements.
Throughout the country, State Transportation Innovation Councils—which bring together highway stakeholders to consider all types of innovation—are spearheading the effort to assess the EDC-3 innovations and decide which to implement in 2015 and 2016.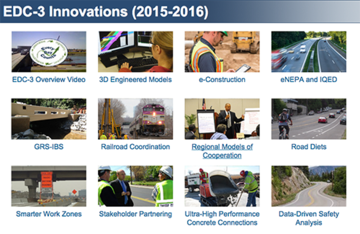 Last week, EDC News looked at the seven EDC-3 innovations that focus on shortening project delivery. The other four innovations enhance mobility, safety and quality:
The Federal Highway Administration's EDC Web page features links to information on all 11 EDC-3 innovations, including fact sheets, case studies, webinars, contacts for technical assistance and more.
FHWA Showcases EDC-3 Innovations
FHWA's Every Day Counts exhibit was featured at the Transportation Research Board Annual Meeting January 11 to 14 in Washington,D.C.
The open island exhibit showcased the 11 EDC-3 innovations, along with information about the State Transportation Innovation Council Incentive and Accelerated Innovation Deployment Demonstration programs.
FHWA staff were on hand to engage with conference participants and provide them with resources and tools to help them implement the innovations in their states.
Oregon Launches Traffic Incident Management Team
The Oregon Department of Transportation is leading an effort toformalize a Traffic Incident Management Team in the Portland metropolitan area.
The multijurisdictional team of traffic incident managers and responders will serve as a forum to review and resolve regional issues related to traffic incident management. Representatives of the Oregon State Police, local law enforcement agencies, fire departments, FHWA and other incident response agencies joined the Oregon DOT for a January 8 launch meeting.
The Oregon DOT is using resources from Strategic Highway Research Program 2 for the effort.
Virginia Finds Success With Design-Build
The Virginia Department of Transportation has used the design-build method to deliver several major projects successfully. The recently completed I-95 Express Lanes project in northern Virginia was a design-build public-private partnership project that opened to traffic ahead of schedule. The Elizabeth River Tunnels project, the largest highway project in Virginia, is using design-build and a public-private partnership to implement numerous improvements in the Hampton Roads area. Roads & Bridges magazine named it the number one roadway project of 2014.