January 30, 2015
Innovation Implementation: EDC-3 Summits
Fall summits gave nearly 1,200 people on the front lines of highway project delivery a forum to learn about the latest Every Day Counts innovations and network with colleagues who have used them
The summits-held in Arizona, California, Kentucky, Maine, Missouri, North Carolina and Washington, D.C.-featured details on the 11 innovations the Federal Highway Administration is promoting in 2015 and 2016 in EDC-3 and success stories on implementing innovations in EDC's earlier rounds.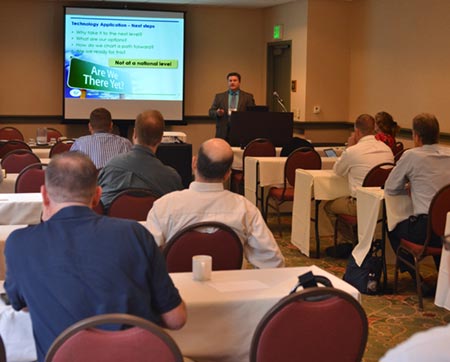 Summit participants provided feedback on proposed strategies to implement EDC-3 innovations so the teams of experts FHWA has assembled to spearhead deployment can tailor their strategies to state needs. They also met in state caucuses to start planning which innovations to adopt in their highway programs.
"You are the champions of change," Acting Federal Highway Administrator Gregory Nadeau told summit participants. "By being here today, you've confirmed your commitment to the ongoing process of finding, choosing and deploying innovation."
The summits included live broadcasts of sessions on EDC-3 innovations that generated more than 2,500 views. Recordings of the sessions are available.
AID Demonstration Grants Awarded
The U.S. Department of Transportation has announced $2.47 million in incentive funding for projects that will speed deployment of innovative road and bridge work in Maine, Pennsylvania and Washington. The funds, the first awarded in 2015 under the Accelerated Innovation Deployment Demonstration program, will be used to incorporate innovations into highway project delivery. "These investments harness innovation to improve the quality of our roads and bridges and the efficiency of how they are built to get motorists the benefits they deserve as quickly as possible," said U.S. Transportation Secretary Anthony Foxx.
The Maine Department of Transportation will use the funds on the construction manager/general contractor project delivery method on the Sarah Mildred Long Bridge replacement project. The Washington State Department of Transportation will use its grant to employ established lean methodology to streamline processes and knowledge management practices on several projects. The Pennsylvania Department of Transportation will invest its grant in adaptive signal control technology for the McKnight Road corridor near Pittsburgh.
State Councils Evaluate Innovations
State Transportation Innovation Councils across the country are meeting to discuss plans for innovation deployment. For example, Delaware's STIC chose six EDC-3 innovations to implement in the state. The Delaware Department of Transportation provided a briefing on its Texas scanning tour to learn about e-Construction, made possible with STIC incentive funds.
Nevada's STIC met January 20 to make plans for using STIC incentive funds. Increasing pedestrian and vehicle crash rates are a concern in the state, so the STIC is considering using funds to study pedestrian safety strategies for high-volume urban arterials. Ohio's STIC approved seven implementation plans for EDC-3 innovations when it met January 21. The group voted to request STIC funds for two projects, one to add data to the Ohio Department of Transportation's 3D model to create a 4D model for a pilot project and one to implement the Mobile Inspector tool in SiteManager software for project inspectors to use in advancing e-Construction.
States Hold Innovation Workshops
The Colorado Department of Transportation held a January 21 workshop for the Colorado Transportation Commission on using innovative contracting—including design-build and construction manager/general contractor—and risk-based cost estimating to deliver construction projects. FHWA representatives participated in the workshop, providing information on best practices along with potential solutions to enhance the Colorado DOT's project delivery.
The Nevada Department of Transportation and FHWA held a workshop and peer exchange on 3D engineered models for construction. About 70 representatives from state and local agencies, contractors and consultants attended the event on January 21 and 22. Topics included 3D procedures and technology, construction quality assurance methods and implementation strategies for success.
Intelligent Compaction Training Available Online
FHWA is offering free web-based training on intelligent compaction and asphalt stringless paving. Both the intelligent compaction course and the asphalt stringless paving course use an interactive format and animation to allow learners to see the tools and technologies involved in deploying the innovations. FHWA is offering the courses in partnership with the University of Texas at El Paso.