February 27, 2015
Innovation Implementation: Geosynthetic Reinforced Soil-Integrated Bridge System
Geosynthetic reinforced soil-integrated bridge system technology, an Every Day Counts innovation, is helping transportation agencies build durable, low-cost structures with readily available equipment and materials.
For its first GRS-IBS project, the Delaware Department of Transportation chose the replacement of the two-lane Chesapeake City Road Bridge in New Castle County that was nearing the end of its service life. One reason the agency selected GRS-IBS for the 2013 project was the need to complete it quickly to minimize road closure time and use of a detour route. Geotechnical and hydraulic evaluations also indicated GRS-IBS was feasible for the site.
Crews built the GRS abutments with local materials and topped them with a precast concrete superstructure. The bridge was equipped with an instrumentation system designed by the University of Delaware to monitor its long-term performance.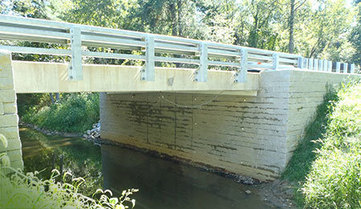 Transportation professionals got an up-close look at GRS-IBS construction during a 2013 Delaware DOT showcase featuring the bridge. They visited the construction site after attending a workshop on the design, construction and monitoring plans for the bridge.
The Delaware DOT built a second GRS IBS project in 2014 and plans to use GRS-IBS for applicable bridge replacement projects in the future.
Arizona Launches Certification Acceptance Academy
The Arizona Department of Transportation is offering a Certification Acceptance Academy for local agencies in the state that administer Federal-Aid Highway Program projects. The academy, which runs through mid-April, includes 17 modules designed to enhance participants' knowledge of the Federal-Aid program, provide an overview of the Arizona DOT's oversight process for local projects and outline expectations for maintaining certification. The program was developed to coincide with the recertification of eight local agencies that have certification agreements with the Arizona DOT.
Colorado Project Uses Programmatic Checklist
A Colorado road reconstruction project is using an innovative programmatic approach through a Programmatic Environmental Assessment Checklist developed by the Federal Highway Administration and Federal Emergency Management Agency to facilitate and streamline the National Environmental Policy Act process on emergency projects. FHWA is administering the multijurisdictional project to rebuild Fish Creek Road in collaboration with FEMA, the Colorado Department of Transportation, the town of Estes Park, Larimer County and other environmental stakeholders. The road, which serves Larimer County residents and provides access to Rocky Mountain National Park, was damaged during September 2013 flooding.
Illinois Transportation Conference Features EDC
The Illinois Transportation and Highway Engineering Conference included several presentations on EDC innovations, including high-friction surface treatments, smarter work zones and ultra-high performance concrete connections for prefabricated bridge elements. Held at the University of Illinois at Urbana-Champaign on February 24 and 25, the conference is the largest annual highway community event in Illinois with an attendance of more than 1,000.
Indiana Plans High-Friction Surface Treatments
The Indiana Department of Transportation plans to apply high-friction surface treatments to the road surface at 30 to 50 sites in 2015 and 2016. The agency anticipates that it will use the treatments mostly on curves, but it also plans to consider them for intersections with an abnormally high wet-weather crash experience. FHWA will provide technical advice on aggregate selection, construction and specification development. The Indiana DOT hopes that successful HFST installations will result in greater use of this safety countermeasure on Indiana roads in the future.
Nevada Project Includes Design-Build Contract
Two contracts were awarded this month for the Boulder City Bypass, a new 15-mile-long highway from the Nevada-Arizona border to U.S. 93 in the vicinity of Henderson, Nevada. A $235 million design-build contract was awarded by the Regional Transportation Commission of Southern Nevada for a 12.5-mile section of the bypass. An $83 million contract awarded by the Nevada Department of Transportation will complete a 2.5-mile section. The entire highway is expected to be finished by early 2018.
Rhode Island Roundabout Project on Track
The Apponaug Circulator project to build five roundabouts in an urban setting is on schedule despite a stormy winter season. Project stakeholders from the Rhode Island Department of Transportation, FHWA and construction firms discussed progress on the project at a quarterly partnering session on February 19. The project is designed to transform a congested and outdated urban circulator system into a safer and more efficient facility for the city of Warwick.The project is being partially funded through an FHWA TIGER grant.