May 7, 2015
Innovation Implementation: Improving Collaboration and Quality Environmental Documentation
The Every Day Counts innovation of the month for May is improving collaboration and quality environmental documentation.
Through EDC, the Federal Highway Administration is encouraging the use of two tools to enhance collaboration on and shorten the time needed for transportation project approvals under the National Environmental Policy Act.
One is implementing quality environmental documentation, or IQED, which involves best practices for simplifying and expediting the development of NEPA documents for projects. IQED focuses on core principles for creating effective documents: tell the project story, keep the document brief and ensure that it meets legal requirements.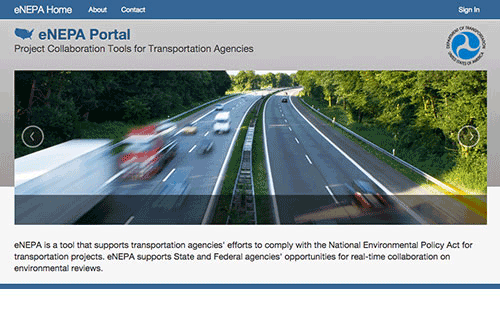 The other is eNEPA, an online workflow tool FHWA created for transportation projects that require an environmental impact statement or environmental assessment. eNEPA helps agencies transition to an electronic review process that can be done concurrently with more effective interagency dialogue.
View the EDC-3 summit session on improving collaboration and quality environmental documentation to learn about the benefits of IQED and eNEPA.
STIC Event Explores State-Based Innovation Deployment
The network of State Transportation Innovation Councils has grown to 46, FHWA Deputy Administrator Gregory Nadeau told participants in a national STIC video/web conference on April 30. And the remaining states are using or developing other forums for implementing innovation. "We now have a national network to share lessons learned and exchange best practices for deploying innovation," Nadeau said.
Dallas Hammit, Arizona Department of Transportation state engineer and deputy director, discussed the Arizona Council for Transportation Innovation's efforts to build an innovative culture in the state. One way is through Innovation Exchange Campaign forums at which participants share ideas on using innovations.
Richard Tetreault, Vermont Agency of Transportation chief engineer and Highway Division director, talked about the Vermont STIC's comprehensive approach to innovation deployment. The group considers all sources of innovation and takes advantage of a variety of resources, including the second Strategic Highway Research Program Implementation Assistance, STIC Incentive and Accelerated Innovation Deployment Demonstration programs.
View the national STIC web conference.
Rhode Island Engineers Consider Innovative Culture
FHWA staff reviewed the EDC effort to cultivate an innovative culture in the highway community at an April 28 meeting of the Rhode Island Chapter of the Institute of Transportation Engineers. They also discussed EDC-3 Innovations, particularly those the Rhode Island Department of Transportation is deploying. They encouraged participants at the "lunch and learn" meeting–including consultant, municipal and state highway agency staff from Rhode Island and southeastern New England–to consider EDC innovations for projects and clients.
Washington Surveys Drivers on LED Project
Last fall, the Washington State Department of Transportation installed solar-powered light-emitting diodes to illuminate shoulders, lane lines and barriers in a pilot project to improve visibility and safety on I-90 over Snoqualmie Pass. Now, the agency is asking drivers to fill out an online survey to see if visibility has improved. The project, which received an FHWA Highways for Life grant, was the state's first to install lane markings with solar-powered LEDs. For the next few years, the agency will monitor the durability of the LEDs and determine if they reduce collisions. If successful, the lane markers could be used at other locations on I-90.
Learn About Systemic Safety
FHWA kicked off its systemic safety webinar series with an April 27 session on "Engaging Partners in the Systemic Safety Process." The purpose of the series is to highlight noteworthy practices in systemic safety, an aspect of data-driven safety analysis. The series continues June 8 with a discussion on "Using the Right Tools for Systemic Safety Analysis." Participants will learn about tools and approaches agencies are using to conduct systemic safety analysis. Learn more about the series and register for events at the Systemic Approach to Safety site.