May 14, 2015
Innovation Implementation: Improving Collaboration and Quality Environmental Documentation
The Federal Highway Administration's eNEPA is a web-based interagency collaboration and development tool for transportation projects that need environmental impact statements or environmental assessments.
Concurrent agency reviews of environmental documentation can boost the efficiency and effectiveness of the project development process under the National Environmental Policy Act. eNEPA provides project teams with an online workspace where they can communicate in real time.
FHWA developed eNEPA for transportation departments, local agencies and other federal agencies and stakeholders. Several state highway agencies and other agencies, including the Federal Transit Administration and Federal Railroad Administration, have piloted eNEPA on projects.
Through the Every Day Counts effort on improving collaboration and quality environmental documentation, FHWA is encouraging more agencies to explore eNEPA's benefits:
Share documents and comments faster
Provide real-time schedule status and tracking
Simplify concurrent agency reviews
Obtain quick, clear and transparent issue resolution
Reduce paper, printing and mailing costs
Need assistance with eNEPA or want to setup a test to try the tool? The Improving Collaboration and Quality Environmental Documentation team can help. Email Kreig Larson or call (202) 366-2056 for details.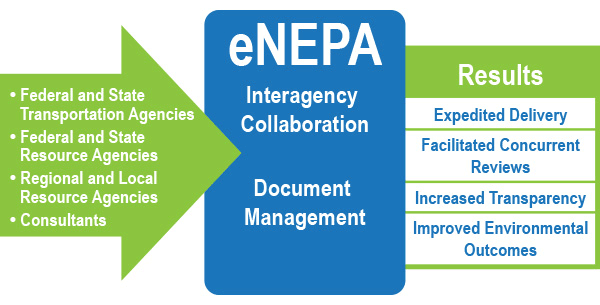 FHWA Deputy Administrator Tours Turner-Fairbank
FHWA Deputy Administrator Greg Nadeau toured the Turner-Fairbank Highway Research Center on May 5 in McLean, Virginia. The federally owned and operated facility houses more than 20 laboratories, data centers and support facilities. Many Every Day Counts initiatives are developed and tested at the TFHRC before becoming part of EDC, such as ultra-high performance concrete, warm-mix asphalt and slide-in bridge construction. Nadeau operated the highway-driving simulator, which tracks and records eye movements while navigating a virtual highway. TFHRC uses this technology to further the understanding of highway user needs so those needs can be incorporated into roadway design, construction, repair and improvement.
Massachusetts Committee is READi to Foster Innovation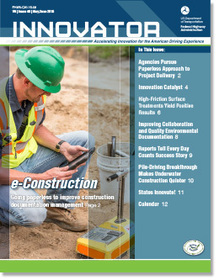 The Massachusetts DOT Highway Division formed a new committee to promote and enhance a culture of innovation within the agency. Called the READi committee (Review, Evaluate, Accelerate, and Deploy Innovation), it will provide one consolidated entry point for reviewing and implementing innovative ideas, technology, practices, and products. The committee comprises leaders from throughout MassDOT's Highway Division. Key goals are to communicate solutions that may apply across different departments, ensure pilot projects are conducted properly with sufficient oversight and follow through, reduce duplication of effort, accelerate and streamline implementation, and ensure changes are consistent with MassDOT's mission and policies. The READi committee also serves to strengthen MassDOT's efforts with implementation of Every Day Counts and Strategic Highway Research Program 2 (SHRP 2) innovations.
See the Latest Innovator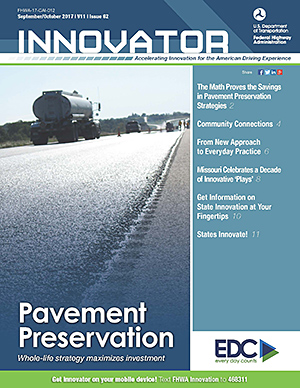 Read the new issue of Innovator to find out how New Mexico and other states used State Transportation Innovation Council incentive funds on activities to standardize innovations. Also, read about the latest round of Accelerated Innovation Deployment Demonstration awards highway agencies will use to deploy proven technologies and practices to save time, money and lives.