June 18, 2015
Innovation Implementation: e-Construction
Through Every Day Counts, the Federal Highway Administration is encouraging the highway community to join colleagues who are testing or using e-Construction to manage project documents in a paperless environment.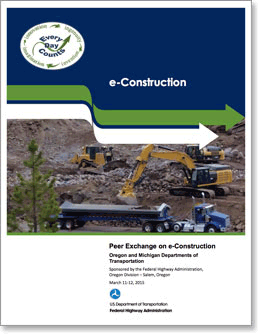 The Florida Department of Transportation is one of several agencies using e-Construction on design-build projects. It invested in a collaborative sharing site, mobile devices, digital signatures and form automation. All stakeholders on aconstruction contract have access to the collaboration site and arenotified automatically when they need to review a document.
The Florida DOT's initial investmentin e-Construction was about $1.5million, but it expects to save about $22 million a year on paper and overhead costs.
The Iowa Department of Transportation piloted e-Construction in 2014 on a bridge replacement, a hot-mix asphalt overlay job and two interstate reconstruction contracts. Going paperless included using electronic project plans, contracts, specification books, construction manuals and as-built records.
The Iowa DOT reports that using e-Construction is yielding benefits such as lower costs, immediate document distribution with no time or money spent on printing or mailing, and faster contractor payments.
Read Peer Exchange on e-Construction: Oregon and Michigan Departments of Transportation for information on adopting e-Construction processes and technologies.
FHWA Technology Unveiled to Improve Safety
Pavement friction can help a vehicle stop or maneuver its way out of a crash. In an FHWA-funded project, the country's first Sideway-Force Coefficient Routine Investigation Machine–SCRIM–will gather data to help highway agencies manage pavement friction.
Virginia Tech Transportation Institute researchers will use the SCRIM to continuously measure friction, cross-slope, macrotexture, grade, temperature and curvature while driving the truck at highway speeds through Florida, Indiana, Texas and Washington. Expected uses for the data include setting thresholds for pavement friction and identifying road segments for safety countermeasures, such as high-friction surface treatments.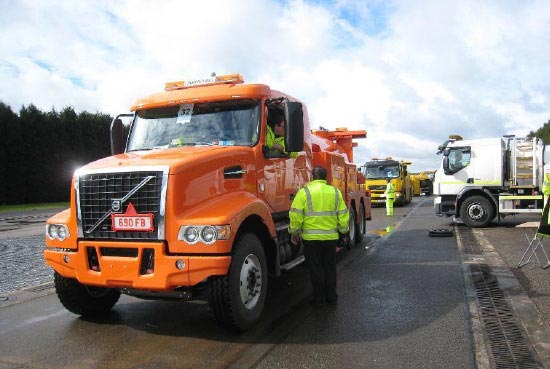 FHWA's Sideway-Force Coefficient Routine Investigation Machine
Kentucky Summit Focuses on Safety
FHWA staff moderated a session at the 2015 Kentucky Office of Highway Safety Summit on traffic incident management techniques to clear crashes safely and quickly. The June 10 and 11 event in Morehead also included presentations on texting while driving and impaired driving. About 100 highway safety and law enforcement personnel attended the summit, which focused on safety issues in the state.
Intelligent Compaction Workshop Offers Hands-On Training
FHWA held an intelligent compaction data management workshop at the Beckwourth-Genesee Road improvement project in the Plumas National Forest in California. The May 27 event familiarized participants with intelligent compaction technologies to improve pavement uniformity. Attendees also learned about analyzing intelligent compaction data and participated in hands-on software training. They represented the California Department of Transportation, Plumas County, Lassen County, Office of Federal Lands Highway, U.S. Forest Service and industry.