June 25, 2015
Innovation of the Month: e-Construction
e-Construction has the potential to increase the quality, efficiency, environmental sustainability and productivity of the construction industry while saving on printing costs, time, postage and document storage. Through Every Day Counts, the Federal Highway Administration is encouraging highway agencies to make e-Construction a mainstream practice.
The Michigan Department of Transportation, an e-Construction leader, piloted its system in 2013 on four projects. In 2014, the department used it on a project to rebuild part of I-96 in Detroit, as well as on at least one project in each field office. In 2015, the agency is instituting the program on nearly all projects. Each year, the Michigan DOT's $1 billion construction program benefits from e-Construction several ways:
Saves an estimated $12 million through increased efficiency
Saves six million sheets of paper by using electronic storage
Reduces average contract modification processing time from 30 to three days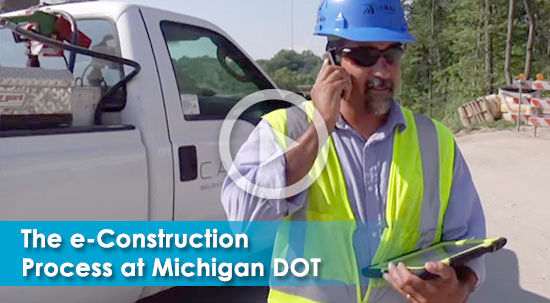 View the Michigan DOT e-Construction process. Credit: Michigan DOT
Ohio Bridge Slide Limits Traffic Disruption
In a first for the state, the Ohio Department of Transportation is using slide-in bridge construction to replace the I-75 bridges over U.S. 6 in Bowling Green. The benefit is that traffic will be disrupted for just two weekends instead of the months of lane closings replacing a bridge typically takes. Crews are assembling the bridges on temporary support structures next to I-75 and will move them into place during two 60-hour closures later this year. The bridge slide is part of an I-75 widening project to increase capacity on northwest Ohio's busiest interstate route.

Girder Assembly Installed on New York Bridge
The first steel girder assembly for the approach span of the Tappan Zee Bridge replacement in New York was successfully installed on June 17. Crews used a giant crane known as the Left Coast Lifter to hoist a 410-foot-long, 1,100-ton assembly of three curved steel girders, which was placed between two concrete piers built near the bridge's Rockland County side. The job took about four hours to complete. The New York State Thruway Authority is using design-build contracting to build the bridge over the Hudson River between Westchester and Rockland Counties.
Florida Design Expo Features 3D
The Florida Department of Transportation Design Expo offered participants two opportunities to learn about 3D engineered models in highway construction. FHWA staff provided an overview on 3D engineered models in a general conference session and a closer look at 3D modeling for structures in a breakout session. About 1,600 transportation professionals attended the expo in Orlando from June 9 to 11.
Ohio River Bridges Project Hits Milestone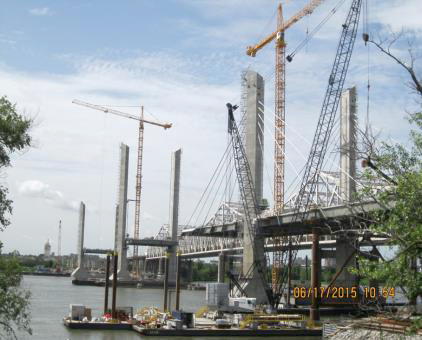 Crews finished concrete work for the new three-tower cable-stayed bridge across the Ohio River in Louisville, Kentucky, on June 16. The
design-build
project is constructing the Downtown Crossing, the first new bridge across the Ohio River in the Louisville metropolitan area in more than 50 years. Installation of steel girders, precast deck panels and cable stays will continue for the rest of the year with the bridge scheduled to open in early 2016. The Downtown Crossing is part of the $2.3 billion
Ohio River Bridges project
, a joint effort between Indiana and Kentucky.
Maine Studies Systemic Safety Approach
A training course enabled staff from the Maine Department of Transportation and a metropolitan planning organization to learn about the systemic approach to data-driven safety analysis, which identifies high-risk features associated with crashes and treats them throughout a roadway system. The half-day course on June 11 covered the benefits of systemic safety planning and examples of how other states are using it. FHWA staff also provided an executive overview for Maine DOT leadership emphasizing a balanced approach to safety funding that includes systemic improvements.
Minnesota Hosts California Intersection Scan Tour
California Department of Transportation engineers traveled to Minnesota this week to observe the operational aspects of innovative intersections and interchanges in the Twin Cities and St. Cloud. The scan tour organized by FHWA was part of the California agency's effort to expand its use of intersection and interchange geometrics to enhance safety for road users. The group viewed examples of roundabouts, restricted crossing U-turn intersections and diverging diamond interchanges, including one near Minneapolis-St. Paul International Airport.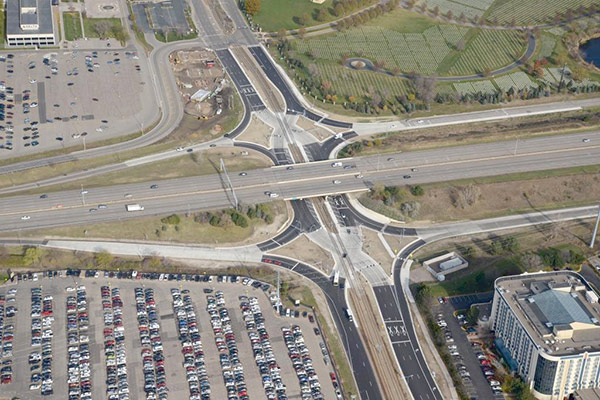 Diverging diamond interchange near Minneapolis-St. Paul International Airport